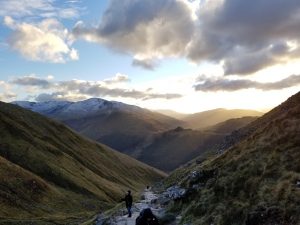 Senior Gabe Bonney travels to Scotland with his family in the fall of 2018, taking him on the best adventure yet.
"We went there on vacation and we knew that it would be a pretty cool place," Bonney said. 
Bonney had the chance to hike at Ben Navis, which is Scotland's
biggest mountain. 
 "It took us all day," Bonney said. "We left at five in the morning and then we got back at midnight. As we went up, the sun was getting lower but it stayed the same, so it seemed like the same time period the whole way [as] we hiked up. But then we got to the point where we had to stop."
Even though Bonney and his family didn't hike all the way up the mountain, they were rewarded with a breathtaking view. 
"Here it was beautiful because you could see other rolling hills and mountains," Bonney said. "It looked like Maine, but [with] mountains."
Bonney says the hiking experience for he and his family was very diverse from many other mountains in the United States they have hiked. 
"It was easy to breathe," Bonney said. " When we hiked in the Rockies it was hard to breathe because of the high elevation. It was pretty windy up there. There was snow on the mountain, so we only made it 7/8ths of the way. It got cold really quick, so we had to head back down.
Bonney captured the view of the Celtic Sea from the hillside. 
"We went to this really cool town that was on this hillside." Bonney said. "All the houses and shops were built on to this cliff."
Bonney says the glimpse astonished he and his family.
"We went at nighttime and [the sea] looked like black glass." Bonney said. "The spray of sea is really cool as we were walking across the town."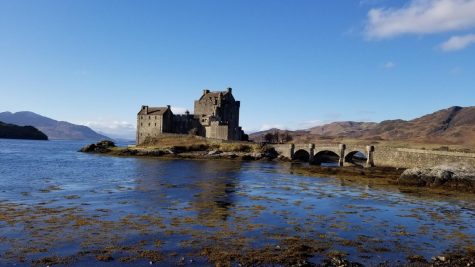 When traveling in Scotland, Bonney learned more about the culture. 
"[The religion] used to be Christianity, but over the past three generations it's all died out. So people don't even know about God or Christianity at all." Bonney said. "Only 5% of the population there are Christians and only 2.5% of the population are Evangelical Christians. Half the people there don't really like to talk about God even though they believe it."
Bonney also is shown a diverse eating style and foods that are uncommon to us. 
"I had this huge piece of mutton and it was really good," Bonney said. "It's like a goat leg and it's huge. It tasted so good."
Bonney explains many of Scotland's norms. 
"Instead of fries, they are called chips," Bonney said. "You can order fish and chips there, like in Boston.There food seems more fresh."
As well as the food being a main cultural norm, their community is very diverse. 
"The grocery stores are like mini supermarkets because they have all types of food." Bonney said. 
    Bonney says the Cadbury Eggs, in Scotland, are like our Hershey's in the United States. 
    "A lot of the communities are very tight fit," Bonney said. "They are very kind and so they work together but they still suffer with a lot of mental illness, anxiety and depression and a lot of suicide there. They mostly try and cover it up. Alcohol is a big thing over there like drugs are here. So most of the problems we have in New Albany, like heroin and stuff like that. 
Bonney went to many mission trips with Northside Church and other places abroad in the past and noticed many cultural problems.
"There, it's alcohol they deal with," Bonney said. "A lot of the problems that we deal with here, they deal with over there. The drinking age is 16 and so I could have drank over there. I think that plays into the alcohol problem since by the time you're a sophomore you're able to drink."
Throughout the country, Bonney noticed a similarity between Scotland and the United States. 
 "[The typical day] it's the same but laid back though," Bonney said. "They are not focused on money."
In any country, we face a lot of challenges. While Bonney noticed these challenges, the rest of his life changed.
 "[The most challenging aspect] was getting from one place to another." Bonney said. "Whenever we go places we don't really plan it out but somehow it works out seamlessly." 
Bonney explains traveling from place to place was hard for he and his family. 
"We went to a ton of places in Scotland for four days and we spent four days in Ireland. We covered a lot of ground but with problems there, like facing depression and alcoholism." Bonney said. "I feel called to move there and help out with that but I know it's not going to be comfortable facing those problems even though I'm excited to help people there."
Through all the difficulties the country faced, we see that Bonney is willing to help. 
"Hanging out with the churches [there] and hearing what those people [have] to say in their calling, and what their motivation to do it [is], even though they know that's hard. They know that God's leading them through it." Bonney said. "I bet if we didn't go there on vacation, then I want to move there." 
When talking to his mom about his idea, Bonney says his mom gave him a piece of advice. 
"My mom says that we should only go to places if we feel called to, or if we feel like we need to and I guess Scotland is one of those places." Bonney siad. "I'd love to move there and work with the churches."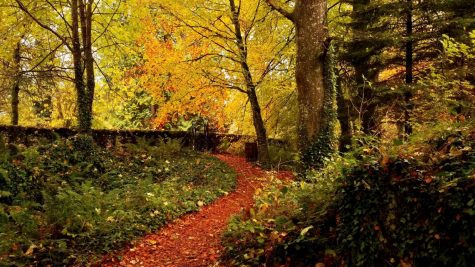 As he traveled to Scotland, Bonney advises some important tips. 
 "Just have fun, hang out in nature, enjoy the castles. Don't rush [and] don't plan things out and it will work out." Bonney said. "[Just] soak it all in."
Bonney advises not to stress about the visit. 
"It's like an adventure. It's kind of like going back to medieval times, like [in] the Brave Heart movie."