Going virtual for the fall
Student athletes have been going virtual to lessen the risk of being quarantined
Over the past few weeks some Bulldog athletes have realized that being exposed to Covid-19 would risk them being quarantined for two weeks and missing a lot of their season. 
An athlete's point of view 
Many athletes have been switching to all-virtual to minimize the risk of being quarantined for a large portion of their season. But virtual learning can be very hard on some students. 
Freshman volleyball player Chloe Fromme started the school year coming into the building Mondays and Thursdays while doing virtual school the other three days of the week. She tried all virtual but realized there are some major downsides. 
"I'm not all-virtual anymore because I missed going to school and seeing my friends, because we talk and have fun," Fromme said.
On the other hand, some student athletes have enjoyed virtual learning more. Sophomore volleyball player Reese Stivers has gone all-virtual and has added that she prefers it because she gets to do the same thing every day instead of switching back and forth from in-person to virtual.
"I think I am going to stay all-virtual because it is more consistent," Stivers said.
Every student is different and sometimes all virtual works out and sometimes it does not. Student athletes' grades come first, but if they can work well at home and keep their grades up going all virtual has been beneficial for many athletes. 
A teacher's point of view 
Being in class and face-to-face with teachers is more beneficial for a lot of students so going all virtual may not be the best option for everyone.
Computer Science teacher Mrs. Kristin Scott teaches computer programming which can be difficult to help students fix their code or know everyone is caught up when most of her class is online. 
"There are so many benefits and lessons to learn from being a part of a team, and for some students their sport is a big part of their life," Scott said. "If they were exposed to Covid-19 and had to quarantine for two weeks, that may be a significant portion of their season."
33 percent of college students are taking mostly online classes, according to Center for Education. Most students have reported that it is much harder for them to learn in their own environment at home. 
"I understand why some student athletes have decided to be virtual during their season," Scott said. "I believe that it is more beneficial to learn in person if at all possible. It takes focus and discipline to be a successful virtual student because there can be a variety of distractions at home that a student would not have in the classroom. A motivated student athlete can be a successful virtual learner."
A lot of events have been cancelled so far and for a lot of students playing a sport brings back that normalcy in their lives. Teachers have said as long as students are participating on the Google Meet and doing their work, then virtual learning can be successful.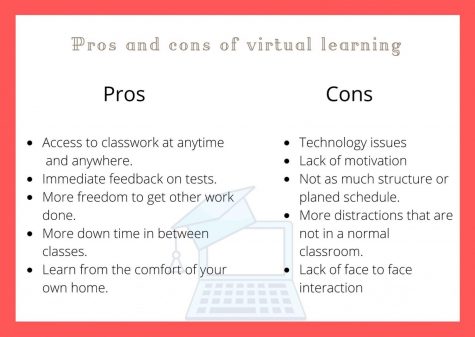 A parent's point of view
While students have a say in whether or not they want to go in person, many times it is up to the parents to make the final decision. Some parents have their concerns about their students going all virtual and falling behind.
Jessica Lord is a parent of two NAHS sophomores. Her sons started the school year coming into the building but have since gone all virtual while finishing out their cross country season.
"We had some concerns about missing out on the classroom accountability but this year's virtual format has eased most concerns," Lord said.
This year's virtual structure was designed to put much more accountability to join the google meets and turn in all of your work. Teachers have been finding more and more ways to help virtual students experience a classroom like setting. 
Lord added that her students are planning on returning to the classroom after this fall season. The classroom is so important for accountability and getting into a routine.
Athletic Director Mr. B.J. McAlister is in charge of the coaches. There are extra rules and guidelines for this year especially when it comes to students going virtual.
"Players, coaches, and fans have been incredible all year long in compliance with COVID protocol/procedures/limitations at athletic events." McAlister said,."I believe a lot of it has to do with just being thankful to have something to do. However, as the Athletic Director, we really want to see the end of Covid-19 sooner rather than later but the sportsmanship and gratuity for athletics I hope stays/lasts."
For a lot of students their sport is super important to them and gives them a sense of normalcy. It is up to each family whether to go all virtual. Coaches can not require athletes to go all virtual. For some students all virtual isn't the best option.  It truly is a decision each individual needs to make given their specific circumstances.