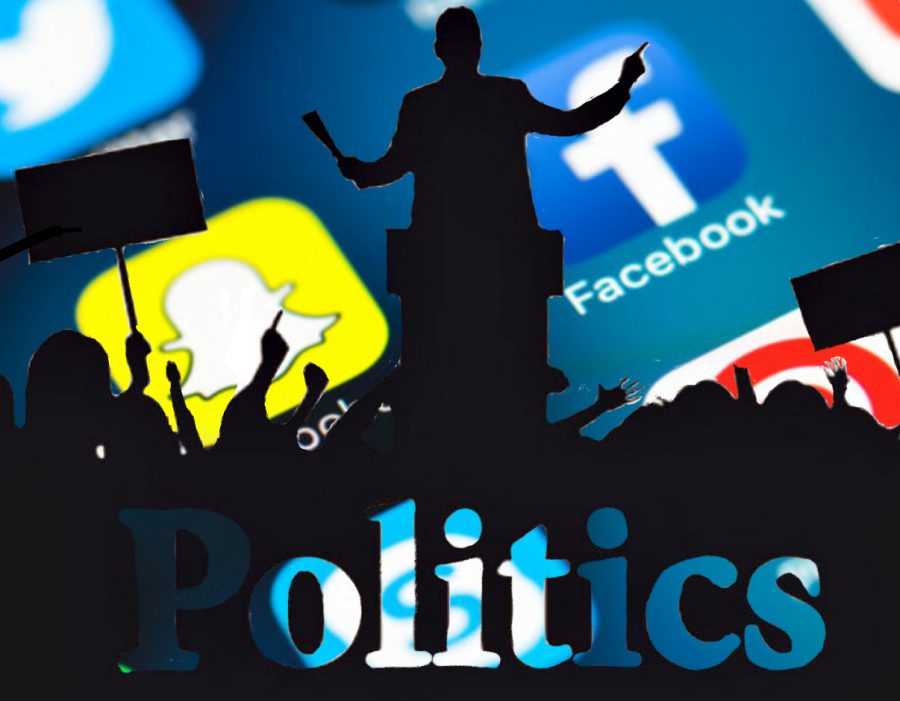 Leading up to and following the 2020 presidential election, teens have shown increased interest in politics, specifically on social media. 
"I think social media has had a big impact on politics, especially this year; it's a big platform for people to share their thoughts and opinions across wide ranges," sophomore Jamie Gaetano said. "I also think social media plays a very big role in people's political views and opinions and how they change."  
In recent years, more and more teens have begun using social media as a news source, specifically to stay updated on politics. In a poll conducted with 90 NAHS students, 25% reported to use social media for most or all of their news. Nationally, 55% of adults use social media often or sometimes for news, according to Forbes. 
"I don't think social media is a good news source because what you see is going to be biased towards one side and won't tell the entire story," senior Dorian Hamilton said. "There is a lot of misinformation that goes around, and people occasionally make their decisions and judge candidates differently because of it."
Teens are doing more than just reading political posts, with 50% reporting to have shared a political post in the past year, according to the NAHS poll. 
"I would say 30-45 percent [of my social media feed] is political," Gaetano said. "I use my platform to express my opinions on political things going on that are good and bad. I have never used it in a negative way and I don't think it is a bad thing to use your platform to speak out on what you believe."
Posts related to politics drastically increased in the 30 days following George Floyd's death, according to John Murphy, a professor at University of Connecticut. 
"I think the George Floyd murder brought a lot of much needed attention to our unjust system and that is why political posting has gone up," Gaetano said. "I believe it woke people up, opened more eyes to what's really going on and made them realize how important it is to be vocal in your beliefs."
These posts come in all forms, whether it is a tweet from a politician, a traditional news post, or an aesthetically pleasing infographic slideshow. 
"Either the news ones, or the ones that you can swipe through and see what it says [attract me]," senior Kade Riley said. "Then I can fact check and see if it's actually true."
Posting politics comes with a huge responsibility, and with the ever growing term "fake news", fact checking is more important than ever. 80% of the 45 students who reported posting politics on social media said they fact checked, according to the NAHS poll. In addition, 62% of students reported they were more likely to fact check a political  post they disagreed with. 
"I think students are more likely to fact check something they disagree with because they want to believe a certain thing about certain political parties and when it's proving that how they view them is wrong they can't handle it and get mad," junior Kenzie Kraft said. 
Gaetano says she fact checks before posting or reposting something with political content. 
"I always fact check," Gaetano said. "Anything you see on the internet could be fake so it is important to make sure that what you are reposting and supporting it real. For me, the process is simple. If I see something I feel the need to repost I will fact check it."
With the future of news leaning towards social media, this raises questions regarding the future of traditional news. For NAHS students, Instagram is used the most as a social media news source, by 32.6% of students; Twitter comes in second at 18.5%. Among adults, Facebook takes the cake, followed by Youtube and Twitter, according to Pew Research. 
"I would think so because everyone is on [Instagram]," Riley said. "Instagram is where everyone posts their main things, and you can put polls on Instagram to see which side people are on." 
Additionally, those who get news mostly from social media are found to be less informed than those who rely on traditional news outlets, according to Journalism.Org. Social media was found to be one of the least reliable, with local tv ranking even lower. 
Social media is believed to play a large part in US elections. 93.5% of students believe social media has an impact on US elections. 
"Generally, teens engage in social media with people their own age, through sites designed for people their own age whose knowledge is just as limited as their own," Government teacher Steve Bonifer said. "Before social media there was adult modeling of what was presentable and how to present something and that has disappeared with many social media sites. That is not to say that adults know so much more than teens." 
Bonifer says he hopes as teens continue to grow, they learn how government affects them. 
"As teens turn into adults with families they will realize how much government affects their lives," Bonifer said. "Hopefully, they will have learned where to look for reliable information to guide their decision making process and not to make uninformed decisions. Remember: most people, most of the time, do not have informed opinions about most issues."