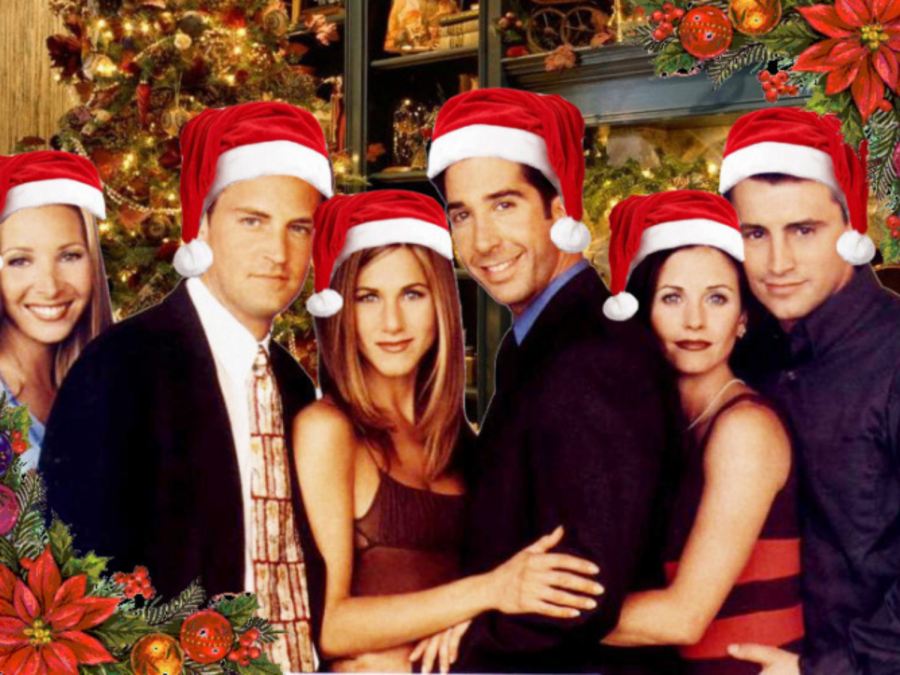 Though all of these episodes are on about the same level of humor, only a few of them truly provide the level of festivity I expect from a Christmas/Holiday Episode.
Episodes are ranked from worst to best.
8. The One with Ross's Step Forward (S8E11)
IMDB Rating: 8.0
Summary
Rachel is four months pregnant, and attracted to every guy she sees, regardless of how hot or not they are. Ross's girlfriend Mona puts a picture of them together on a holiday card, which sees as a huge step forward in the relationship which he's not ready for. When Ross explains that to her, she asks him where the relationship is going, which further scares Ross, prompting an uncomfortable conversation. To make matters more uncomfortable, Ross gives Mona the only key to his apartment. Chandler's coworker, who Monica really doesn't like, invites them out to dinner, prompting Chandler to need to find a way out of it. Chandler tells him that they split up,  causing the boss to drag Chandler along like he's a single man all day.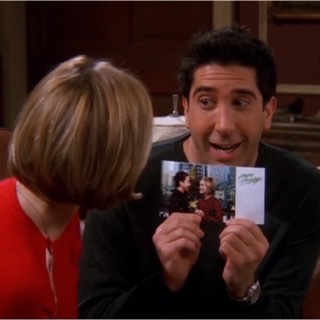 Review
For as festive as the last two seasons holiday episodes were, this one wasn't there. A funny episode, but only one of the ploys really had any traces of festivity in it. I feel second hand embarrassment for Ross. Chandler and Monica's plot had something off about it. Additionally, this was the first time you thought Rachel and Joey may get together, and I really didn't care for that relationship.  
7. The One with Phoebe's Dad (S2E9)
IMDB Rating: 8.0
Summary 
It's Christmas Eve-Eve, and Ross is showing off what gifts he bought for family. When Phoebe sees a picture frame, she says that the photo is of her dad, and proves it by showing a photo her mother gave her. When Monica explains that the photo in Phoebe's wallet is also a generic photo, Phoebe leaves in distress. All of the pictures of her father her grandmother shows her are also generic frame photos. After realizing her life was a line, she is given one real photo and eventually his address. Joey and Chandler accompany Phoebe to go find him, but when she arrives, she can't emotionally make it in. Monica and Rachel decided to tip people with cookies instead of money, which causes them to be offended and temper with their stuff. They assume this is why their radiator goes out, making the apartment extremely hot and uncomfortable for their Christmas Party.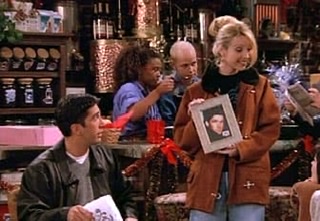 Review
This episode was very heavy compared to what I expect for holiday episodes. The Monica and Rachel subplot was entertaining, and pretty Christmasy. I wish that would've been the main plot, and there would've been a more light hearted holiday themed subplot. I think the concept of Phoebe finding out the truth about her father was important, but would've been better suited in an episode not supposed to get people in a holiday spirit.
6. The One with the Inappropriate Sister (S5E10)
IMDB Rating: 8.2
Summary 
Ross is going through his nervous breakdown and is bored after being temporarily let go from his job. Phoebe is a bell ringer in front of Macy's, which she is really excited about as she considers that a great spot to spread joy. She soon realizes people don't "respect the bucket". Monica asks a guy named Danny out on Rachel's behalf. When Rachel later goes home with Danny, she finds his sister there, who he has a very discomforting relationship with. Joey is mad that he wasn't cast in a role that he considered himself perfect for. Ross decides to help Joey by writing a schedule for Joey to write a script for him to act in, but he struggles to stay on track.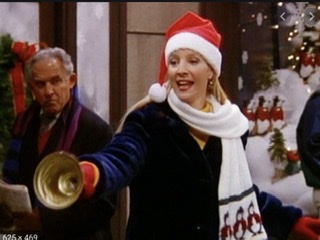 Review 
Again, one holiday plot, with Phoebe at the center. Phoebe's bell ringing plot was cute, but not festive enough to make up for the lack of other holiday plots. The Danny and his sister subplot was also really discomforting, especially as someone with a brother. Joey's play plot was the only one with really any closure at the end of the episode, and that plot was the least realistic. I know Ross was going through it at this time, but does he really expect Joey to write a show good enough that it gets picked up?
5. The One with the Girl from Poughkeepsie (S4E10)
IMDB Rating: 8.0
Summary 
Chandler offers to set Rachel up with a guy from his work. The entire office is swooning over her, and bribing Chandler to get the opportunity to have a fling with her. When Rachel learns Chandler tells them she just wanted a fling, Rachel is upset. Everyone at Monica's new job thinks she's mean and mess with her, so Monica "hires" Joey so she can "fire" him, so her coworkers see she means business. When Joey sees how much he's making, he doesn't want to be fired. Phoebe writes a holiday song for the friend group, struggling to rhyme their names with festive things. Ross is involved in two different long distance relationships, and does not know how to handle it, especially since he's not crazy about either of the girls but doesn't want to be alone.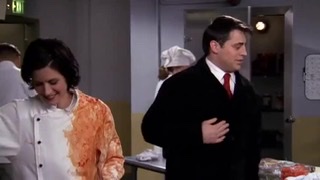 Review 
There was essentially nothing holiday about this episode. It's seeming that the writers had not planned on including an episode, but NBC insisted on it, so they came up with the quickest holiday subplot and references they could.  Phoebe's song was cute, and I liked how she rhymed Hanukkah with Monica, since Monica and Ross are Jewish. Again though, another mostly uneventful holiday episode. 
4. The One Where Rachel Quits (S3E10)
IMDB Rating: 8.1
Summary 
After several years at Central Perk, Rachel realizes she is a bad waitress due to her lack of passion at this job, she quits, hoping fear will push her to find a new job in fashion. Ross accidentally causes a little girl to break her leg, making her unable to sell cookies and win a trip to space camp. A guilty Ross decides to help her by selling cookies on her behalf.  Joey has a job selling Christmas trees, which Phoebe is against because the trees are living beings. Joey argues that the trees are fulfilling their Christmas destiny, and she's mostly okay with that until she sees the dying trees get put in the chipper.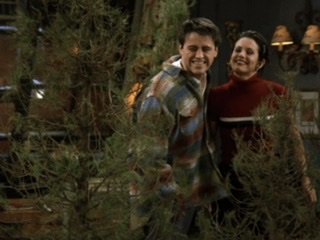 Review 
Another episode with only one Christmas plot, where both of the other plots would've worked literally in any other time of year. The Brown Birds is an obvious mimic of the Girl Scouts, whose cookie season is January to April. Rachel quitting her job right before Christmas seems irresponsible. Joey selling trees does fit his personality, and Phoebe being bothered by it fits her personality. Maybe I'm in the minority, but I like my Christmas episodes to be festive, and this wasn't it. The episode was funny, but not festive enough to be rated higher. 
3. The One with Christmas in Tulsa (S9E10)
IMDB Rating: 7.5
Summary 
Chandler is currently working in Tulsa, and had to inform Monica he won't be home for Christmas and New Years Eve. When someone asks Chandler what his Christmas' is typically like, a series of flashbacks is shown from previous season's episodes. After reminiscing, Chandler let's everyone go, and only an attractive and flirtatious worker stays along, which scares Monica. Chandler at first thinks there is nothing to worry about, but realizes he should be.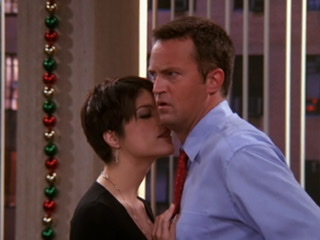 Review 
Being that this was Friends' last Christmas episode, I thoroughly enjoyed all of the flashbacks, from both Christmas episodes and Monica and Chandler's relationship. It was such a sweet episode, and although not overly festive, it made me happy the same way a more typical holiday episode would. The ending tied the whole episode together, and gave it a final blast of cheer.
2. The One with the Routine (S6E10)
IMDB Rating: 8.6
Summary 
The episode starts with the gang decorating a tree. Janine is a dancer and was given a role in Dick Clark's New Year's Rocking Eve, and Ross and Monica are so passionate about it, she invites them to tag along with her and Joey. Joey is unable to figure out if she asked him to dance with her in a romantic way. On the set, Monica and Ross make it their goal to be visible on the camera. Their solution- do a dance routine from when they were children. While Monica is away, Rachel and Phoebe go to the apartment to look for their Christmas gifts, so they can assess the value and know what to get her.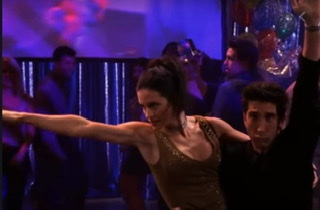 Review 
This was the first holiday episode that really felt festive. Although one plot was more New Years than Christmas, this is the closest we've got to a true Christmas episode. The New Years plot was perfect for Monica and Ross's personalities, and it was nice to have the romantic plot focus on someone other than Rachel. Being that it was 1999 becoming 2000, a New Years Episode was necessary. I also enjoyed Rachel and Phoebe looking for their gifts. As someone who hates surprises, especially when I also have to surprise the person back, I related to that plot.
1.The One with the Holiday Armadillo (S7E10)
IMDB Rating: 8.5
Summary 
It's Chandler and Monica's first Christmas being engaged, and to celebrate, Chandler got them reservations at a nice restaurant and tickets to The Music Man. When they get to the restaurant, there's a wait, so Monica attempts to teach Chandler how to slyly tip the busboy. Additionally, Ross has found out he gets his son, Ben, for the holidays this year, and wants to teach him about Hanukkah. When Ross tries to teach Ben about Hanukkah, he see's how important a visit from Santa is to him, so Ross decides to dress as Santa, but cannot find a costume this close to Christmas. His solution: rent an armadillo costume and create his own character, The Holiday Armadillo, a friend of Santa's who teaches about Hanukkah. Phoebe's apartment is finally ready after a fire, and after learning Rachel may want to keep living with Joey, Phoebe keeps buying Joey gifts that would annoy or bother Rachel, such as drums and a spider.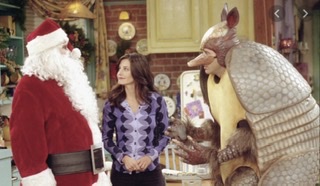 Review 
I remember watching this episode with my parents when I was younger, and I think it was one of the first times I'd heard the story of Hanukkah. While the story Ross tells is a brief and simplified version, it was good that Friends included an episode over Hanukkah. It's also hilarious. People love to hate on Ross, but in this episode, you can see he has the best intentions. This was probably the most festive holiday episode yet. All three plots involved the holidays in some capacity, which was a nice change. I really liked the plot between Rachel, Joey, and Phoebe. This is by far my favorite holiday Episode.