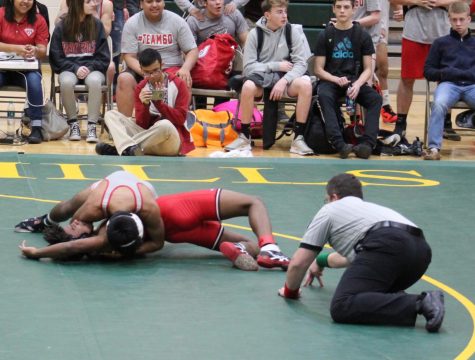 From Freshman to Sophomore: Personal Sports Profile #7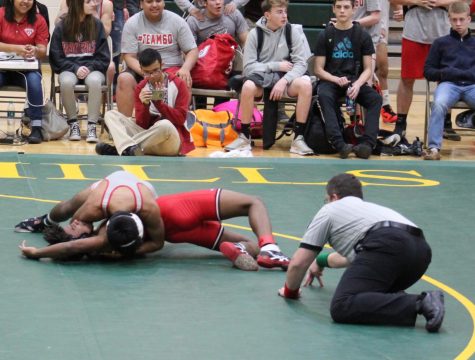 This wrestler has witnessed a couple of changes in his two years of wrestling for the Bulldogs, from a new roster of wrestlers to seniors graduating and moving on.
Sophomore Marcello Lopez has been wrestling since he was eleven years old.
 "[I've wrestled] for about four years," Lopez said.
 One personal goal that Lopez has been striving for over the years, is
 "trying to always go 100% every practice." 
 When reflecting on whether his goals were achieved in the past few years, he says this year was unexpected for him.
 "Halfway through the season I got injured and once I got back, I got a concussion, so it did not go as planned," Lopez said. "I'm out for the rest of the season."
 Lopez says his goal for wrestling this year, is "t
rying to improve upon my record from last year."
 As far as Lopez is concerned, he doesn't consider wrestling to be an underappreciated sport.
 "A lot of people actually do show up and the people who know wrestling. If you are familiar with wrestling then whenever you're watching it, it's fun, and entertaining," Lopez said. "But if you don't know it, and you're just watching it, like if you're a basketball player, and you come in to see a wrestling competition, you're not going to be interested. It's going to be boring to you."
 In order to expose the sport a little bit more, Lopez thinks wrestlers could get more recognition.
 "More recognition for the people who do good in tournaments and stuff like that," Lopez said.
 Lopez says the hardest thing about wrestling is trying not to give up. .
"That's one of the hardest things, because whenever you're tired and the dude is beating you by six points, you still gotta try to grind it out," Lopez said. "Because sometimes you do end up winning, if you can pin them."
 Lopez is considering wrestling in college if he's able to find the opportunity.
 "If I can balance everything out I will most definitely wrestle in college," Lopez said. "It sounds fun in a way."
 Lopez's advice for incoming freshman next year is:
 "No matter what the pain, you go through practice, it's worth it at the end," Lopez said.
Tanner Burch, Contributor
Feb 14, 2018

Freshman Aaron Schott finishes first year on bowling team

(Story)

Feb 09, 2018

Super Bowl commercials of today and yesteryear

(Story)

Feb 09, 2018

Junior swimmer Sarah Winternheimer, freshman Gavin Hether reflect on their seasons

(Story)

Feb 08, 2018

Savannah Pinkston, from freshman to senior

(Story)

Feb 01, 2018

Donovan Wilson: The Distance Runner

(Story)

Jan 31, 2018

Julyen Condra // From Freshman to Senior: Personal Sports Profile #9

(Story)

Jan 11, 2018

Junior Olivia Hawkins sprints towards the finish line // From freshman to junior: Personal sports profile

(Story)

Dec 04, 2017

Sophomore T.J. Bauer dives into his second Bulldog season

(Story)