Science Olympiad team places first at Purdue competition
Hang on for a minute...we're trying to find some more stories you might like.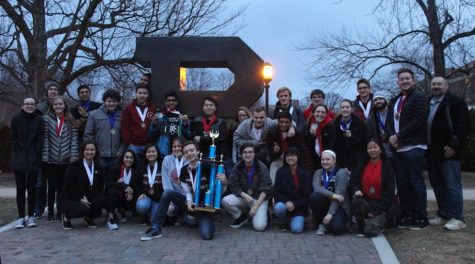 Science Olympiad is a program meant to appeal to STEM enthused students who want to learn and experience beyond the school curriculum.
"Science Olympiad is basically a conglomeration of unique, partner-based events; ranging from Biology to Chemistry to Physics to Earth Sciences to Engineering," junior Vijay Chirumamilla said.
Although this is an academic program, it can be quite intense and evoke a sports-like competitiveness among its participants.
"For our team to be successful, everyone has to develop an intense practice regiment akin to that of a sport," Chirumamilla said.
The first competition for this year's team was Feb. 3 at Purdue. Team members arrived Friday night, giving them a chance to settle in before Saturday's events.
"After everyone was in the Union building the first thing we did was eat dinner," junior Noor Qureshi said. "Then everyone checked in their rooms and the team walked around campus to get a feel for where we needed to go the next morning."
However, even if getting there early put some members at ease, some say work was still being done that night in preparation for the competition the next day.
"Of course we all study and prepare beforehand, but some of us were up until one in the morning, and even later, making sure everything was in place for our events," Qureshi said.
Many were confident in their events.
"Looking at my teams beforehand, I think I can say I expected to place in every event," Chirumamilla said.
Some of the team, not so much.
"The worst feeling was getting there and not feeling prepared," one junior said.
Competition day was as stressful as it was exciting.
"We laid it all out on the line that day," Qureshi said. Everyone knew they could've worked harder, but we did what we would with what we had." 
As events were being completed the teams and even the coaches weren't very hopeful.
"Today is going to be a rough day for New Albany Science Olympiad," said coach Jason Cox that Saturday.
The Bulldogs waited anxiously during the award ceremony.
"It was kind of astounding," said Qureshi. "The MC was very long winded and we weren't really placing in the first few events that were being announced. Then, after what felt like forever, we started placing. Third place, second place, first place; sometimes both of our teams would place in a single event. The best part was seeing all the other members freak out when someone would place."
Even though NAHS's group is split into two separate academic teams, both are very supportive of the other's members and that has stayed true throughout the years.
"The craziest thing was when the final ranking was announced," Qureshi said.
Of the 16 teams that attended, the top 7 would advance to state. To much of their surprise, the NAHS team ended up sweeping the floor, with the Red team placing fourth and the Black team placing first. This was the first time NAHS has placed first at any regional Science Olympiad competition.
"Doing so well at regionals has only shown us that we can crush at state," said Chirumamilla.
Purdue University Science Olympiad Results:
| | | |
| --- | --- | --- |
| | C8 – New Albany (Red) | C9 – New Albany (Black) |
| Anatomy and Physiology | 2 | 9 |
| Astronomy | 10 | 1 |
| Chem Lab | 10 | 6 |
| Disease Detectives | 8 | 6 |
| Dynamic Planet | 2 | 7 |
| Ecology | 5 | 1 |
| Experimental Design | 3 | 4 |
| Fermi Questions | 6 | 8 |
| Forensics | 12 | 1 |
| Game On | 8 | 3 |
| Helicopters | 5 | 3 |
| Herpetology | 7 | 2 |
| Hovercraft | 2 | 4 |
| Materials Science | 3 | 2 |
| Microbe Mission | 2 | 1 |
| Mission Possible | 3 | 2 |
| Mousetrap Vehicle | 1 | 3 |
| Optics | 3 | 9 |
| Remote Sensing | 10 | 9 |
| Rocks and Minerals | 3 | 6 |
| Thermodynamics | 9 | 6 |
| Towers – Did not count to state |  – |  – |
| Write It Do It | 1 | 3 |
| TOTAL: | 115 | 96 |
| RANKING: | 4 | 1 |
| TRIAL: Environmental Chemistry | 5 | 6 |
| TRIAL: Towers | 10 | 6 |