Marie-Claire Diehl hits the tennis court
Tanner Burch, Reporter
March 2, 2018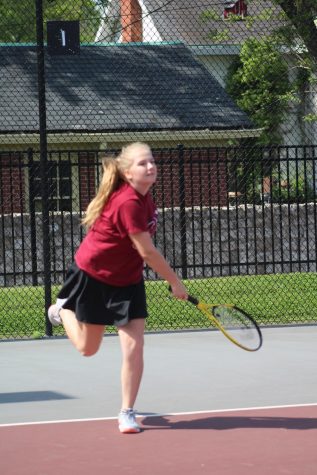 From Freshman to Sophomore: Personal Sports Profile #11
This sophomore has witnessed a couple of changes in her two years of playing tennis for the Bulldogs.
Prior to playing tennis for the Bulldogs, she has had two years of experience.  
 "I first started when I was 12," Diehl said.
Diehl and her teammates are conditioning now for the spring season. Diehl considers the hardest part about conditioning is the legwork involved. 
 "Probably the running," Diehl said. "We run a lot. It's mainly leg workouts that we do, because we run so much in our sport, but it's never fun."
She says her personal goal this year is to be able to keep her ranking for a particular match on the team .
 "This year my goal is to keep my spot as first doubles," Diehl said. 
She's also interested in trying something new.
"I want to make it to varsity or play singles," Diehl said.
Diehl isn't quite sure which position she'll be playing this year.
 "We don't have a lineup yet because the season hasn't started," Diehl said. "But hopefully I'm still going to be first doubles."
 Diehl considers tennis to be an underappreciated sport; she thinks some people don't consider tennis to be a sport.
"I think people think it's really easy, or they think it's not a sport," Diehl said. "But we work out really hard and we condition for months on end, then have our season for a couple of months too. That's really exciting; it's a fun sport."
 In order to expose the sport a little bit more, Diehl thinks that selling shirts is the way to do it.
 "Right now we're selling shirts so I'm hoping to kind of get the word out that way, and then our goal is to get on the announcements more when we're having matches," Diehl said. "We hope people come out and support us more."
 As much as tennis in high school has provided opportunities for her, Diehl says she is unsure whether she'll pursue tennis in college.
 "It depends on how well I do in high school," Diehl. "If I get some kind of a scholarship, then maybe. But right now, probably not."
 Her advice for  freshman next year: "I would want them to know that it's a really fun sport and that you don't have to be a star tennis player, to join or to start. You could just show up; we don't cut anyone, so you'll get the same kind of treatment as everybody else. And our team is like a family, we're all really close."