Julyen Condra // From Freshman to Senior: Personal Sports Profile #9
Tanner Burch, Contributor
January 31, 2018
Filed under Profiles
Hang on for a minute...we're trying to find some more stories you might like.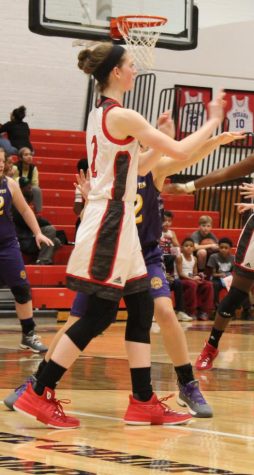 This basketball player has witnessed a couple of changes in her four years of playing for the Bulldogs, from a new roster of basketball players to seniors graduating.
Senior Julyen Condra says she has been playing basketball since she was eight or nine years old.
"I've been playing basketball since I was in third grade," Condra said.
One of her personal goals she has set for herself as a basketball player, is "to always play the best I can."
She says her main personal goal as a senior this year is "to always encourage my teammates." 
As far as she's concerned, her goals have been achieved.
"I think I successfully did all of them," Condra said.
Condra thinks the hardest thing about basketball is the mentality of the sport.
"There's nothing really hard, it's just you have to know the mental part," Condra said.
As far as Condra's concerned, she considers girls basketball to be an underappreciated sport.
"Yes, I think it is," Condra said. "If you compare it to what the boys is, it's not as important to other people, as it is to us."
In order to expose the sport a little bit more, Condra thinks that going to basketball camps for little kids is the way to do it.
"We do little kids camps and we always have them come to our camp, to know who we are, to know our program," Condra said.
When she goes to college, Condra wants to continue to play basketball.
"Yes, I plan to go to college and play, I just don't know where yet," Condra said.
Condra's advice for any incoming freshman next year: "To never give up on yourself, even though it gets hard," Condra said.