Savannah Pinkston, from freshman to senior
Hang on for a minute...we're trying to find some more stories you might like.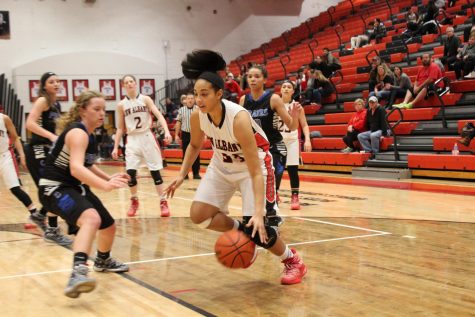 From freshman to senior // Sports Profile #5
This basketball player has witnessed a couple of changes in her four years of playing for the Bulldogs, from a new roster of players to seniors graduating and moving on.
 Senior Savannah Pinkston has been playing basketball since she was nine or ten.
 "I've been playing basketball since fourth grade," Pinkston said.
Being a good teammate is one of her personal goals.
 "Probably just to be a good teammate and to be a leader, on the team," Pinkston said.
 As far as she's concerned, her goals have been achieved.
 "I'm a senior and I'm a captain, and that's worked out pretty well," Pinkston said. "I'm glad that I have that role on my team."
 Pinkston says the hardest thing about basketball is conditioning.
 "It's a hard sport to play and a lot of people couldn't do it," Pinkston said.
 As her senior season ended Pinkston looked to the future.
 "I would like to play in college hopefully, so that's a goal of mine," Pinkston said.
 Pinkston says sometimes girls basketball doesn't get the publicity it deserves.
 "Especially at New Albany, since the boys are pretty much the best in the state," Pinkston said. "I'm happy for them, but I wish we could get a little bit more recognition."
 In order to expose the sport a little bit more, Pinkston thinks coverage the of sport on social media may get people to attend more of the games.
 "I guess just post," Pinkston said. "We try to post about it, like on our game day, on social media. Share on Snapchat and on Twitter. Just telling people to come out and support us."
 "I think I would miss basketball a lot if I didn't play in college and I have a few places where I could go, so I'm thinking about probably playing."
 Pinkston's advice for any incoming freshmen next year:
"Just tell them to work hard every day, especially for Coach Geron," Pinkston said. "They need to make sure and talk and encourage their teammates, just try their best."