Super Bowl commercials of today and yesteryear
Hang on for a minute...we're trying to find some more stories you might like.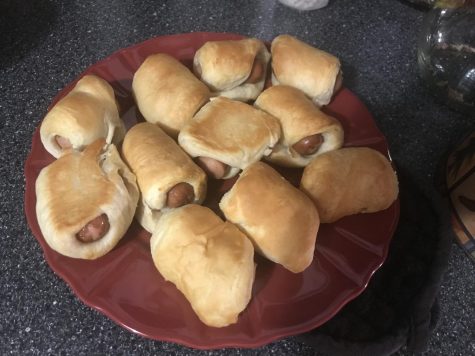 For 52 years this day has become a holiday, consisting of parties amongst family and friends to watch the big game, the commercials, and the halftime show.
 Super Bowl LII pitted the New England Patriots against the Philadelphia Eagles in a championship game where the Eagles defeated the Patriots 41-33. The buzz coming off of Super Bowl not only stretches far from the game, but the commercials as well.
 "I think my favorite commercial was Eli Manning/Odell Beckham The Dirty Dancing," senior Joey Steinert said. "I like Odell Beckham, he's one of my favorite receivers. It was different, they involved dancing."
 Sophomore Matt Sozzi also said this was his favorite. 
 "I just thought it was pretty funny," Sozzi said. 
 Some commercials are more memorable than others.
 "I remember, back when I was maybe nine or ten, there was a Bud Light commercial, "The Bud Light House," a house completely made out of Bud Light cans, and everybody kept taking one beer at a time," Steinert said. "I thought that was hilarious and I was ten years old."
 Sozzi says favorite Super Bowl commercial is a Doritos commercial.
 "It was the year the Doritos commercial had the time machine," Sozzi said. "Remember, the kid made a time machine out of a cardboard box. That was my favorite."
 "Hey Kid, Catch," a Coca-Cola commercial starring Pittsburgh Steelers defensive tackle "Mean" Joe Greene, is widely considered one of the best Super Bowl commercials of all time. It won a Clio Award for being one of the best commercials of 1979, according to Wikipedia.
 The most hated brands by sentiment at this year's Super Bowl were Diet Coke at 33%, Sprint at 47%, TurboTax at 48%, Bud Light at 51%, and Coca-Cola at 53%, according to Yahoo. 
 "The Tide commercials (were the worst)," Steinert said. "They kept adding on and got really annoying."
 While the Tide commercials weren't Sozzi's least favorite commercials from this year's Super Bowl, a different crossover commercial was.
 "Probably the Morgan Freeman one, because he's just kind of boring," Sozzi said.
 For his least favorite Super Bowl commercial of all time, Steinert says a Doritos commercial.
 "The Doritos commercial from this year is probably one of the worst ones I've ever seen," Steinert said. "It wasn't even funny. It was just pretty stupid."
For his least favorite commercial of all time, Sozzi says a Budweiser commercial.
"I think it was a Budweiser commercial with the puppy and the horse," Sozzi said. "It was just plain sad."
Over the years it has become a quandary on whether viewers actually enjoy watching the big game, the commercials or the halftime show the most. The vice president of Nielsen Sports Media Research, Stephen Master, told CNN that 50 percent of viewers watch the commercials more than the actual game. 
"These past few years, I think it has because the NFL's popularity has gone down," Steinert said. "But I still think it's the game that's most important, rather than the commercials. Commercials probably cost about $5 million anymore, but you know, that's second in line, behind the actual game."
As for Sozzi, he doesn't think that the Super Bowl commercials are overshadowing the big game.
"No, I don't think so," Sozzi said. "I think they would have if they would've been better, like ten years ago. I think they would've been better than they were this year."
"I think this year I liked the halftime show a little bit more because it's Justin Timberlake, but usually the commercials are more up my alley," Steinert said.
"I'd rather watch the commercials because sometimes the halftime shows don't have people I'd be interested in, like this year it was Justin Timberlake, and he wasn't all that great anyway," Sozzi said.
Even the halftime show, commercials, and big game, Super Bowl LII ended up with the lowest ratings in nine years, with only 103.4 million viewers, info, according to Entertainment Weekly.