Bulldogs beat FC to take sectional title
Hang on for a minute...we're trying to find some more stories you might like.
Basketball is the main sport in Indiana, but in Southern Indiana it is so much more.
Last Saturday the Bulldogs won yet another sectional. The game featured two top 10 teams in the state of Indiana. The number two ranked Bulldogs faced off against the number seven ranked Floyd Central Highlanders.  The Sectional championship did not disappoint with a score of 51-45.
Senior Jason Jeter, who helps lead the student section, was happy with the amount of students who showed up to support.
"The atmosphere of the section was crazy; we had a lot of kids there," Jeter said. "It was like you could feel that everyone was extremely nervous, but extremely excited at the same time."
There were many good moments during the game, but Jeter made up his mind on his favorite part.
"My favorite part of the game was when Derrick [Stevenson] hit his first three," Jeter said. "After that first shot went down I knew that it was going to open up the game. With Floyd double teaming Romeo, I knew that Derrick was gonna be there to step up and hit some big shots."
Jeter thinks the dogs can bring the state title back to NAHS.
"I think we can win the state championship if the players keep their heads on straight and can stay out of drama," Jeter said.
Sophomore Julien Hunter starts for the Bulldogs and started when the team suffered it only loss earlier in the season to the Highlanders.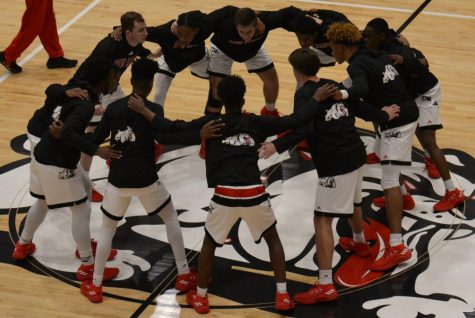 "We felt like we let one go earlier in the season," Hunter said. "It felt amazing to get one back especially in the Sectional. We had to get that one on the neutral court."
Even though they lost to them earlier in the season Hunter said it's just like any other game.
"Well, it could have been Floyd, Bedford or Jeff," Hunter said. "We looked at it as any other game, it just so happened that Floyd got there with us."
Hunter also said that this game was like no other.
"The atmosphere on the court was crazy," Hunter said. "That was the loudest game I have ever played in. We couldn't hear Coach Shannon on the court which made us have to focus even more to become one, I'm glad I got to experience it."
When it comes to the line waiting outside and the sold out crowd the Bulldogs have seen it all.
"We are used to selling out gyms," Hunter said. "Every gym we went too this year we sold it out."
Hunter knows what the team must do in order to keep their state run alive.
"We just need to keep trusting in our leaders Romeo [Langford] and Sean [East]," Hunter said. "We have to trust that they we lead us on the court through the post season, just like they did all regular season."
The Bulldogs face Bloomington South March 10 at 12:15 p.m. at Seymour. If they win, they will play in the regional championship game that night.