Mad Men of March Madness
Hang on for a minute...we're trying to find some more stories you might like.
Currently featuring 64 college basketball teams from the Division I level of the National Collegiate Athletic Association, the College Men's Basketball Tournament aka March Madness is something fans go wild about.
"I make 25 brackets so I try to pick the top 25 teams that I think are capable of winning," sophomore Caleb Alstott said. Alstott is huge college sports fan, and watches most of the men's games leading up to the tournament.
Men's Collegiate Basketball started tournament play in 1939, after former Ohio State University Coach Harold Olsen pitched the idea to the National Association of Basketball Coaches. The tournament brings in lots of money for cities hosting and is great for universities to show off their talent.

"Indiana is always my first pick because they are my favorite team of all time but they didn't make the tournament," math teacher Mr. John Kaiser said. "For this year, Butler or Purdue because they are other Indiana teams."
Mr. Kaiser says he makes two brackets each year.
"Louisville would be my ideal winner of the tournament but they didn't make it to the tournament," Alstott said. "I hope they do good in the NIT."
The fans can't get enough of March Madness. The Big Dance betting brackets started shortly after the tournament originated. Betting on brackets is harder than it seems, so some fans will do anything they can to increase their chances.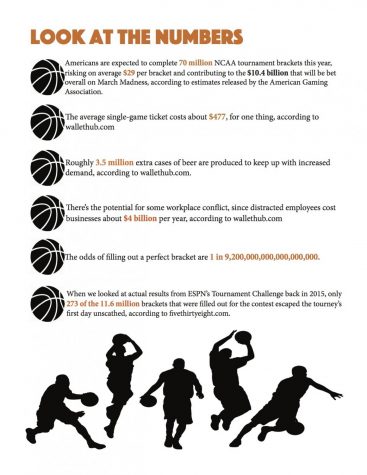 "I make so many brackets because I want to increase my chances to win $25,000," Alstott said.
"I make two brackets; one where I follow my heart, one where I look at stats," Kaiser said. "I usually win more with the ones where I follow my heart. I never put Kentucky past the second round. Just go with your gut."
Whether you want to make a bracket based off statistics, seed, or who you like, have fun with watching the games. Enjoy making the bracket, because your chances of making a perfect bracket are less than your chances of winning the lottery.
"My chances of making a perfect bracket are very slim," Kaiser said.
Each round of the tournament narrows down to the best teams, the Final Four. The third round is down to the Sweet Sixteen, all of those teams play each other until it's to the Elite Eight. The Final Four is actually played in early April.
"I picked Virginia, Villanova, North Carolina, and Michigan State in the final four for many different reasons," Alstott said.
"On my brackets I have Arizona, Purdue, North Carolina, and Michigan State making it to the final four," Kaiser said.