Lady Bulldogs Advance in Sectionals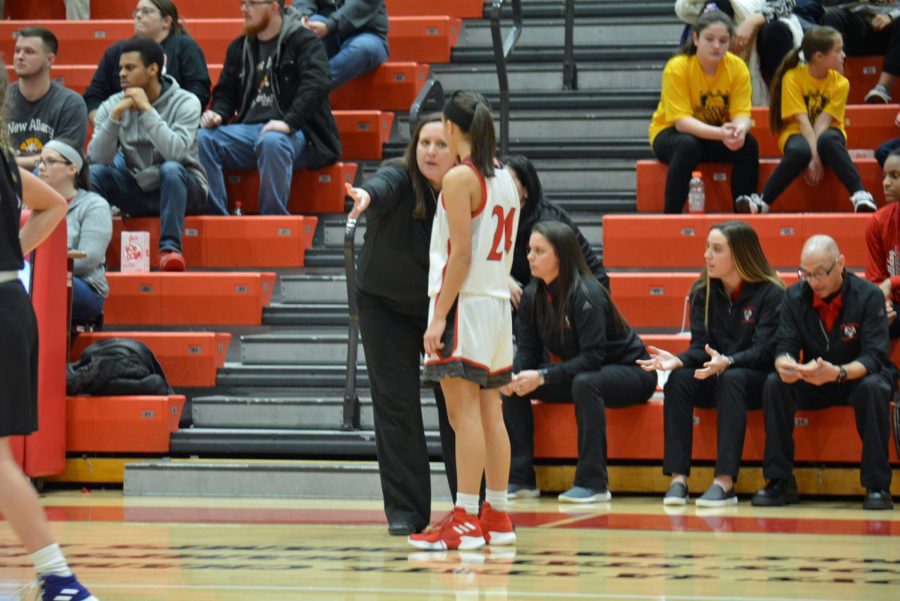 The Lady Bulldogs leave the first round of sectionals with a win over the Seymour Owls. Just weeks before the Bulldogs had lost to Seymour in a last second shot ending up in a 67-65 loss. However the team that showed up tonight was very different from the teams that battled earlier this season: they were communicating, fighting, and overall playing much better. It was one of the best played games of their season.
"Tonight we played as a team and unit on both ends of the floor," head coach Tammy Geron said. "I thought we executed what we wanted on offense and we defended in areas that we needed and how we needed to be successful. Another big difference is our will to win the game in the fourth quarter."
Senior Alayasia Douglas led the energy and scoring on the court with 24 points. The senior captain stood out making huge runs for the bulldogs.
"I think Alayasia was really patient for her shot," Geron said. "She attacked the basket very balanced and going forward to the rim."
Senior Ally Willis played the full-court press with no difficulties. Her drive and control of the ball ended her with 15 points for the night.
"Ally saw some different looks defensively on her," Geron said. "She did a great job finding her teammates when they were open which later allowed her to find some sweet spots to get her shot off."
Freshman Maleea Roland had 14 points. Roland has been a real asset to the team due to her confidence offensively and her ability to finish. "Maleea had a great game for us," Geron said. "More importantly Maleea stepped up for us defensively which is what we have need from her all season."
"The game was very important because we wanted to prove to everyone that a record is just a number," Roland said. "During the game I felt like we valued every single aspect that we needed to win us the game. The hardest point was probably keeping momentum. The easiest point was playing with confidence. I feel like if we play together and play just as hard as we did tonight we will take a "dub" [win] tomorrow."
Junior Mya Jackson and freshman Taylor Treat both had eight points. Both worked the ball on offense, however Treat's defense was astonishing leading to several turnovers and missed opportunities for the other team.
"Our record doesn't show how much talent we have on this team. We needed this," Treat said. "I was very nervous in the beginning of the game. I'm a freshman, this is a new experience for me. Once the game got going though, I was very confident."
Senior Antonia Ray had five points, sophomore Layne Burke had  three-pointer, junior Katie Reisinger scored two free-throws to round out the teams score. Ray and Reisinger really pulled through for the team coming off the bench.
"I feel like we have been doubted the whole season as a team and I know we have the potential to go far," Ray said. "During the game I just knew we had to play our hardest every single minute of every single quarter to be able to win, the hardest points of the game we're making sure we didn't hit a drought and let them come back we had to keep a good pace in the game and play team basketball, tomorrow's game we have to come hard and know we can win it all and we got it."
During the season the Bulldogs lost to Jennings County 54-46. With many of the obstacles the team has dealt with during the season seeming to vanish, there is much reassurance as they go into their next game  that they could pull off another win and move into the sectional playoff.
"Going into the next game I am very confident in us," Burke said. "If we play like we did tonight, we will succeed."
The lady bulldogs will play the second game on February 2 against Jennings County for a chance to get even closer to a sectional title.