Friday Recap// March 10-March 15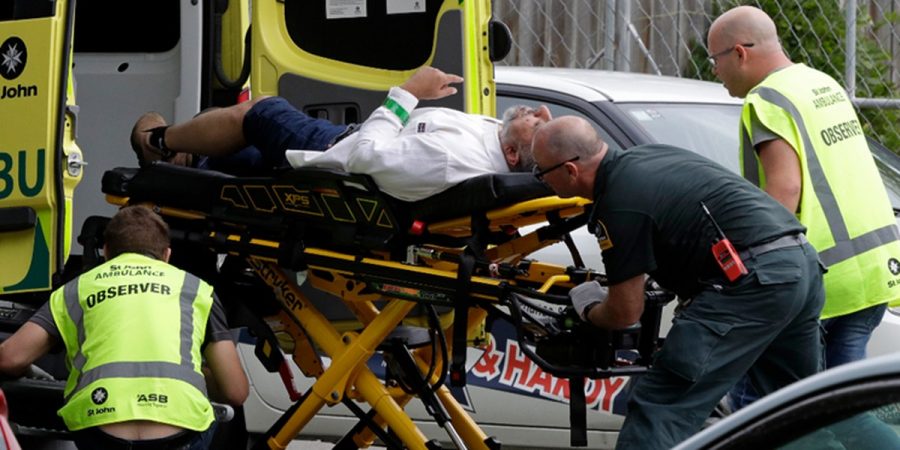 Monday
: #FakeMelania
On March 3 a tornado tore through Lee County in Alabama, which killed 24 people in its wake. On Monday this week, President Donald Trump along with his wife, Melania, visited to pay his respects to the deceased. However, this sparked controversy as it became suspected that Melania Trump had not gone, but had been replaced with a body double. Conspiracists say that details of the FLOTUS' facial structure are different than how they are in other images, namely her chin shape and her cheekbones.
This isn't the first time that there has been conspiracy surrounding Melania and whether or not she has a body double; in October 2018 it was said she hadn't been seen for three weeks but emerged to attend a ceremony at the White House, where President Trump referred to her as "my wife Melania, who happens to be right here." Her appearance was slightly off then as well, as she appeared in television footage as having a distorted, shrunken face. This was proven by Snopes to be due to faulty screens, as footage from Facebook coverage was distorted compared to footage taken from CNN.
President Trump has made claims that the Alabama images taken of Melania Trump have been altered by the media to stir up a conspiracy, but there is no evidence of these claims.

Tuesday
: Multi-million dollar college acceptance scam
On Thursday, actresses Lori Loughlin (Full House) and Felicity Huffman (Desperate Housewives) were taken into FBI custody due to involvement with multi-million dollar scheme conducted to trick colleges (including Yale and Stanford) into accepting their academically unsuccessful children through forged SAT scores, bribery, and fake/staged athletic pictures. This was done by the company the Key Worldwide Foundation (which ran from 2011 to 2019), run by William Rick Singer. Wealthy parents would pay between $200,000 and $6.5 million dollars for the forged documents and photoshopped stock photos of their children playing sports created under Singer's supervision.
Over 50 people were charged including Loughlin, Huffman, and Singer, along with 33 other parents, of whom include CEOs and college coaches.
The schools that accepted these forged papers and bribes are being sued by college students Erica Olsen and Kaela Wood, who claim they were denied a fair acceptance due to the "unqualified students" being accepted. The defendants in this case are Stanford University, the University of Southern California, University of California, Los Angeles (UCLA), the University of San Diego, the University of Texas at Austin, Wake Forest University, Yale University and Georgetown University.
Wednesday
:
School
Shooting in Suzano, Brazil
In Suzano, Brazil, State School Raul Brasil, a grade school with 1,000 student ages ranging from 6 to 18, endured a mass shooting during their lunch break. The two gunmen, aged 17 and 25 identified to have been former students at the school, injured 17 people and killed 10 students ranging in age from 11 to 18, along with two school officials and a nearby shop owner they had stolen a car from. The gunmen then shot themselves afterwards in a corridor.
"I was in the classroom during our break. I thought [the sound] was from bombs. When I realized they were gunshots, I stayed there. I only left when the police arrived," teacher Sandra Perez told O Estado de S.Paulo, a local newspaper.
The shooting is suspected to have connection to a decree signed by Brazilian president Jair Bolsonaro (who took office in January), which made it easier for law-abiding citizens to own a gun, though many restrictions are still in place. The last major school shooting was in 2011 in Rio de Janeiro, with 12 deaths.
Thursday:
Building containing school and daycare in Lagos, Nigeria Collapsed
In Ita Faji on Lagos Island, Nigeria, a three-story building containing an illegal school and daycare on the top floor collapsed with over 37 people rescued, including five teenagers and one young boy. As of Thursday, the rescue mission has been called off.
Along with four children pronounced dead at Lagos Island General Hospital, 20 people died in the collapse. The current rate of survivors is 45 total, with 10 children receiving medical help.
The building was described as "distressed" before the collapse and was about to be demolished, according to officials. This is due to lack of good building materials and lax regulations of quality. Because of this, roughly 54 buildings have collapsed in Lagos in the past four years.
"We just heard 'wham' and the three-story building was reduced to rubble," Fashanu Kudos, a man who lives in a house overlooking the collapsed building told The New York Times.
Friday: Terrorist attack on two mosques in Christchurch, New Zealand
In Christchurch, New Zealand, two mosques (places of Islamic prayer) were shot by an unnamed gunman, who is suspected to be an Australian man in his late 20's. It is estimated that 49 were fatally injured while 48 were injured. The first mosque targeted was Al Noor Mosque with 41 deaths, and the final Linwood Mosque with seven casualties. Friday is the Muslim holy day, during which many Islamic people spend their time in prayer at these mosques.
The suspected gunman has been charged, along with other people of police interest. New Zealand police have found two explosive devices strapped to a car near the scene of one of the massacres.
The gunman is said to have live-streamed video of the attack as it happened, which has been spread across social media.
He also wrote out a racist manifesto and explains a white supremacist motivation for his attack, and calls the victims "invaders" of New Zealand. It details Muslims and immigrants as his main targets, and Dylann Roof, who attacked a historically black church in Charleston, South Carolina, in 2015, and Anders Breivik, a Norwegian man who killed dozens of young people at a summer camp.
"It is clear that this can now only be described as a terrorist attack," Prime Minister Jacinda Ardern said. "This is one of New Zealand's darkest days."