The History of WNAS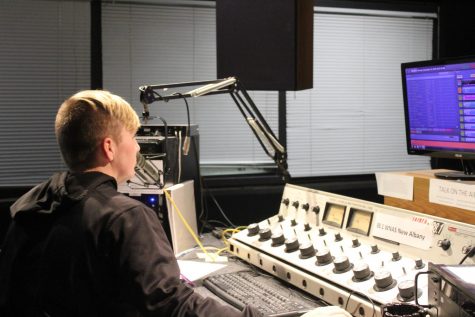 88.1 WNAS started broadcasting on May 28, 1949. The first broadcast was coverage of the 1949 graduation ceremony. This year, 2019, marks seven decades of WNAS.
As the first ever fully student-run FM radio station licensed by the Federal Communications Commission, the FCC, WNAS has a huge legacy.
WNAS celebrated its seventieth birthday by having an open house for Radio alumni in May of this year. This event was held so radio grads could see how the station is run today along with a tour of the current radio room. 
Henry Denton was one of those radio alums who attended this celebration event. He was in the radio program from 1950 to 1952.
When the News and Tribune interviewed Denton about what he thought of the open house, he said: "It brings back a lot of memories, even though this has all changed. We were in a closet, practically, when it started. There were two little rooms at the end of the hallway when we first got started."
The radio station itself was bought by the NAHS student council in 1948. And at the time the student council program was only in its third year. 
In the early years of the program there was no official radio teacher. At first Assistant Principal Marvin Oakes did it. Until 1954 when English teacher Mr. Robert William took over management. 
The first time NAHS hired someone for the sole purpose of being in charge of the radio station was in 1960 when Mr. Jerry Weaver started.
Mr. Lee Kelly was the radio director from 1973 to 2013. He saw how the station was run when he started, and decided to bring it into the modern age.
"When I first came it was radio only. There were 21 kids in the program. We were on from 8:30 in the morning till the end of school at 2:45 or so," Mr. Kelly said. "The girls were not allowed to run the equipment; only the boys. But only the girls were allowed to talk on the radio. So that's how it was set up when I came. Obviously we changed that, and when I left [in 2013] we had about 110 kids in the program. We had added tv, we added some social media, we had a website, we streamed our audio. So through those 40 years we kinda moved with the times."
Today Mr. Brian Sullivan is the Radio Director. He began during the 2017-2018 school year. 
"…Everybody is required to work in school shifts, everybody's required to work out of school shifts for radio, everybody is required to sell underwriting grants which means going out and into the public and meeting with business leaders," Mr. Sullivan said. "Everybody has to work on a sports broadcast, everybody has to shoot video for something non-sports related. So pretty much we give [Students] opportunities to work on stuff they gravitate to most, but everybody has to do every facet of this along the way. And that way anybody can do anything and so if shifts pops open on the radio anyone of 75 people can jump in there…"