Students step up
Bulldogs fill in at home to help younger siblings with eLearning
Governor Holcomb announced April 2 Indiana schools would be closed for the rest of the 2020 school year, leaving students to work at home for the next two months.    
When it comes to high school students with siblings, some have stepped in as "teacher" to their younger siblings while also juggling their own schoolwork.
Sophomore Shelby Rodriguez has one sister who is in seventh grade at Hazelwood Middle School. Rodriguez says the classes that consume her time the most are zoology and journalism. Her dad is a roofer and gets home at different times each day, while her mom is currently at home with her and her sister.
"I don't really mind [helping my younger sister with her schoolwork]," said Rodriguez. "It gets aggravating at times because she gets aggravated at what she's doing, which makes me mad at her for no reason."
As eLearning was just beginning, students and teachers tried to get the hang of a new system. Rodriguez says it's easy for her to email her teachers if she has questions she can't answer about her sister's work since it's easier to get a hold of her teachers rather than her sister's. 
Balancing their schoolwork while taking time out of their schedules to help their siblings can be an adjustment. 
"[Balancing the work is easy]," said Rodriguez. "She'll catch on with this whole electronic thing eventually, as long as she does what she's told to do, she won't need much help."
While Rodriguez doesn't mind, other students don't necessarily like the idea of having to help their younger siblings. 
Sophomore Bella Hume has one younger sister who is in kindergarten. Her mom is home with her and her sister, but it's her responsibility to help her sister with her school work.
"I feel like [teaching my sister] shouldn't be my responsibility," Hume said. "I don't like the responsibility because I feel like it shouldn't be mine to begin with."
Hume says that helping her sister with her school work has negatively affected her life because it puts her on edge with annoyance because her sister is in kindergarten. 
Both teachers and students are adapting at the last quarter wraps up. While it can be stressful for students and teachers to get used to online learning for the rest of the 2020 school year, it can sometimes be more stressful for students that have to help their siblings as well. 
Sophomore Abby Sekula has two sisters. They're twins and are in the eighth grade at Holy Family, a private Catholic school. Sekula says she struggles with chemistry and it takes up most of her time. Her parents are both at home working, but her mom stays busy as a vice president of communications and her dad works in the marketing field.
---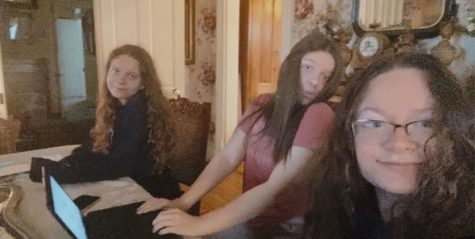 Sophomore Abby Sekula works on her online classes while helping her two sisters who are both in eighth grade.
---
"[Helping my sisters] pushes me to work later at night," said sophomore Abby Sekula. "I don't mind just because they're older, and it's not as bad as when they were younger. But if they were younger it would definitely be harder."
Sekula says that helping both of her sisters has negatively impacted her life because it adds more stress to the workload she already has. With both her parents working full time and both her sisters being in eighth grade, it's hard for her parents to find time to help them with their school work.