Working the Frontlines: Healthcare Workers
Healthcare workers are being called heroes as they risk their own safety for the health of others
Since COVID-19 started spreading rapidly around China it's caused businesses to shut down and many civilians left unemployed. Those left to work are putting their health and families' health at risk.
Healthcare workers have been on the frontlines since the beginning of this pandemic. While the world seemed to be consumed by fear for the future, healthcare workers have stayed still so they could care for all ages in all conditions. I have two family members who have gone into this pandemic working the frontlines. My sister and mother have continued their work as nurses caring for those who need it most. 
Madison Almon, a certified nursing assistant at Norton Childrens and Women's Hospital, said she and her coworkers had to adapt to new rules and regulations in order to keep themselves and others safe. 
"If anything, the staff has had to learn how to be more flexible and willing to roll with the punches because the rules and regulations are always changing throughout the day," Almon said. "We're trying to take whatever our higher ups are telling us and implement it throughout the day."
As many may assume, those who are responsible for caring for a patient who has tested positive for COVID-19 must take their actions and hygiene much more seriously when coming in out of a patient's room. 
"Extra protection that you wear when you go into a positive COVID patients room is a gown, a hair cover, a mask, goggles and gloves,"Almon said.  "Hand hygiene has always been a huge deal in hospitals or any healthcare facility, but they're pushing those standards extra hard as well as always cleaning the unit."
The gear that is required for a nurse to safely and correctly care for a COVID-19 patient is  on high demand all around the world so it's common to see a shortage for those who are most likely to get exposed. Where there is a large need, that need is usually met by those who want to help around the community. Many have actively donated masks and other PPE (personal protective equipment) to hospitals in and around their community.
"At our hospital at least, there hasn't been a shortage of anything yet. We have always had [PPE] on hand," Almon said. "People have [donated PPE] but you can't wear those into [positive COVID] patients rooms. Those are more for the people around the hospital who aren't giving the patient care."
While it's important for those infected with the coronavirus to completely isolate themselves, it's also important for those healthcare workers who are exposed to do the same. Many have told stories of renting hotel rooms and staying out of the house to protect their family from the virus. These workers chose to sacrifice their health to care for others, but they also chose to sacrifice time with close family to protect them. 
Almon was recently given the role to care for two patients who had tested positive for COVID-19. She said she gladly took on the task knowing the risks to her health that it would bring. While it was important to her to care for these patients to the best of her ability, it was more important to isolate herself from family and friends afterwards. 
"For me, the hardest part [of quarantine] has been realizing what I'm doing. I'm taking care of these patients and doing my job and I accept that but I also accept my responsibility to my friends and family to not be around them," Almon said. "Emotionally, it's been tough to not be around friends and family."
Fortunately, the stories that are surrounding the news about chaotic hospitals and nurses working with bruises from their masks is not how every hospital looks during these times. Lanette Almon, Madison's mom is a pediatric nurse at Norton Children's and Women's Hospital and says she has worked in quite the opposite condition. In her unit she says there are empty patient rooms and quiet hallways. 
It's rare for a child to have severe symptoms for COVID-19 so not many are being tested or treated. On top of this, many parents are keeping their children indoors and away from others which is stopping the spread of other common illnesses and germs. 
"The pediatric population has not been hit as hard as the adult population," Lanette said. "We've been hit hard in a different way and that is that we have fewer patients in the hospital therefore too many nurses so nurses are being made to stay home when they are meant to be working."
Even though those working in pediatrics have not seen the chaos and danger like others have doesn't mean they take this situation any more lightly. Norton Hospital has made sure to take the health of their employees and patients just as serious and prepare for any situation that may arise. 
"The hospital made sure that we had plenty of PPE. Our PPE has been on lockdown meaning that all of our gowns, gloves, masks, hand gel, disinfectant wipes have been in a locked storage room with two nurses that sit outside that storage room 24/7 and keep inventory of what comes and goes," Lanette said."Each unit is only allowed to take what is needed for that shift."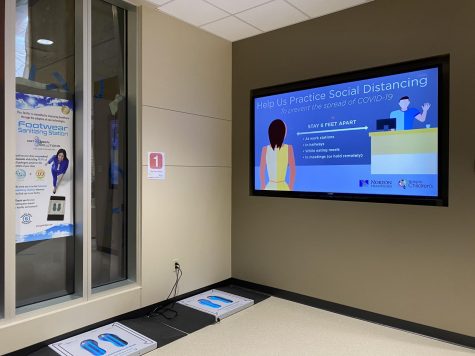 Those who work with children see more of the emotional toll that comes with being a patient at this time. Along with the constant new rules, many of these children are having to face their battles alone.
"Policies and procedures seem to change weekly if not more. We had to limit visitors so if a child came in for whatever reason there is only one adult that is allowed to stay with the child," Lanette said. "This doesn't sound like a huge problem unless you consider those small children that are on the oncology floor that don't know how much time they have and they can't see the rest of their family."
Lanette has bravely continued her work as a nurse despite her family of five children and two grandchildren. She is not the only one though, many of her coworkers are in similar situations but as healthcare workers they can all agree that the patient comes first no matter what.
"I feel that most nurses that I work with would continue to care for their patients regardless of appropriate safety gear," Lanette said."I do not feel that it's fair for society to ask us to risk our health like that but sometimes that's out of our control."
It's obvious that around the world people are disagreeing with how we should or shouldn't have handled this situation but many can agree with the amount of gratitude and respect that healthcare workers at this time deserve. Thank you.