2020 Retirees // Mrs. Sandy Flatt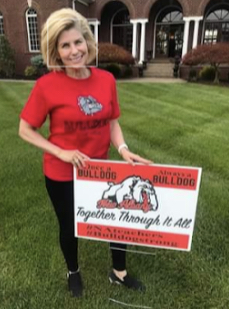 The 2020 school year ended without closure for not only seniors, but for several faculty and staff who are retiring. Business teacher Mrs. Sandy Flatt didn't know her last day as a teacher at NAHS would be before spring break.
Mrs. Sandy Flatt // Business
How long have you been at NA and what has changed since you started?
I started teaching at NAHS in 2011. I teach four different subject areas now. When I started teaching, I taught Business Law, Business Management and Economics. I moved to teaching CIE for one year. My last few years I have been teaching Personal Finance, Business Law, Entrepreneurship and the bank – BFC. I have thoroughly enjoyed learning and teaching the subjects I have been assigned. There has always been a lot of work but there are many other tasks assigned to teachers. For one example, students used to go to the bookstore to check out their books. Now, it is up to the teacher to bring the books to his/her classroom and assign the books to the students. I believe so much has changed with the increase of responsibilities everyone has to endure from administration, teachers, staff and students. The workload for everyone seems to have doubled. With 32 years of teaching under my belt, I have seen many changes but have also seen many things stay the same. When I started teaching at Clarksville High School, we were using typewriters to learn to type. I taught adults how to use computers my next five years in business /and industry. I taught the next 13 years at Prosser and enjoyed having smaller class sizes for 2 hours and 40 minutes each class. Even though many changes have occurred, there is one part that will never change – the dedication of adult individuals investing in the young people of today.
Describe how it feels with your last year ending like this. 
Ending the year so abruptly certainly was an adjustment for me as well as everyone else. I think I felt like I was in a daze for about six weeks. I was completing my lesson plans, grading and working with students, but it felt like I was just going through the motions. I had to relearn how to manage time. I felt like an apocalypse had happened and so few people remained. I questioned whether to stay another year because I really did not want my teaching career to end this way, but I decided the seniors were forced to end their high school career this way so I am going out with the Class of 2020. 
Stories or memories over the years?
It was ironic when I was offered the position at NAHS. I remember in high school (I graduated from Jeffersonville High School) I had several friends who went to New Albany and always wondered what it would be like to attend NAHS. Ironically, I completed my student-teaching (under my eventual father-in-law) at New Albany High School. NAHS is also where my husband and our daughters graduated. Years later, when I was teaching at Prosser and collaborated with Kristin Scott, I always thought how cool it would be to get to teach at NAHS with Kristin. In 2011, the Computer Technology classes were moved back to the high schools from career tech centers, and I was excited to finally have the opportunity to teach at NAHS with Kristin.  Fast forward to now,  I have been blessed to make life-long friendships, like my Europe-travel-mates Charmaine Corrie, Laura McGuirk and Matt Jacobi. I also enjoyed our Alphabet Department meetings under our motivating, kind and generous department coach and fearless leader, Sharon Allen. I have enjoyed the opportunities to get to know so many of my cohorts and to learn and to laugh every day with Dennis Scott and Tammy Geron, to work with many influential teachers such as Brian Sullivan and his assistant Virginia Gilford, Kelly and Matt Payne, Jason Orr, Jim Shannon, Kyle Weigleb, Lyn Akermon, Michael Cluver, Miriam Munoz, Wright and Steve Cooley. Best of luck to our newest teachers Brandon Roberson, Corey Baum and Shelby Gliebe. A few things I remember are having our class do The Harlem Shake in 2013, HELEN training, Marzano, My Big Campus,  Pennies for Patients, English group lunch, WNAS coffee time, Teachers Got Talent, the sporting events, the plays, the orchestra concerts, the numerous volunteering activities so many people made sure to happen to help our students.
What will you miss most about NA?
New Albany High School has been my home-away-from-home for nine years. So much of my life has revolved around New Albany, our students and our staff. I will truly miss the daily involvement. I will miss watching students grow, learn and flourish. I will miss the interaction with staff members. I will miss being part of a worthwhile cause; however, once a Bulldog, always a Bulldog.
What, if anything, makes NA different from other schools?
I know there are many great schools. I believe one of the many things that sets NAHS apart from others is the dedication of the teachers and staff – we truly will do whatever it takes to help students to succeed.
What made you decide to retire this year/how long have you known this was your last year?
Actually, I was eligible to retire two years ago but just wasn't ready yet. I achieved many goals I wanted to achieve. I am ready to spend time doing other things I can't do while teaching full-time. I want to learn to play golf and administrators frown on checking out of school to go play golf. I will utilize some of my computer/office skills to help my husband in his dental office. I will have more time to spend with our daughters, Larra, Jessica and Lyndsay, and their families as well as travel to visit family and friends. I also look forward to volunteering my time to several causes.
Is there anything else you'd like to add?
Even through the challenges and the ups and downs, there is no other profession I can imagine as fulfilling for me as my being a teacher.