2020 Retirees // Ms. Laura McGuirk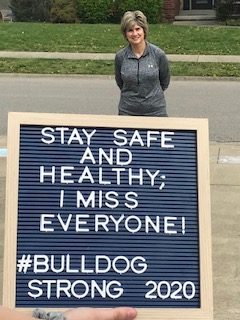 The 2020 school year ended without closure for not only seniors, but for several faculty and staff who are retiring. Counselor Ms. Laura McGuirk didn't know her last day at NAHS would be before spring break.
Ms. Laura McGuirk // Senior Counselor 
How long have you been at NA and what has changed since you started?
I have been at NAHS for 22 years. I have seen a lot of changes.  When I started at NAHS, we were on block scheduling and students could leave campus for lunch. Technology has also made a significant change in how students apply to college and scholarships. 
How does it feel to end the year like this?
This is not the school year ending that any of us wanted or hoped for. I feel like there isn't closure for any of us. We don't get a chance to say goodbye and celebrate, whether it is graduation or retirement.
Do you have any specific stories or memories over the years?
 I have great memories of students, staff, games and plays. Both of my children are NAHS graduates, so I have great memories as a staff member and parent. 
What will you miss most about NA?
I will miss the people the most. We have great students here and my co-workers are truly like family members to me. It's going to be a huge change for me.
What, if anything, makes NA different from other schools?
I think NAHS stands out because of the people here and the school tradition and community pride.
What made you decide to retire this year?
I decided last summer to retire because I wanted to slow down a bit and have more balance in my life.