Remembering Ruth Bader-Ginsburg
Taking a look at the life and accomplishments of past Supreme Court Justice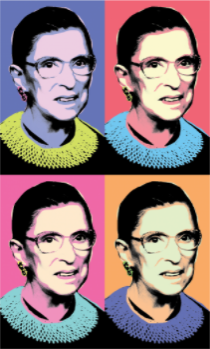 On March 15, 1933 in Brooklyn, New York one of the most powerful and influential women in history, was born. Ruth Bader-Ginsberg would pave the way for many women after her to be able to rise into positions of power, and eventually reach gender equality. 
Early Life
Ruth Bader-Ginsberg was born into a low-income, working class neighborhood in Brooklyn, NY to her father and mother Nathan and Cecilia Bader who raised her to follow Judaism. Bader attended high school at James Madison High School where she excelled in academics. After high school, she attended Cornell University, where she graduated in 1954 top of her class. It was while she was attending Cornell that Bader met her soon-to-be husband, Martin D. Ginsberg. 
Their first child, Jane, was born shortly after Martin was drafted into the military. When he was discharged two years later, he returned to Harvard where Bader-Ginsberg was enrolled. Though soon, Martin was diagnosed with testicular cancer. She now had to balance taking care of her husband, taking care of their young daughter, and taking notes for his classes — all while she was also attending the same school as one of the only nine female students at Harvard.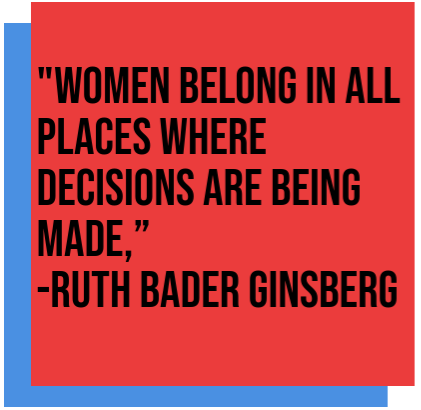 Despite the prejudices that many of her male peers and administrators had against her, Bader-Ginsberg excelled in her academics and eventually became the first female member of the prestigious legal journal the Harvard Law Journal. 
Later in her years at Harvard, Martin graduated and accepted a position at a law firm in New York. Bader-Ginsberg followed her husband and transferred to Columbia where she graduated first in her class in 1959.
Despite her immense academic success and attendance to many Ivy League schools, she still faced gender discrimination while seeking employment after graduation. 
Careers
Bader-Ginsberg was able to find a job clerking for the U.S. District Judge Edmund L. Palmieri. She then taught civil procedure at Rutgers University Law School. Then from 1972-1980 she taught at Columbia University where she became its first ever female tenured professor and co-authored the first law school case book on sexual discrimination.
Bader-Ginsberg served as the director of the Women's Rights Project of the American Civil Liberties Union during the 1970's. She was appointed to the U.S. Court of Appeals for the District of Columbia in 1980 by president Jimmy Carter. Added to the U.S. Supreme Court in 1993 by President Bill Clinton, she continued to argue for gender equality in such cases as United States v. Virginia.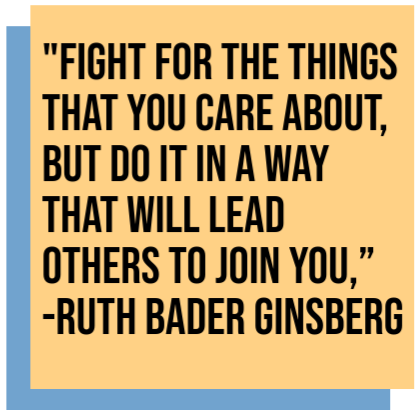 Many people were opposed to the idea of having Bader-Ginsberg serve as a justice because they were worried about her transition from social advocate to supreme court justice and the fact that she seemed to have a completely different view from the other, more conservative members of the court, but that's precisely why Clinton wanted her on the team. She was voted into the group by the Senate with an overwhelmingly large majority voting in her favor 96-3.
Being a member of the Supreme Court of the United States made Bader-Ginsberg the second-ever female justice and the first ever Jewish female justice. 
What She Stood For
Even before she was a justice for the Supreme Court, Bader-Ginsberg was an advocate for gender equality and LGBTQ+ rights, the rights of workers, and the separation of church and state.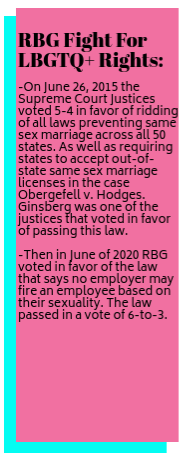 She made great strides in the country for women, girls and members of the LGBTQ+ community, leaving many people and NAHS students like Emma Smith inspired along the way.
"RBG has played an enormous role for women's rights through her term," Smith said. "She was an advocate for abortion rights for women. She worked tirelessly at her job and I am very grateful for her impact. It will be impossible to replace her."
Bader-Ginsberg gave so many people so much hope for their future on this earth, working constantly to ensure a better future for future generations.
Her Legacy
On September 18, 2020, the world lost Ruth Bader-Ginsburg to complications of metastatic pancreatic cancer. She may be gone, but Bader-Ginsburg will continue to inspire women and girls to use their voices to advocate for what they believe in, and even in the face of adversity and doubt from the people around you, you must stay strong and believe in yourself, because you are an unstoppable force.