Traveling during a pandemic
As the first quarter of the 2020-2021 school year is approaching its end, students and their families and friends are planning their fall break trips. 
Due to the pandemic, this year's fall break has been shortened a week since school started two weeks later then its initial start date. Students aren't able to enjoy their fall break to its entirety due to the missing week, but are still traveling over the week that they have off.
Along with traveling during a pandemic, comes some judgement. Some are afraid of traveling during a pandemic, and some aren't. There are also some people who frown upon people traveling during a pandemic. 
Senior Jacob Zamarano is traveling to Maryland over this fall break to spend time with his family and cousins. 
"We aren't packing any different than last year but we are bringing along a few extra masks and hand sanitizer for the drive up there," said Zamarano. 
Zamarano says that the last time they went to Maryland they flew to Maryland, but now have to drive because of the difficulty of flying due to the pandemic. 
"[My expectations for the trip are] honestly pretty high," said Zamarano. "I think we'll all enjoy it and we have ideas of what we want to do."
Senior Kelly Gerka plans on traveling over fall break, but not as far as Maryland.  
"I plan to visit Indiana University–Purdue University Indianapolis (IUPUI) and potentially hang out with a friend," said Gerka. 
Gerka has never visited IUPUI, and is taking extra precautions like wearing a mask at all times and social distancing. She says shebelieves that this trip will be more important than any other trip she's taken in the past, since it pertains to her future, while other trips in the past did not. 
"We've scheduled a one-on-one tour instead of a group tour," said Gerka. "I expect to find out if I enjoy IUPUI's campus and fully know if I like the school."
Other precautions that Gerka and her family are taking are to look at the roads and weather conditions for the trip to the college campus. 
The only other people going on this trip with her are her parents. 
"[I'm not worried about being judged because] people went on vacations that weren't important when the cases were even worse, so I think we're fine," said Gerka.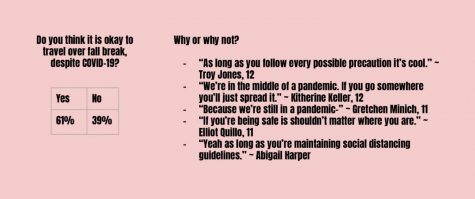 According to Travel Agent Central, in 2017, 28 percent of Americans planned to travel over fall break. The article says that 68 percent of travelers say that one of the benefits of traveling over fall break is that there are fewer crowds anda children, the weather is more favorable, and there is a better opportunity to find a better value for the cost of the trip. 
The article also states that 62 percent of travelers prefer to take road trips to their vacations rather than flying. 
Junior Emma Smith is planning on traveling to West Virginia over this fall break. 
"I have driven through [West Virginia] before but I have never stayed," said Smith. 
Smith says this trip will be different. 
"[Extra precautions that we're taking are] quarantining two weeks before the trip and we are staying in an air bnb and not really going places," said Smith. "Typically we go out and go to a beach or we go shopping but this time instead of going to Baltimore, we are meeting my grandparents halfway in West Virginia and staying indoors since we haven't seen them in a while."
Smith says they only plan to stop at gas stations only when absolutely necessary, and they're going to try to avoid going out in public. The only people going on this trip are Smith, her parents and her grandparents. 
"[I'm not afraid of being judged since] we are being safe and quarantining while doing it but I could see how someone could be judged for going around big groups without a mask and not doing it safely," said Smith. 
Unlike the other students, sophomore Daniel Caverly is traveling to Mexico on his week off for fall break. 
Caverly says that he has been to Mexico before, and he and his family aren't planning the trip any differently than they have in the past. Along with the plans being the same, their mode of transportation is the same as well, and he and his family are going by plane. 
"Packing is practically the same as it was before except for extra masks and hand sanitizers," said Caverly. "It'll be a fun trip, with little to no disappointments."
Caverly says he's not afraid of being judged for going on vacation in the midst of a pandemic, and says he's going to enjoy himself while others sit around and judge. 
Junior Nathaniel Higbie and his family are traveling to Disney World over this upcoming week break. 
"I've been a few times and I'm not really planning for it differently other than making sure I bring plenty of masks," said Higbie. 
Higbie says that when he and his family have gone in the past, they drove, and they're driving again this time. 
When it comes to packing, he and his family are packing the same as they have before, but bringing extra masks and hand sanitizer as their extra precautions. Another extra precaution that they are taking is just following the guidelines that have been set in place at Disney World. 
"I think this trip will be different because it will feel so empty there," said Higbie. "Usually there's hundreds of people crowded together in a line just for one ride." 
The only people that will be attending this trip are Higbie and his immediate family. 
"I'm not totally sure what to expect for the trip but I definitely expect many things to be different than in the past," said Higbie. "[But] to travel safely and have a safe trip I plan on following all the guidelines that I need to follow and always wearing a mask when out in public."
When it comes to being judged for going on a trip during a global pandemic, Higbie is not afraid of being judged for being on this trip. 
"I'm not afraid of being judged for this trip because I'm going to take the necessary precautions and we're starting to get over this pandemic with things starting up again like school and sports," said Higbie. 
Travel Agent Central claims that 72 percent of Americans are still planning on travelling during the rest of the year of 2020. The article also states that 91 percent of Americans are more likely to travel domestically than internationally.