Immerse yourself
Fall into the fall season fully
The biggest tell that fall has finally come, is the change in weather. Hot, sticky summer days turn into times of cool, breezy autumn bliss. These cool days are my favorite part of fall, with the temperatures ranging from 50 to 70 degrees, breezes that clear your sinuses when you inhale, and partly cloudy skies with the sun playing a game of peek-a-boo from behind them. Taking time to step outside and appreciate the perfect sweater weather is a great way to let yourself know that fall has come, and now is the time to put away your beachwear and pull out your sweaters and scarves. 
Adjust your wardrobe
For people like me, fall clothes are a constant in my wardrobe. The cozy clothes of this season often feature warm colors with rugged themes that often include copious amounts of denim, flannels and fur. My favorite of them all is flannels. They can be any color, thick or thin, tucked in or flowing, buttoned-up or layered over another shirt! If you don't already have fall clothes in your closet, you can easily find some amazing finds at thrift stores! Specifically in the area surrounding New Albany, there are 7+ Goodwill locations filled to the brim with cheap clothes that others have generously donated. Besides the low price, wearing previously owned clothes can have great benefits on the world too! Every item of clothing requires profuse amounts of water and electricity to make. Buying thrifted clothes is easy on your wallet, and the world!
Get crafty
Crafts are another way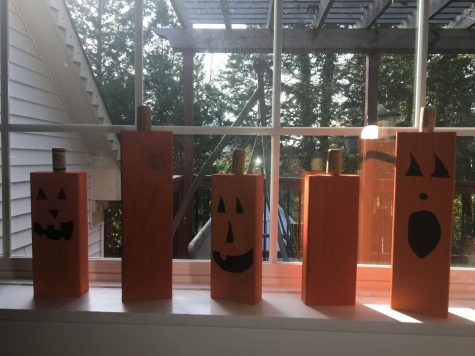 to immerse yourself into the season. Some may say that crafts are for kids, but I say they're for everyone. Paint a picture of a spooky graveyard scene, cut out some bat shapes and tape them on your wall, or maybe you're not into paper crafts and more into baking fun, fall goods. Maybe make cookies in the shapes of pumpkins, or try making green cupcakes dyed with food coloring with Frankenstein faces made out of frosting. If you're having trouble thinking of things to make, Pinterest is literally a treasure trove of creative crafts and baked goods, all it takes is a couple clicks and you'll be on your way to seasonal supremacy.
Embrace the spooky season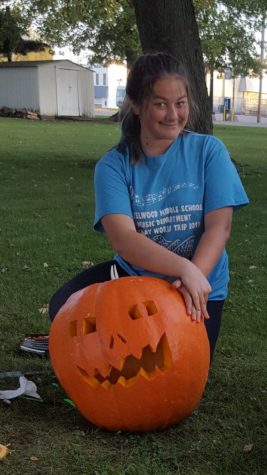 If you celebrate Halloween, this one is a big one. Get into the holiday spirit. A lot of people don't really like Halloween because a huge part of it is all about gore, thrillers, and purposely putting yourself into scary situations that may or may not cause you to wet your pants… a.k.a. haunted houses. This holiday doesn't have to be all about being scared/scary though! Focus more on the aspects that you like rather than the ones you don't. Create a costume that you love, dress up, hang out with your friends, carve a pumpkin, fill yourself with heaps of candy, and just enjoy yourself.
Take a moment to appreciate the season
To bring this back to the beginning, this goes along with appreciating the fine weather of the season. One of the simplest, cheapest, ways to get into the fall season is to step outside, and go for a walk. I speak from experience when I say that this can be so nice and peaceful. The weather is perfect, the view is beautiful, and you're surrounded by holiday spirit. Pop in some headphones and listen to your favorite slow vibe playlist, or don't, and just listen to the sound of the world around you as you breathe in the fresh air.
If fall isn't already your favorite season, complete the items on this list and there's a 99.99% chance it will be your favorite season. If you still don't love it after that, you might want to make sure you sleep with one eye open, because the ghost of Halloween past might just pay you a visit.