Christmas at "The Office" – Ranked
Over the nine seasons at Dunder Mifflin, we watched the staff celebrate Christmas seven times. Not all Christmas episodes are created the same however, and some are defiantly better than others. 
7. Christmas Wishes- Season 7, Episode 10
IMDB Rating: 7.9
Summary: With Michael (Steve Carell) gone, Andy (Ed Helms) is now serving as the Office Santa, and he plans to grant everyone's holiday wishes. Andy plans on bringing his girlfriend to the parting, which makes Erin (Ellie Kemper) very jealous. She still has feelings for him, and although Andy denies it, later in the episode, he seems to also still have feelings for her. The subplot of the episode revolves around Jim (John Krasinski) and Dwight's (Rainn Wilson) shenanigans'. Andy tells the both of them that if either one of them messes with the other, they loose their Christmas bonus to the other person. This leads to Dwight attempting to frame Jim for the rest of the episode so he gets the bonus.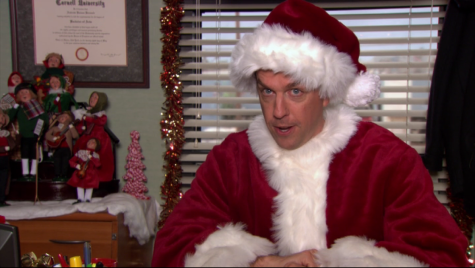 Review: Season 7 of the Office was a bit of a train wreck, and this episode fits the theme. After losing Michael, the show tries its best to keep the tone, but it doesn't come out right. While previous Christmas parties have been uncomfortable because of Michael being Michael, this episode forced itself to be uncomfortable, having Erin attempting to be the reason. The overall episode is somewhat of a mess, and certainly doesn't put me in the Christmas spirit. The episode also lacks any overall quotable moments, and is not too memorable.
6. Benihana Christmas- Season 3, Episode 8
IMDB rating: 8.8
"Christmas is Canceled!" Michael.

"Michael, you can't cancel a holiday," Stanley.

"Keep it up Stanley, and you will lose New Years," Michael.
Summary: Carol (Nancy Carell) has just dumped Michael, and he is devastated to the point he wants to cancel Christmas. To boost his spirits, Andy takes Michael, along with Jim and Dwight, to a Japanese restaurant known as Benihana.  Andy and Michael bring waitresses, who they refer to as their girlfriends. Meanwhile, back at the Office, Karen (Rashida Jones) and Pam (Jenna Fischer) are planning one Christmas Party- a Margarita/Karaoke Christmas, while Angela (Angela Kinsey) is planning a Nutcracker-Christmas, making each employee pick a party to attend.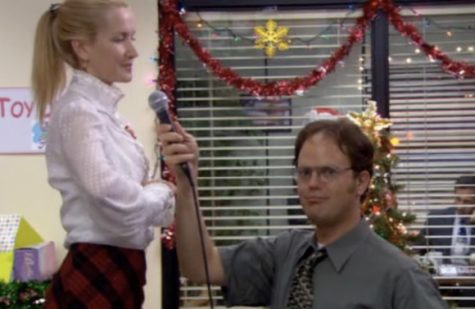 Review: This episode is too long. Maybe I just have a short attention span, but there are so many episodes of the Office that would've been better off to be an hour than this one. It's certainly not a bad episode, but just don't like it. I definitely don't get the level of Christmas spirit from it that I should. I think the episode would've been stronger if it focused more on the separate parties, and either less or not at all on Michael and Carol. The level of tension with the two parties certainly made the parties look less fun, however they were very awkward.
5. Moroccan Christmas- Season 5, Episode 11
IMDB Rating: 8.4
"Fa-la-la-la-la, la-la ca-ching," Dwight.
Summary: With Phyllis (Phyllis Smith) being head of the Party Planning Committee, she chooses to have a Moroccan-themed Christmas party. Phyllis is the only one who knows that Angela is cheating on her fiancé, Andy, with Dwight, and uses this information to her advantage, threatening to tell the Office is Angela doesn't do everything for her. At the party, Meredith (Kate Flannery) gets very drunk, which results in her hair catching on fire. Naturally, this prompts Michael to think it's his role to check her into rehab. Through the episode, Dwight is shown reselling a unicorn-princess doll at marketed up prices for parents that procrastinated.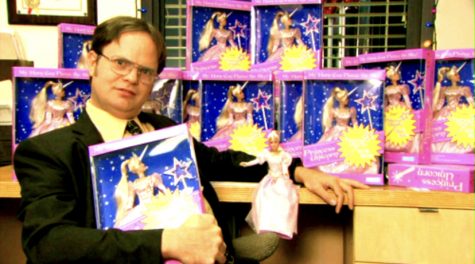 Review: I'm not sure how I feel about this side of Phyllis. She's normally shown as being so sweet and motherly, yet in this episode, she's acting like a teenager. I'll give it to her though, her party looked very fun. It was the perfect balance of Christmas Spirit and fun. The party didn't get uncomfortable until Michael intervenes with Meredith's alcoholism. The Dwight plot does bother me a bit, because I think people who buy stuff just to sell it at jacked up prices are just plain disguising.
4. Secret Santa- Season 6, Episode 13
IMDB Rating: 8.5
"We are unveiling an artificial tree, that will never die, like the spirit of Christmas," Dwight.
Summary: Jim and Dwight are heads of the Party Planning Committee, leading to a unique Christmas Party.  Much to Michael's chagrin, Jim has told Phyllis she could serve as the office Santa this year. Unable to handle not being the center of attention, Michael decides to dress as Jesus, which Toby (Paul Lieberstein) tells him is not allowed. An upset Michael decides to call David Wallace (Andy Buckley), who tells him that Dunder Mifflin is being bought, meaning everyone will be fired and really hindering the spirit at the party. Like previous years, the office holds a Secret Santa. Andy makes sure to get Erin, and he sends her "The 12 Days of Christmas". For obvious reasons, this idea doesn't play out as well as he thought, with the birds attacking her.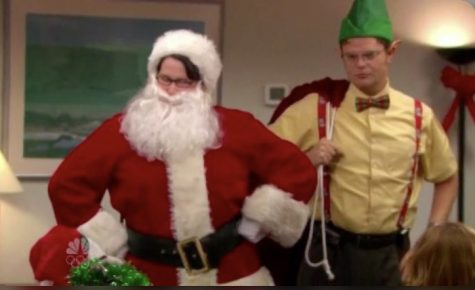 Review: Just like every Christmas episode of the Office, this one is filled with tension, but it has so many layers that I think it really works. May I just say that Jim and Dwight have vastly improved at parties since Kelly's birthday party in season five. The party was very Christmasy, and equally uncomfortable. Michael has always been office Santa, and I can completely understand why he was jealous, though his over reaction by dressing as Jesus and calling David Wallace was fairly funny. I think this party would've been a fun one to be a fly on the wall for.
3. Classy Christmas- Season 7, Episodes 11 & 12
IMDB Rating: 9.0
"In the end the greatest snowball isn't a snowball at all. It's fear. Merry Christmas," Dwight. 
Summary: After Toby gets summoned to do jury duty for the Scranton Strangler case, it is announced that Holly (Amy Ryan), the love of Michael's life, will be serving as a temporary HR rep. With that announcement, Michael insist they move the Christmas Party so Holly can attend, and he does everything in his power to make it perfect for her, giving the new party a classy theme. When Holly arrives, her and Michael laugh and joke together, until Michael finds out she is still in a relationship, which breaks his heart. He later learns that Holly has given her boyfriend an ultimatum- propose or it's over. This news gives Michael hope that it's not over for him and Holly. At the same time, Dwight and Jim are having a snowball fight, which in true Jim and Dwight fashion gets out of hand.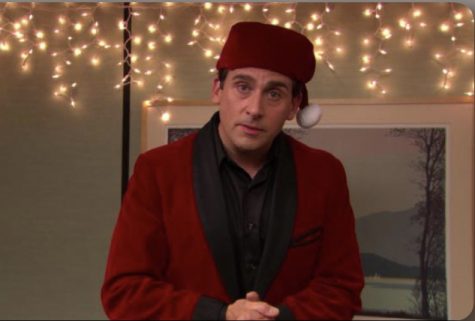 Review: While Michael does typically come across as kind of a jerk, and in this episode is a bit of a baby, you see a really human side of Michael here. I think that was the perfect way to handle Michael's final Christmas episode. This was a perfect way to reintroduce Holly as well. This episode also had essentially two Christmas parties- the one Michael threw everything away from, and the classy one he threw for Holly. Both of these parties looked very fun. I would've loved to attend the classy one strictly because of how unique it was.
2. Dwight Christmas- Season 9, Episode 9
IMDB Rating: 8.4
"Mini-cupcakes? As in the mini version of regular cupcakes, which is already the mini version of cake? Honestly, where does it end with you people?" Kevin. 
Summary: It's the final Christmas episode of The Office, and no one remembered to plan a party. Since no one has a plan, Dwight chooses the theme- a Pennsylvania-Dutch Christmas, just as he celebrated growing up. The most iconic part of this episode involves Dwight showing up dressed as Belsnickel, whom Jim describes as Santa, but "dirty and worse". Later in the episode, Belsnickel decides if someone is impish- meaning they get whipped with his stick, or admirable- they get a gift. When Jim has to leave the party early for his new job in Philly, Dwight/Belsnickel decides he is very impish, and gives Jim a nice whipping. The subplots for this episode are both fairly small, with one focusing on how Erin has never seen Die Hard, so Pete (Jake Lacy) shows her, and the other focusing on Toby and Nellie (Catherine Tate).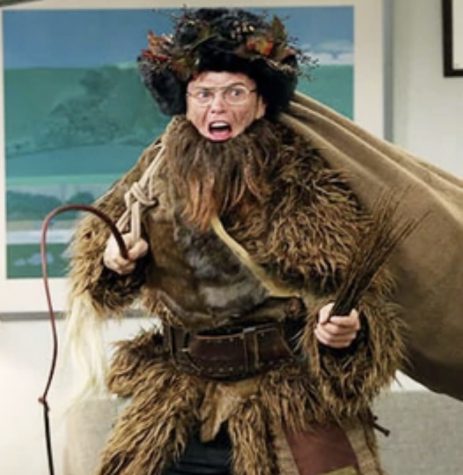 Review: This Christmas party was definitely the most out there, and looked extremely fun.  Dwight's sadness over Jim leaving was also nice to see. It's amazing how much the relationship between Jim and Dwight has changed in the nine seasons. I think the Belsnickel was not only hilarious, but it really fit Dwight's personality. Being the final Christmas episode, a lot of stuff was wrapped up. Characters bonded in ways they never had before. All and all, this was an amazing episode.
1. Christmas Party- Season 2, Episode 10
IMDB Rating: 8.9
"Presents are the best way to show someone how much you care. It is like a tangible thing that you can point to and say 'Hey man, I love you this many dollars worth,'" Michael.
Summary: Jim has finally drawn Pam's name for Office Secret Santa, and his gift to her is a blue teapot, which she has been wanting, filled with inside jokes and a very special letter.  Michael has drawn Ryan (B.J. Novak) , and because of how much he loves Ryan, Michael purchased him an iPod, obviously over the $20 limit. Michael receives his Secret Santa gift, an oven mitt handcrafted by Phyllis. Naturally, he is frustrated, comparing what he bought Ryan to what he received.  The solution: change the game from Secret Santa to Yankee Swap/Nasty Santa/White Elephant, despite the fact that everyone in the office purchased gifts especially for that person.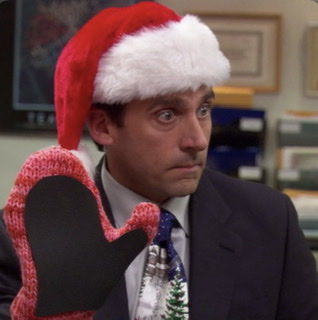 Review: The first Christmas episode of the show, and definitely the most iconic. Show any Office fan a blue teapot, and they will know where it's from. This episode is nearly the perfect Office Christmas episode. Michael is a jerk, Pam and Jim have their developing relationship, and the party is fun until it's uncomfortable. If I only had time for one Office Christmas Episode, it would definitely be this one. Another plus to this episode is the first appearance of Bob Vance, Vance Refrigeration.