Behind the Cinderella Shoppe
Students can rent prom attire through April 9
With prom right around the corner, the Cinderella Shoppe offers an alternative to buying a dress.
"The Cinderella Shoppe provides an alternative for everyone to rent a dress they are proud to wear," retired FACS teacher Charmaine Corrie said. "I do believe this is an option for everyone. I have had students rent dresses to attend another school's proms because they want something different to wear than the dress they are wearing to New Albany's prom. I have students who choose to rent a dress instead of spending so much on a new dress when we have gorgeous dresses that still have tags on them or have only been worn one time."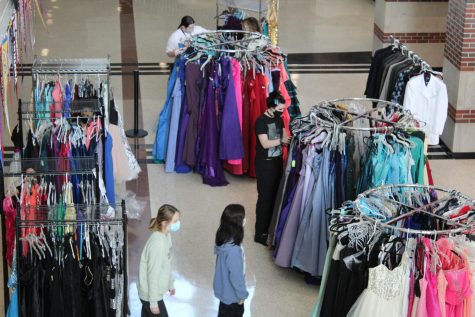 Hosted by Corrie, the Cinderella Shoppe provides students and staff with the option to rent a dress to wear for prom, the military ball, or any other formal occasion. The dress rental is $10, which goes to covering the dry cleaning fee. There are also many free dresses. Sophomore Abby Lewis got her prom dress from the Cinderella Shoppe, and says it was a really good experience. 
"I had previously gone to four stores trying to find a dress and none of them would fit my shoulders," Lewis said. "When I went down, Mrs. Corrie found a dress right away that fit me perfectly. Mrs. Corrie is really, really nice when you go down there. She treats you like a princess." 
The Shoppe offers more than just dresses, and now has a growing selection of mens' formal wear. 
"I keep mentioning the dresses," Corrie said. "We have not advertised that we also have some tuxes and we have received some donations of very nice men's suits, jackets and ties. As we continue to purge and organize these will become more visible in our shoppe and will be advertised so our young men become a part of our clientele."  
Established by former health teacher Kim Scott more ten years ago, the Cinderella Shoppe went from being a few dresses, to a few racks, to the room it is today, according to Corrie. Though Corrie has retired from teaching, she has not yet said goodbye to the Cinderella Shoppe. 
"I really wanted to have the time to get the dresses and room more organized. It has exploded with donations over the years and it has become more difficult to manage while teaching full time and taking care of my grandson," Corrie said. "I wanted to get the room set up so that I could pass it on to the next person." 
The Shoppe gets most of its inventory from donations, with some dresses still having tags on them. Offerings in many colors, styles, and sizes help to provide options for every student. 
"The dress shoppe has also become a very popular option for dress donations," Corrie said. "We are grateful for every donation and this is how we are able to offer dresses that are current fashions as well as dresses that may be more suitable for our Military Ball or other formals that someone may be attending and needs a dress."
The Cinderella Shoppe does more than just rent prom dresses to students, such as lending its dresses to women in the community who are in recovery to wear to an annual fundraiser, and giving teachers the opportunity to rent dresses for special occasions. Students from other schools are also able to rent dresses. Corrie says she hopes students are proud to attend a school that provides this opportunity, even when they do not directly benefit. 
"I hope that the fact that we have such an incredible resource brings our students a sense of pride," Corrie said. "Our dress shoppe is a 'real' formal wear option for all of our students. Because we are purging we are encouraging all students to consider all of the occasions that may come up in their life and they will stop by and pick up a dress or two so that when that occasion comes up, they have the perfect dress or suit already hanging in their closet." 
The Cinderella Shoppe will be operating until April 9.