Unified Track Team Back in Action
Bulldogs will face Corydon and Floyd Central May 3
When the Unified Track Team last competed in 2019 they qualified for State. Now the team is back together and already has one meet under their belts.
Unified track is a track team made up of student athletes with intellectual disabilities. Team members are paired with other NAHS students, also known as their partner, and competing on a team together against other schools.
"This sport is a chance for people who don't anyways get to do some of the normal things that we get to do without a second thought," junior Destiny Crawford said.
Crawford helps with shot put and just joined unified track, but plans on helping out next year. She also said she has a lot of fun working with everyone on the team. 
Unified sports were started by Beau Doherty when he wanted to take his local unified program global in 1989. These sports were created to help with social inclusion for students with intellectual disabilities. 
Mr. Dave Bradley, the head coach of unified track, is a teacher at New Albany. He said that the main job for the partners is to assist, guide, and motivate our athletes to do their best while competing alongside them.
"The main goal for our students from both groups is to form these special bonds and relationships that cannot be formed anywhere else," Mr. Bradley said. 
Here at NAHS our unified track team competes in five main events: shot put, long jump, 100 meters, 400 meters, and the 4×100 relay. 
"As the head coach is to help facilitate the formation of invaluable partnerships and lifelong friendships through the sport of track and field," Mr. Bradley said.
In addition to teachers and faculty, students get in on the action. Student partners are assigned events where they get the opportunity to work with the track team members and also compete.
Junior Ryan Betsch helps with long jump, the 100 meter dash, and the 4×100 relay. He said he was planning on doing unified track last year but the school got shut down before they could really get started. 
"My favorite part about unified track is definitely being part of a fun team and getting the chance to  be an encouragement to the athletes when we run," Ryan said.
The unified track team holds practices every Tuesday and Thursday during seventh period. This sport is a great opportunity for a lot of students.
Freshman Lauren Clark helps with the 400 and long jump. She said during practice, they usually get to warm up, run their main event once or twice, and talk to their buddies.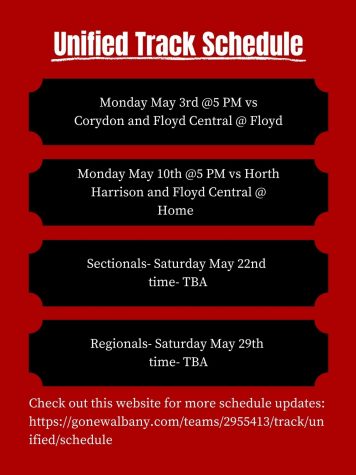 "I really encourage others to join Unified track because it is a fun experience, you meet new people, and you get to have practice during school!" Clark said.
Our unified track team has also been quite successful. In 2019 they placed 3rd at Sectionals, 3rd at Regionals, and 9th at State. This year the team has already competed in a meeting against Corydon and North Harrison.
Junior Hadley Thompson helps with the 4×100 relay and said they always have a fun time at practices and meets. 
"This is my first year doing unified track and I am for sure going to do it again next year," Thompson said.