Halloween… Killed
Review: Halloween Kills is.. definitely a sequel. 
Overall : 3.5 out of 5 
Cinematography : 4 out of 5
Plot : 3 out of 5 
This sequel to the beloved franchise Halloween honestly did what it was supposed to do. It brought in nostalgic fans and gave them killer slasher scenes as well as a familiar feeling they knew with the previous Halloween movies. But that doesn't mean everyone necessarily enjoyed it. 
But before I get into the actual movie, let me explain exactly how I saw it. Trust me, it matters! I would have a completely different perspective if I had watched this at home in my room. 
For starters, I saw it in a completely sold out Xtreme theater at the Xscape Theater in Louisville on opening night. It was insanely awesome, to put it plainly. 
Crowd reactions play a big part in how I tend to feel about movies. I love watching everyone around me and seeing their reactions (sometimes laughing at them) and this movie gave me a run for my money with that aspect. 
Now, for the actual movie part. I went into this as a horror movie fanatic. 
This sequel picks up right after the events of the 2018 movie and also flashes back to the original film. Laurie Strode (Jamie Lee Curtis), survived her showdown with Michael Myers and has trapped him in a burning building after managing to fight him off with the help of her daughter and granddaughter. But audiences know that Myers never dies.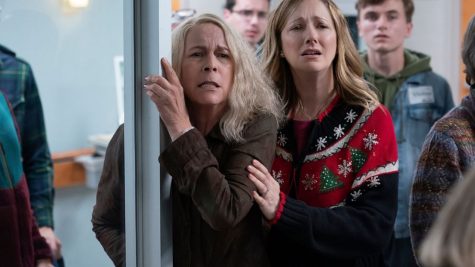 With that, the movie manages to find a convenient way for him to survive which doesn't make much sense at all. The basement he was locked in back in Halloween (2018) was supposed to be pretty much a death trap. So it seemed like a bit of a plot hole to me. 
The movie tried to be more about the people of Haddonfield and characters of its past, but failed to not be corny while doing so. One thing I can specifically touch on is Tommy Doyle (Anthony Michael Hall) trying to be the hero of the story with sayings such as, "Evil dies tonight!" which only caused mass chaos amongst the town people and created lots of confusion to me while watching it. Doyle's antics caused the town to band together and attempt to end Myers once and for all. The idea is great, but the execution was not and the movie ended up becoming more of a slasher fest. 
While I really enjoyed the 2018 film, the 2021 sequel fails to be anything except Myers killing people… again. It seemed kind of redundant. There was also a significant absence of someone frequently in the trailers, Laurie Strode. 
But, I have to give the killer score (composed by original Halloween director John Carpenter) some praise. It absolutely worked with what it was given. Specifically in the opening scene that paid some homage to its predecessors by slowly panning towards a pumpkin while the nostalgic Halloween Theme played. That definitely got the theater hyped up for the movie. 
The cinematography was gorgeous in my opinion. Nothing completely out of the ordinary but that's what I loved, it felt almost like an old horror movie. I loved the darkness of the scenes Myers was in and I loved the flashbacks to the original film. I thought this sequel did a really good job of visually explaining the flashbacks without having to verbally explain them. 
Overall, I found it a bit corny and predictable. But definitely nostalgic and captivating. But it truly seemed like they just didn't have enough material for a third movie. 
Would I see it again? Maybe with a discounted ticket. However, I would try to just watch it for fun instead of reviewing it again in my head. 
Halloween Kills is currently in theaters and on the Peacock streaming service.