A night to remember
Anchor Club plans to host its first annual dance
With the new year, comes big things from the Anchor Club, including its first ever annual dance. The dance was originally scheduled February 26 but has been postponed indefinitely due to COVID restrictions.
Senior Hadley Thompson is the Director of Events for the club and says she plans to take the theme of "Enchanted Evening" to the next level with decorations.
"[To expand on the theme] we are going to use fairy lights, butterflies, vines, etc," Thompson said.
Last school year the Anchor Club hosted a Senior Dinner Dance, which Thompson and the club plan to outdo this year with a nicer venue, better food, and more advertisement to get attendance up.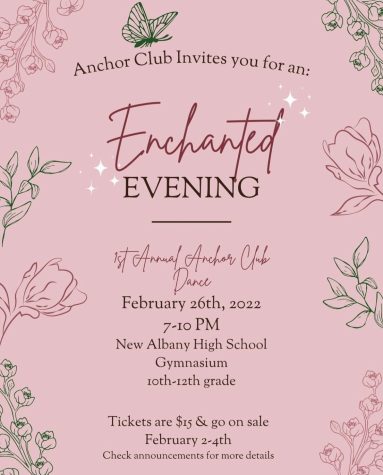 "[The outcome of the Senior Dinner Dance] motivated me to put my best effort in planning the dances for this year in order to ensure the best outcome for the students," Thompson said.
Various groups have attempted to host dances over the last several year, but because of poor attendance, the events are not repeated the next year. Thompson says she hopes that this dance will continue through the years. 
"I am a senior so I will not be here next year to ensure that they continue, but yes, I hope so for the students because I think they provide great opportunities to make good high school memories," Thompson said. 
Senior Lilly Scott is also part of the Anchor Club and looks forward to planning the dance.
"I'm super excited for this dance because it's our first one ever since it got cancelled in 2020," Scott said. "We normally don't get any dances here other than prom so it will be fun to experience something different,"
Scott has hopes for the dance, but is trying not to have any expectations.
"
Come out to the Anchor Club dance. We are hiring a professional DJ along with special lighting and decorations. I promise you it will be a night you won't forget.
— Senior Hadley Thompson
"I'm going in to the dance with no expectations just because it's our first one and I'm not sure how many people will come," Scott said. "But hopefully people will see how much fun it was and will want to come other years."
Once Floyd County is back in "orange" status a new date will be announced.