The New World Wonder – Wordle
Letter game Wordle works its way into NAHS phones
5 spots, 26 letters, 13,000 possible answers- but Wordle players know they only have six chances to guess.  
"[Wordle] is fun," junior Sydney Crosser said. "It's something exciting to do and I get to compete with my friends and my family." 
The premise for the game is simple- players guess any five letter word, if the tile is green, the letter is in the right spot, if it is yellow, the letter is in the word but not in the right spot, if the tile is gray, the letter is not in the word. Players can repeat that process six times, until they get the right word.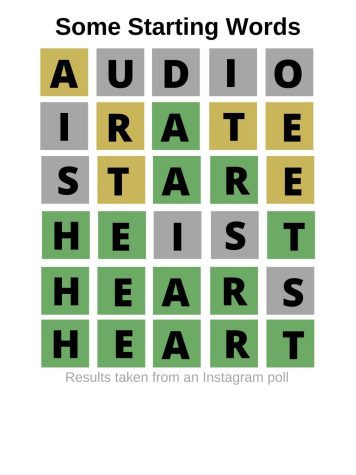 After all that fun- players must wait for the next day – there is only one Wordle per day.
"I wish it was unlimited," Crosser said. "[The exclusivity does contribute to the popularity because] people are excited to see the next one and someone getting it first makes it more competitive." 
Created by Josh Wardle, Wordle made its debut in October 2021, and quickly grew in popularity. Now, over 300,000 people play it daily, according to CNET. Since everyone who plays is aiming for the same word, Wordle has formed a community both in real life and on social media. 
"At lunch today, we were talking about [Wordle]," Crosser said. "Someone was trying to figure it out and she had one of the letters. She was getting really frustrated and all of us had already figured it out." 
Just with anything good, there comes the parodies. Music fans can play Byrole- the choral word version, Letterle allows players to guess the letter of the day (with 26 turns), math fans can play Nerdle, there's even versions in other languages. 
"I think I was just googling Wordle and it popped up in other languages and I found [a French version]," French teacher Matt Jacobi said. "It's kinda challenging because it's hard to think of five letter words in a foriegn language and deal with the different vowels. Lots of repeats of letters in the French Wordle. There was one time, I got it right on the first day, the word was 'entre' and it just happened to be a random guess and it was right." 
On January 31, The New York Times acquired Wordle as Wardle became overwhelmed. Sophomore Amelia Sekula, who's starting word is Pilot, says she fears the game may eventually require payment.  
"I'm a little worried," Sekula said. "I like the way it is now, I don't really want it to change."