Teamwork and energy carry boys volleyball team
Team finishes their second ever season with a winning record and new friendships
The NAHS boys volleyball team's second season was a huge success ending the regular season with 13 wins and two losses.
Although the team has only been around for two seasons, the teamwork and energy on the court has helped them to a winning season.
Libero Henry Ryan is a sophomore and has been playing volleyball for six years. When the school team is not in season he helps manage the girls volleyball team and also plays on a club team in Louisville. Ryan says he loves volleyball for the sport, but also because of the energy and his teammates. 
"I think a big part of our success this year has been having a lot of energy and having fun," Ryan said. "A big part of volleyball is momentum and having more energy, and playing loose leads to more success. Another major part of our success has been our coaches because they have done a great job preparing us for every match and helping us improve every day."
With most of the team only playing for one or two years, leadership on the court is even more important. 
"The main thing I do on the court is making sure that everyone knows where to go and to make sure that everyone stays positive," Ryan said. "I try to be a good teammate because I know what it's like to get in your head, so I try my best to make sure that everyone else has a next play mentality and moves on from their mistakes.
This past season the team was ranked fifth in Indiana. They also made it to the regional finals losing a tough game to Brebeuf.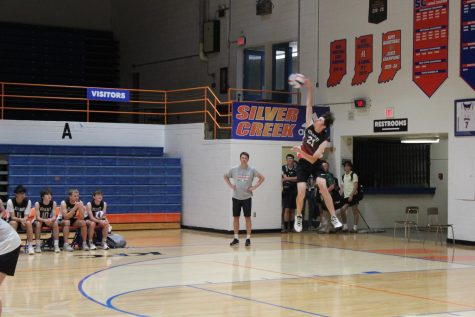 Senior Johnathan Clifton has been playing volleyball for the past four years and added that he has been around the sport for seven or eight years because both his parents played and so does his sister, but he didn't like it at first. Now Clifton is the captain of his team and made the Indiana South All Star Team.
"Being our second year and we started our first year 3-8 and this year going 13-2 and 12-0 in Indiana in the regular season I couldn't ask for anymore from a team that just started playing together last year," Clifton said. "It was great and also being ranked fifth in the state of Indiana it's been a great year."
Although winning is the goal, that is not the only thing these players got from this sport.
Junior Kurt Geron played his first season of volleyball this spring. Geron decided to play because he said he wanted to try something new and all of his friends were also playing. Geron carried over skills from other sports like soccer to help his team this season.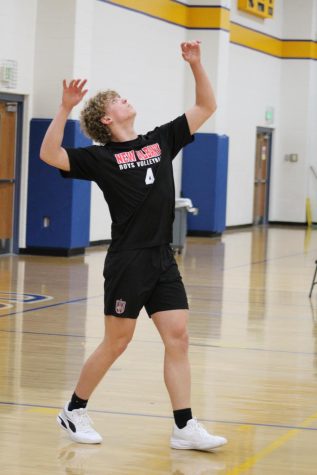 "My favorite memory from this season was the celebrations that the bench did every time someone scored, especially against Floyd," Geron said.
Success on the court does not just come from talent but also the energy and effort everyone is willing to put in on and off the court.
"I think the overall friendship and goofy energy that some players brought allowed us to have success because of how close we were and how much we wanted to see each other succeed," Geron said.
Most of the players on the team previously played other sports for NAHS like soccer and baseball. Skills picked up from these sports can help their new skills on the court.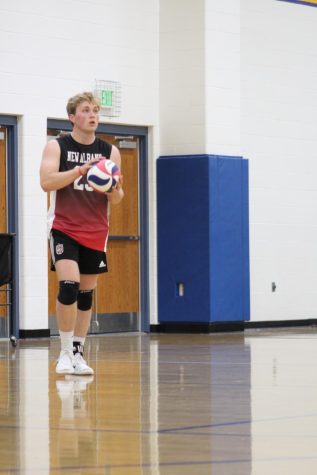 Senior Chase Walters has been playing volleyball for the past two years and previously played soccer for the high school. He said there was a lot more energy in volleyball than soccer because you scored points more often. Walters' favorite memory is coming back from 21-14 to beat Floyd on their senior night.
"What helped me for volleyball was hand eye coordination from baseball so I can spike the ball," Walters said.
The pace of the game is also different.
"The thing that makes volleyball so much fun is the high paced action that comes with every point and how euphoric it feels to absolutely slam the ball over the net," Geron said.
"There was a lot more energy because you scored points a lot more often than in soccer," Walters said. 
With a growth in interest and so much improvement in two seasons from the team the players and coaches are hoping to turn this from a club into a varsity sport. 
On May 2 the Board of Directors of the Indiana High School Athletic Association, Inc. voted unanimously to add boys volleyball to its new Emerging Sport Process. This means boys volleyball is on track to become a varsity sport in Indiana. 
"Overall this season was amazing, we went from 3 wins all year last year, to only 3 losses this year. All the dudes on the team brought so much energy and it was awesome," Walters said.