Teaching without a teaching license
Emergency Permits Open Doors for non-educators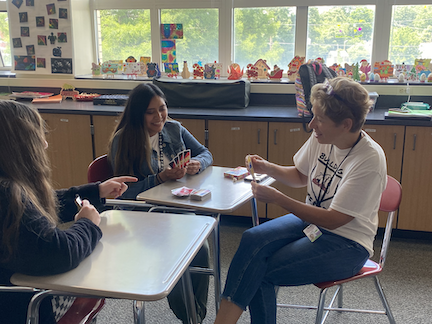 In order to teach K-12, one needs a bachelor's degree- in education, or any other subject. 
"There are two different levels of emergency permits," assistant principal for staff development Jamie Crick said. "An adult with a bachelors degree can get an emergency permit to teach, even if they didn't go to school to be a teacher. Maybe they went into education and they majored in English and thought 'hey I'm going to be an English teacher'  but then there's a social studies opening and they apply for it, and they decide they're interested in social studies. They can get an emergency permit in social studies even though they have a teaching license in English."   
According to the Indiana Department of Education, an emergency permit, or EP, is issued by a school corporation to allow someone to temporarily fill a teaching position without a license. The person must hold a bachelor's degree and be working towards an Indiana teaching license. 
"I truly believe that in a big school with big departments, there's so much curriculum conversation that takes place that most of the subject areas we offer are taught by someone else," Crick said. "It's very rare for an unlicensed or emergency licensed teacher to teach a course that no one else teaches. As a long as they're collaborative and willing to work hard, students aren't losing anything." 
EPs have been issued as a method for combating teacher shortages since the 1960s, and were previously named limited licenses. Crick says the practice is newer in Indiana, however has been used in many states for longer. 
"It opens the door more for people," Crick said. "I've seen a lot of people have a lot of people in their family who are in education and they decide 'I'm not doing that, everybody in my family is an educator, and I'm not going to do that and they go to college and major in something else' but they really wish they would have gone into education, It adds more opportunities for people to do that without having to go back and get that degree before they're able to start.  Teachers prepared in a teacher prep program are very important. Alternative avenues allow for positions to be filled, and oftentimes those teachers do a great job."
EPs also give opportunities for people to teach with outside experience, which Crick says can often be a benefit. 
"I look at an EP this way, if I go to college and I think that I want to be an attorney and I take a bunch of political science classes, and I'm very well versed on social studies but than I decide, I don't really want to go to law school, I'm drawn to be a teacher," Crick said. "I think that there's a benefit to that, that sometimes people have outside experience and they decide to come into education so I don't always think that it's a negative when someone has work experience outside of the education field and they are drawn to education and they want to be a teacher." 
"Being in the workforce brings some practical applications that might even make lessons more realistic because I have a better gauge of what's going on in the corporate world," ENL teacher Lee Milanich said. 
Milanich is currently teaching on an EP, but working on her license. 
"I worked in Corporate America for a long time and then I went back to school really quickly and got my certification to teach English as a Second Language, which I was allowed because I had my masters degree so I wasn't required to get any additional education," Milanch said. "That was an easy intro an introduction to teaching in general. I left the country and went and taught in China. When I got back, I had such a good experience that I wanted to continue teaching."
EPs are renewable, however depending on the type of license, the requirements differ. 
"If you teach Special Education or English Language Learner Classes, you have to be in State Approved Programs to get your EP renewed," Crick said. "If you just have an EP for something else in a different content area, you have to show progress towards licensing."