2022 Retirement Profiles//Sharon Allen
FACS teacher Sharon Allen reflects on her career before retirement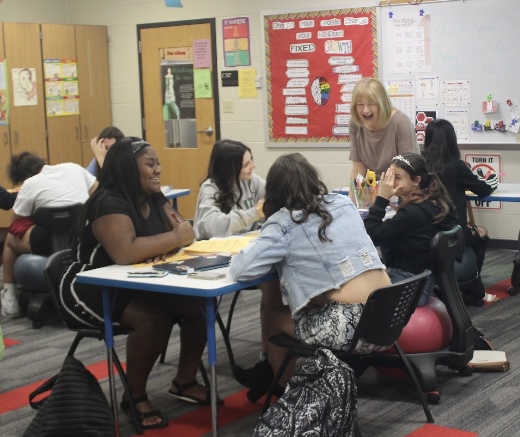 As the school year comes to a close, the 23 year New Albany High School career of family and consumer science teacher Sharon Allen does the same. 
"There is so much I will miss," Allen said. "I work with some amazing professionals who are creative and have a huge heart for kids. Through the years, I have had the privilege of building relationships with students who are extremely kind and talented. While I am sad over leaving a job that has brought me so much satisfaction and fulfillment, I am excited to have more time to devote to my family and church."
In 20 years, a lot has changed with technology, and Allen says she has noticed in her 
classroom. 
"The biggest change has been in technology," Allen said. "When I first started teaching at Scribner, we didn't even have phones in our rooms let alone a computer.  Now, everyone, teachers as well as students, has [a cell phone.]"
For Allen, she says she doesn't think the pandemic changed her as a teacher, because of this same technology. 
"The pandemic, I don't think, really changed me as a teacher," Allen said. "We used more technology, but I have always enjoyed technology.  I did enjoy creating the specific lessons that were necessary during the pandemic and I hope to do some online teaching in the future." 
As a FACS teacher, Allen says she is very proud of her department.
"I am most proud that our Family Consumer Science Department continues to grow," Allen said. "We have dedicated teachers who are passionate about our curriculum."