How to: Halloween
Get into the Halloween spirit with these events, tricks, and treats
Though fall has hit us with rather cold days, a holiday filled with sweets and screams is right around the corner.
To start off with this cold Halloween season, NAHS is holding a Trunk or Treat on October 27th at 5:30-6:30. It will be held in the teacher parking lot on Vincennes St. It will have complimentary music from a mini orchestra playing in the background as you walk around and enjoy the Trunk or Treat!
Though Halloween didn't start with candy giving, now-a-days that's one of the biggest hits. America's top three favorite candies are Reese Cups, Skittles and M&ms. According to Hershey Community Archives, another well known chocolate company that any love, Hersheys, started their business in the late 1800s and sold their first chocolate bar in 1900 for a nickel. Compared to today, they now sell for $1.69 at local stores.
With the Halloween season on a high, most candy prices have risen to an all-time high. The inflation on candy alone is scary, almost fitting into the theme of Halloween: a time to be scared. We see all ages going out to get sweets and dress to impress. Some scary and gory others innocent and cute. A lot of teens will most likely dress to scare.
Why celebrate it? Halloween is one of my favorite holidays. There is always something to do on Halloween that everyone will love. If you don't like scary things, try to dress cute and get loads of compliments. 
Other Halloween fun that can be had for any ages are carving pumpkins, making crafts, going trick or treating, dressing up in a costume, having a party. The list is endless. A few things I like to do are making my own costume and carving a pumpkin. Another thing you could do with pumpkins is bake the seeds and eat them.
For pumpkins, try to find a more deep-orange color as well as hollowness and firmness to make sure it is ripe and not rotting. Going to the pumpkin patch is a fun way to have some quality family time and get to pick out your very own pumpkin. Some buy their pumpkins from a store, while others go to the pumpkin patch to pick their own from the vine — no matter which you do, a pumpkin is a pumpkin. 
Carving a spooky pumpkin with a scary expression or picture can be a good porch decoration. Another fun thing to do is getting a blow up decoration and putting it in your front yard. Decorations are a fun and harmless way to express the scariness of Halloween.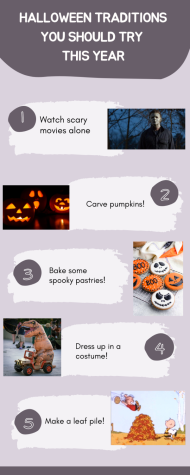 Scaring is one of the biggest parts of Halloween. From the scary movies that make you scream to the scary costumes strolling down the street. It is a tradition that most of the United States has taken under its wing and celebrated. 
If scary isn't your go-to, then try out some spooky tunes on some strings! NAHS is having a mega concert, the Halloween Stringtacular, on October 26th at 7:00-8:00pm. This concert will consist of around 250 orchestra members from three schools including New Albany HS and middle schools.
But why? We can date the scary ghouls at our door steps to about 2,000 years ago by the Celts who originated in Ireland. According to History, the story is that the spirits of the dead returned to their homes that night. So the townspeople dressed in scary costumes and had bonfires to ward off the scary spirits.
If your neighborhood isn't all about the whole idea of 'trick or treating' don't fret! Tons of suburbs and downtown streets will be available to everyone for candy fun. 
Some places for trick or treating have a curfew for it. According to the New Albany Board of Public Works & Safety, the time for trick or treating is between 6 and 8:30 pm on October 31. They also recommend to "use good judgment" when it comes to your own holiday fun.
Some of our NA students who live in Cobblers Crossing have been told that trick or treating has a very strict time and age limit for trick or treating. The age limit is 14 and younger. Some say it's fair and anyone above that shouldn't trick or treat and save it for "the little kids". Personally, I believe trick or treating is fun and doesn't hurt.
Instead of letting the older kids lose out on the fun, just give them some candy and a smile. They aren't hurting anything. They could be doing much worse things, and yet they are just asking for candy and to be included in the Halloween fun. My parents have told me that I shouldn't trick or treat because I am 'too old'. Trick or treating is for everyone, and you should be the bigger person and be polite and give them a piece of candy.
Halloween and fall decorations are a fun way to show that you're ready for the spooky season. Whether you want a cozy warm fall look with the fireplace burning or a spooky one that will chill people to the bone. A few days ago we were driving through town, and I counted thirteen houses with pumpkins and decorations up.
Buying fall decorations is common in most homes. Most stores start selling fall decorations late August, September and October. Though some people, like myself, don't like it when stores begin to sell seasonal decorations way too early.
Since the weather is in a cold front right now, the weather for Halloween might be unpredictable. Last year on Halloween, it was snowing. Luckily, it was light and they melted when they touched the ground. Hopefully this year it doesn't have the same outcome or worse. It was last year on Halloween, and I was moving to the next house, and a snowflake landed on my face. Sadly, I have heard that it will rain on Halloween this year — maybe incorporating a raincoat into your Halloween costume will help.
Halloween is a holiday built on traditions, and to this day we still celebrate it with those same traditions. Anywhere from pumpkin carving, to scaring the little kids later in the evening, to stuffing your face with sweet candy.