The NBA Idols Now and Then
Many people have swaying opinions about the talent of NBA players, including many Bulldogs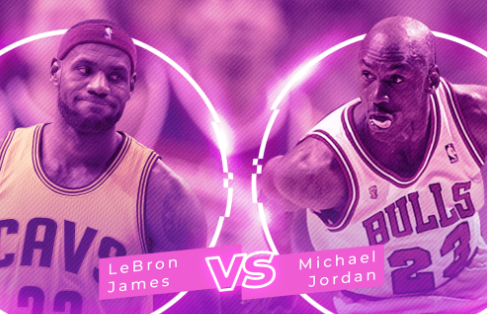 Every year sports change, but the conversations between a kid and his dad don't. With new players entering leagues, new talents do too. In basketball, every player has a different upbringing that will lead them to have certain skills. From different heights, competition, handedness, rules, etc., every player is different. But favoritisms for individuals won't change, leading to heated debates about who is better- the old guys or the new drafts?
The game is a completely different game than it was 50 years ago, let alone 20! This can make for many different opinions on how good a player is. In the past players could use their hands to guard a guy under the hand-check rule, however, in the 2004-2005 season, the NBA banned the use of the hand-check, and what would've been allowed before, would now be a foul, this leads to more shots, and better shots, along with more fouls, all this together leads to higher scoring games, while this isn't the player's faults, what will matter is how you play against the people playing in the games against you, and being able to outplay them under the current rules.
So with all this said, is there really a way to compare Michael Jordan and Luka Dončić? To be one of the best players in the league, you must be better than everyone else. A good way to judge how good everyone else performed, is the league averages, with Dončić being a guard/forward, same as Jordan, looking at how good they were compared to everyone else in their best season may be the best way to judge them as players.
To find the averages, we will take the total points, rebounds, assists, blocks, and steals for each team and divide it by 13 to represent the 13-man roster size.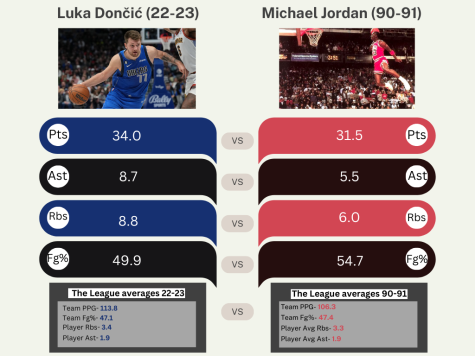 However, while stats do matter, so does getting the job done. This can make comparing players even more challenging. When comparing Jordan to Dončić, it's very worth noting that Dončić has only been in the league for six years. During this time, Dončić has not been able to win an NBA final. While in 15 seasons Jordan went six for six and won six NBA finals. This along with many other factors can lead people to develop strong opinions about who is better.
Day after day the stereotypical conversation between a kid and his grandpa or dad goes down. Many times, the kid who has grown up seeing the likes of Jordan Poole, or Luka Dončić will swear he is better than the players of the 80s and 90s, from Michael Jordan to Magic Johnson or Larry Bird.
For sophomore Jordan Treat, this conversation is one he can't get enough of.
"I can watch all the highlights of Michael Jordan I want," Treat said. "He ain't as good as Jordan Poole, he doesn't have that hesitation that Poole has."
On the other side of things, Junior Jeremy Rose and starting point guard takes on the 'old head' perspective.
"I'm only in my third year of high school and I'm already balling," Rose said.
For Rose, it's more than that which leads him to idolize the old game.
"The game is harder now, but our retired players like Brian Scalabrine and Jerry West paved the way for the game today, without them a lot of players wouldn't be as talented," Rose said.
As following with previous opinions, Treat finds the 'old head' opinion to be wrong and not credible with facts.
"Nobody in the 90s could do the moves guards do now," Treat said. "I've seen the best highlights of Michael Jordan and all he can do is dunk, Jordan Poole can shoot, and three points is better than two."
All this said, when it comes down to who is better between Michael Jordan and Luka Dončić, Rose had this to say.
"I love watching the game now, I think in many ways the players are more talented," Rose said. "But you can't deny the greatness of Micheal Jordan. He could do things that are undeniably great. For that reason, he will always have my vote."
While Treat finds Poole to be the best, the debate for him between Dončić and Jordan isn't close. 
"Jordan Poole is better than both of them," Treat said. "But if I had to pick one of the two, I'd go with Jordan. Even now 30 years later, his greatness is undeniable, just not as great as Jordan Poole."
The more young athletes idolize certain players and translate their styles into their own game, the greater they find that player to be. But in both cases, athletes respect both sides while still having a personal preference.