First board meeting of the year brings new members
Three new members join the board as the search for superintendent continues
The new year came with many changes in the NAFC school board, with three seats being filled with new members.
January 9 marks the first board meeting of the year, with members Connie Baugh, Melanie Stumler-Northup, and Thad Neafus. 
Members voted to fill the vice president and secretary positions. There were two nominations for the first position: Jenny Higbie and Stumler-Northup. Board president Rebecca Gardenour expressed concern with Higbie being vice president because of previous accusations, which Higbie claimed to be untrue. Higbie stated that she believes the position should be filled by someone more experienced on the board while the search for a new superintendent.  After a heated debate between multiple members: Stumler-Northup won with a vote of 4-3. The secretary position was filled by Neafus with a unanimous vote.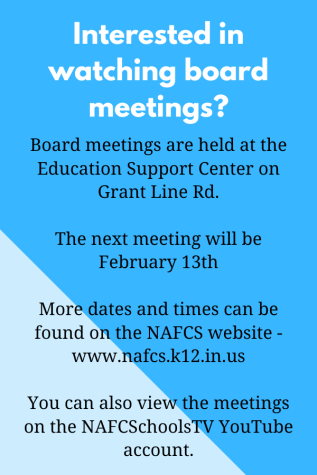 The highest priority of the board this year is finding a superintendent. Currently, the interim superintendent is Bill Briscoe, who took over for Brad Snyder in July of 2022 after Snyder's abrupt retirement announcement in spring of 2022.
The next board meeting will take place Monday, February 13.