Bills safety suffers near death experience on the field
Damar Hamlin's cardiac arrest experience during Monday Night Football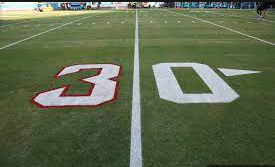 12% was the chance to see another day for Buffalo Bills Safety Damar Hamlin. The start of a new year always has lots of optimism as it is the time for new beginnings, but on just the second day of 2023, lots of doubt and darkness overcame Paycor Stadium in Cincinnati, Ohio. Cincinnati Bengals Receiver Tee Higgins clashed with Hamlin mid-play and hit Hamlin's heart in a certain spot and angle to send him into cardiac arrest. The rate of survival for cardiac arrests outside of a hospital is only 12%, according to heart.org. Bills' medical staff were on hand during this time and administered CPR while Hamlin then lost his pulse, he was then immediately revived through defibrillation and resuscitation. 
Hamlin was sedated after he was brought to the University of Cincinnati Medical Center and had to be resuscitated at the hospital again later the same night. According to med.nyu.edu, those who survive cardiac arrest often run the risk of neurological dysfunction and brain injury, but fortunately, it doesn't appear to be present in Hamlin's case. Through his last six days, he has shown good progress and has been shown lots of support from friends and family. Showing this progress resulted in a discharge from UC Medical Center and was sent to a hospital close to his home in Buffalo.
Sophomore Gavin Rand plays football for the Bulldogs and said that getting seriously injured on the field is one of his biggest fears.
"I know we have a lot of safety precautions for this sport but even with those there is still that fear in every hit you take," Rand said.
Rand plays baseball as well as recreational basketball and badminton for fun.
"There is nothing I love more than getting sweaty and hot," Rand said. "It really just motivates me when there are red blood cells just rushing through my arteries."
Rand racked up his 57th straight badminton win over rival Tyler Hubbard last Saturday.
"When I heard of Damar's injury I probably cried for a solid hour and a half, it was just so sad to see something that can totally happen to you on live television," Rand said.
Around the League
The man who practically saved his life and the one who administered the needed CPR was Denny Kellington. He got praise from around the National Football League for this, as he should have. In addition, all NFL team's Twitter profile pictures were changed to a "Pray for Damar" logo. Because Hamlin represents the number "3" on a Buffalo Bills jersey, the Indianapolis Colts and other stadiums drew a stylish outline on the 3 on the 30-yard mark at Lucas Oil Stadium. Bills head coach Sean McDermott and other Bills staff were seen wearing the number 3 on their chests the following Sunday during their game. Over at Empower Field at Mile High in Denver, the Denver Broncos hosted division rival Los Angeles Chargers for an important playoff-affected game. Because both players wear the number 3, the Broncos Quarterback Rusell Wilson and Chargers Safety Derwin James both met in the middle of the field for prayer in hopes for Hamlin. 
Last Week of the NFL Regular Season
The Buffalo Bills played the New England Patriots in the last week of the regular season and Damar Hamlin watched and supported the team from his hospital bed in Cincinnati. Meanwhile, the Bills supported him right back with a returning touchdown on the very first play of the game from former Colt Nyheim Hines. Hines did it again later in the third quarter. In addition, before this game players stormed out of the tunnel with flags supporting Hamlin's cause. On the flip side of things, there has been some hate and disdain for a couple of Pittsburgh defenders who celebrated a sack by performing fake CPR on the other. The NFL Madden video game has since removed the CPR celebration from their game.
Tee Higgins
Tee Higgins was the Bengals receiver who collided with Damar Hamlin. Not only were prayers sent up to Hamlin but to Higgins as well. Higgins was seen after the game with his mother and his mother's arm wrapped around him.
"Obviously it's been hard because I had something to do with the play," Higgins said. "Everyone is making me feel whole again, [I] talked to his mom and everything's OK as of now, he's doing good so I'm in a better place right now."
 The game of football is a very dangerous sport and things like this collision can happen at any time. Tee Higgins is a very kind person and is one of the most liked players of this generation, so for this type of pain to happen to someone so joyous can take an emotional and physical toll on your body.