Highlighting local businesses
The Odd Shop
 The Odd Shop is an antique vintage store that has a wide selection of items for their customers. They sell toys, clothes, media and more memorabilia from many eras. 
"I've had a store in New Albany for four years, and have watched the shop grow so much during this time," The Odd Shop owner Christian Johnson said in an Instagram post, "That all came to a halt in July of 2022. When construction started, foot traffic became almost non-existent, and sales have tremendously decreased." 
Small businesses downtown, like The Odd Shop, rely heavily on foot traffic for customers and exposure. With the construction causing difficulty for people to walk around, they aren't getting this. They aren't making enough money to keep going and fight this decrease. 
"A good way to support us is to shop local whenever possible, and patronize downtown businesses," Johnson said. 
The Odd Shop has brought so much life to downtown New Albany. The store brings a new feeling to downtown, bringing variety to the day of shoppers. 
"I love supporting local businesses and it's even better that they're all so nice to shop at, aesthetically and the employees are nice," sophomore Anne Ferguson said. 
Ferguson shops downtown twice a month. She says that although she loves downtown and she gives as much support as possible, the construction will mean she visits less often. 
"So far all grant proposals to help have been denied," Christian said. "All we have been offered as assistance is signage."
The owner of The Odd Shop has encouraged people of New Albany to keep themselves informed on everything that's happening and inform others, as well as using your voice whenever and however you can. 
"I've seen the odd shops posts [about the construction] and I've reposted it," sophomore Jasper Howard said. "I've also read about it."
    Johnson has stressed how necessary the support of customers is for them. Through Instagram and other social media platforms, The Odd Shop has asked for people to do whatever they can. 
  "The community is the reason I want to keep my business in the city," Christian said. 
    The lack of help from the government has been a big issue for this business while dealing with the construction. The businesses on their own can only do so much. 
   "I support them by just shopping at my favorite businesses as often as possible," Ferguson said. 
The Sugar Shoppe
The Sugar Shoppe is a candy store in downtown New Albany that sells a variety of taffies, truffles, gummy's and more. The store opened in late 2020. The owner of The Sugar shoppe has worked many 17 hour days, putting a lot of time and energy into the business.
The shop is inspired by other famous candy stores, like ones you see in movies such as Harry Potter.
"That's the inspiration of my shop, surrounding myself with things I love," owner Stevie Carper said in an interview with WDRB.
The Sugar Shoppe brings a lively feel to downtown. It's bright colorful inside and luring outside bring a twist to historic downtown New Albany.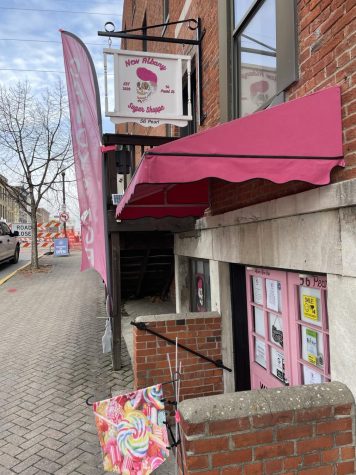 "The stores downtown really contribute to how welcoming it is and it's what makes New Albany a great place to live," Ferguson said.
During Covid, Carper was one of the many to lose her job due to the pandemic. This was the beginning of The Sugar Shoppe. The store started by selling from the Farmers Market downtown.
"The construction is a mess; I feel sorry for the stores on Main Street," ELL teacher Lee Milanich said.
Milanich walks down the greenway everyday, and has seen the chaos of the construction first hand. She said that she tries to shop locally whenever possible to support the stores in the area.
Coffee Crossing 
Coffee Crossing is a coffee shop with several locations spread out.
"It's a pain; I don't know where the construction starts and where it ends," senior Kayleigha Johnson said.
Kayleigha said that she rarely goes downtown now because of how confusing and inconvenient the construction has been. Coffee Crossing has been one of the businesses majorly blocked off.
"Coffee Crossing is extremely popular and the workers are really nice," Ferguson said.
The location on Main Street is one of many. It's one of Southern Indiana's most notable coffee shops.
"They have a very nice atmosphere, it's a great spot for teenagers," Kayleigha said.
They have a variety of coffees, Italian sodas, and pastries for their customers to enjoy.
Boomtown
Boomtown Kitchen is a restaurant with a variety of meal options for customers.
"I don't eat out much but when I do, I will go to the places downtown," Milanich said.
Boomtown also has an ice cream shop called Boomtown Creamery. The ice cream shop opened in 2021. Boomtown kitchen opened in 2019. There was an open neighborhood space next to the restaurant, so the owners turned it into the Creamery.
"They have a really good aesthetic and their food is amazing," Ferguson said. "Their wait staff was really considerate."
The restaurant is open all year, and serves their milkshakes from their creamery. Without construction, Boomtown is in the direct path when you walk to other businesses. The construction has made it less accessible.
"It's easy to be unsure if you can even get to Boomtown because you can't tell if you can walk on the sidewalk due to the construction," Kayleigha said.