Swimming into Sectionals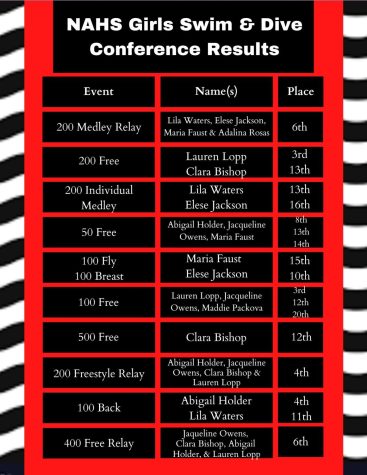 With Sectionals right around the corner, the girls swimming and diving team is ready to compete. This year has presented many challenges including the pool being renovated throughout the season. Even with no "home" facility the girls team has seen an increase in numbers, including enough to add a JV team to the mix. 
With more members comes more opportunities for success in the upcoming tournament. Last year the team placed fourth at the sectional meet and are looking to come back stronger this year.
The team placed fifth overall at Conference January 14. The strategy going into Conference can be a little different with making sure the swimmers don't give too much away about which events they will be swimming in sectionals, according to junior swimmer Maria Faust. The team is predicted to do better at sectionals with swimming the events they have been perfecting in practice.  
Senior Lauren Lopp swims sprint and middle-distance freestyle events, including the 50, 100, 200, and 500 yard. Previously in the season Lopp beat last year's sectional winner in the 200 free and is looking to advance as far as she can in the postseason.
"One of my goals was to get stronger mentally and physically and I, along with my team, have been working very hard at practice and meets to achieve this," Lopp said.
Junior Abby Holder had multiple injuries last season and has been focusing on recovery and getting back into the sport. Holder has made many improvements and set new PRs. Holder added that increasing her focus on swimming has shown in her season successes.
"Mid-race I often think about the common things my coach tells me," Holder said. "'Fast turnover, quick kick, minimal breathing, and bring it back on guts'." 
This past year the NAHS pool has gone under renovations presenting extra challenges for this year's season. The pool is expected to be done before summer and the next season begins.  
"Sadly this season we have had to practice at Hazelwood due to our pool being under renovation," Holder said. "Our team has done a really good job at making due with what we have!!" 
Participating in sports is more than just winning and improving your times or skills. Teamwork and friendships play a big role in the experience. 
"My favorite memory so far this year was our team's annual Christmas party. It's always so fun and I love spending time with my team outside of the pool," Lopp said. 
Freshman Elese Jackson has made many advancements her first year on the team. Jackson's main stroke is the breaststroke. By the end of the season she hopes to be faster at freestyle by improving on the technique. 
"Some of my teammates have helped me reach my goals by letting me know I can do it and I am extremely capable of doing these things," Jackson said. "They mostly help me by motivating me and not tearing me down."
Diver Stella Klaus is a junior. Over the summer Klaus attended a UofL camp improving on basics and technique. Last year Klaus placed first at Sectionals and fifth at regionals advancing to state. This year she says she hopes to go back to state with even better technique.
"I like doing my twist dives because those are my best and I think they look cool," Klaus said. "My goal is to go to state again."
Conference and Sectionals for diving looks a little different. The competitors complete 11 total dives which are split up into two days. They complete eight dives the first day and three the second day when the swim events take place. At the end of all 11 dives, Klaus placed second and Jackson placed third.
With everyone swimming different events the team is not always working together in the same way that other sports do. Teamwork is still as important as ever. 
"Teamwork has helped everyone reach their goals because of the positivity and encouragement on the team!" Holder said. 
With diving and swimming having a few separate competition days, teamwork can look a little different.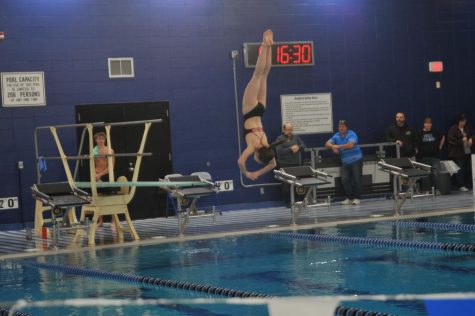 "Over winter break we went to a meet and it was just for diving but some of the swim team showed up and that was really nice." Klaus said.
The swim team has their last home meet against Providence and then their last regular season meet at Floyd Central this week.
On February 2 the girls will compete in the first round of Sectionals at Floyd Central with the final round on February 4. The team placed 4th at Sectionals last year and are looking forward to the competition again. If the competitors receive top 16 in an event they return on the 4th to swim again. 
Head Coach Bonifer has been coaching at New Albany for 32 years. He has coached both the boys and girls teams but has spent most of him time in the girls program. Bonifer added that the team finished their season with an 11-4 dual meet season record and a good season overall.
"Our goal is to have a top four finish out of the fifteen teams in our sectional and have all personal best times," Bonifer said. "The girls are going between 4,500-6,500 yards every day to try to make it happen."
"We only have a couple more meets and then it's Sectionals!" Jackson said.