The GOAT's next step
After a 14-31 playoff loss the future of Tom Brady is in question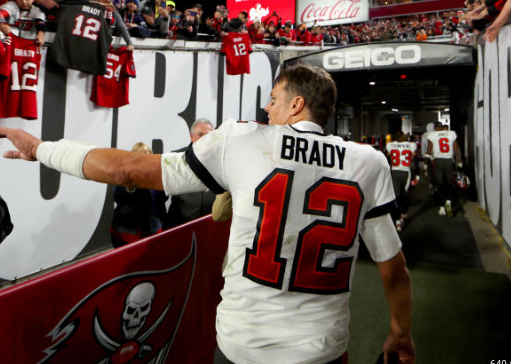 Every year 31 of the 32 teams in the NFL must face the difficult fact that they will finish as losers, and only one team will hold the Lombardi trophy. In this year's playoffs, Tom Brady and the Tampa Bay Buccaneers had to face that very fact.
After a 20-13 loss in the 2020 wildcard round to the Tennessee Titans, Tom Brady's one year $23 million contract was up, and he and the Patriots would not settle on another contract, leading to Brady finding a new team. On March 20, 2020, Tom Brady signed a two-year contract worth $50 million to join the Tampa Bay Buccaneers. Then, he signed a one-year $25 million extension contract to play again for the Bucs.
Brady and the Buccaneers lost 14-31 to the Cowboys Jan. 16 in the Wild Card Round.
Many people question what the next move for Brady will be. Brady will be turning 46 this year and age alone is coming into play. Just like any athlete, no matter the diet, longevity, etc., nobody can play forever. Along with this, Brady almost didn't play this season, but after announcing retirement, he came out of it one month later. This, along with many other things, would lead to a divorce from his wife Gisele Bundchen. With a lot of his life outside of football falling apart, many people think he should retire and try and repair his family. 
On the other hand, some people think he should play another season. It is basically considered around the world that Brady is the best football player ever. For many, they think that Brady still has it and that he can still compete at a high level. Nobody has the accolades Brady has, and like many fans, Brady himself seems interested in continuing to play. The diet Brady puts himself through alone, shows how much he loves the game. Now, without a family like he had, many view football as all he has left, and this will lead him to continue to play.
But, if he continued to play, many believe he will be on another team. Following a falling out last year with HC Bruce Arians, Tom Brady would force Arians to step down as head coach, along with this, the Bucs also fired OC Byron Leftwich following the 14-31 loss to the Cowboys. All this, along with his contract being up, leads many to believe that if he played it would be for another team. With free agency being a process of signing, declining, accepting, Brady would have talks with many teams that would lead them as well as himself, to agree on a contract.
To many, they think Brady will go back to or near his home state, California, or near his current state, Florida. This would eliminate many teams from contention, but rise many to the top. So, while many teams may want Brady only a few in that area would need him as a starting quarterback. This said, there are many reasons for believing certain teams will pursue him.
The first team that would make a lot of sense for Brady is the Las Vegas Raiders. In week 17 of the NFL season this year, the Raiders put nine-year starter Derrick Carr on the bench to keep him healthy to trade him this offseason. This would open up a starting spot for the Raiders at quarterback. And if this isn't enough to make the Raiders a potential landing spot, the coaching staff might make it even more likely. The Raider's HC is Josh McDaniels who used to be the Patriot's OC during Brady's time with them. Even more, the Raiders have a good offensive line, great receivers a top-five running back in the league, and one of the league's top tight ends.
Another team many people believe Brady may go to is the San Fransisco 49ers. The 49ers are a quarterback's dream, they have a debatable best coach in the league, the best receiving running back, a do-it-all receiver, and one of the best offensive lines in the league. Along with this, the defense is stellar, and the weather is great. However, the 49ers have three potential starters on their team right now, including, 2020 third-overall pick Trey Lance who they gave a lot of draft capital for, along with Brady's former backup Jimmy Garoppolo, and this year's shock of the draft Brock Purdy. But, many think Brady is better than all three and may lead HC Kyle Shannahan to sign him.
Lastly, many people think Brady could go to the neighboring team, Miami Dolphins. The Dolphins have one of the most fun-to-watch offenses in the league, behind mastermind coach, Mike McDaniel and speedster receivers Tyreek Hill and Jaylen Waddle. The one issue in the last few years for the Dolphins has been consistent quarterback play. The Dolphins drafted quarterback Tua Tagovailoa fifth overall in the 2020 draft, and while he has shown so many positive signs, through college and the pros so far, he hasn't been able to stay healthy. While it's very sad to see, the Dolphins team is a business and while they hope for positive health, they also care about winning. This may lead them to go and pick up Brady in free agency.
While these are what the experts think many people will have their own opinions on what is next for Brady.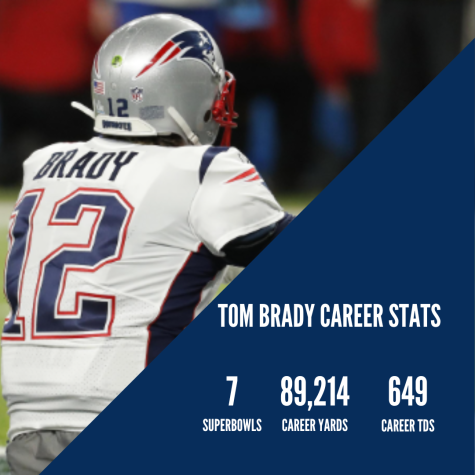 " I think it's time for Brady to hang it up," sophomore Tyson Garman said. "He has lost a step and should quit before it gets even worse."
Similar to Garman, sophomore Rossi Hamilton thinks Brady is done for.
"Brady isn't the player he was, if I was a GM I'd rather have Russell Wilson," Hamilton said.
All this together however doesn't make either lose respect for the legend.
"He is a great player and was at my favorite team in sports, Michigan," Garman said. "I always have had respect for Brady and to be able to play at 45 is absurd."
"I think that Brady made football so great in the last 20 years, most guys are done by age 33, but Brady is still playing at 45, that takes a lot of heart and skill to do," Hamilton said.
It will be interesting to see what is next for Brady. With so many options and factors to consider, it'll be as tough a discussion for him as it is for us. At his age, considering his kids and own health, among other things, plays a huge role in such a life-changing decision.