Fairytale in real life
Cinderella Shoppe is open and ready for students to find their dream dresses
Prom is less than three months away and students are needing attire for their special night. The Cinderella Shoppe is located in Room C202, and offers all shapes, sizes and colors of dresses. Dress rental fee is 10 dollars.
Instead of spending hundreds on a dress that you'll wear once and either shove it in a closet for the rest of time or donate it to a Goodwill, Cinderella Shoppe offers a variety of dresses and formal attire for a fraction of the cost.
"I believe this is an excellent resource for all students to save money," Bookstore Manager and Shoppe co-sponsor Elizabeth Bowley said. "Dresses are very expensive and are generally only worn once."
The Shoppe has a large variety of dresses for everyone, and helps students get the dress they want to wear without the huge cost.
"The shoppe is super helpful," ROTC Cadet Kadence Brown said. "Some [students] are too busy [or] can't afford a 200 dress that they're going to wear once. [I think the Shoppe is] definitely useful."
The shoppe is appointment based and has appointments for before school, after school and during lunch. More in depth details of the Shoppe can be found in the Daily Announcements or stop by the Bookstore.
Bowley says she loves seeing other students light up when they find the one.
"I loved prom dress shopping with my daughters and I love seeing the students find something that makes them smile and feel confident," Bowley said.
If the attire is rented and not returned on time, you will be charged 75 dollars.
The room is decorated as a real salon, seating and mirrors everywhere, and many racks of beautiful dresses.
"Most people are wondering if we have many sizes or colors," Family and Consumer Science teacher and Shoppe co-sponsor Kiya Stewart said. "We have all sizes and tons of colors! Our whole room is organized by color first and then size within color."
Bowley and Stewart have pitched in their time and effort to bring the Cinderella Shoppe back to life.
"When we cleaned and re-decorated the room it took a lot of work," Stewart said. "I made my family come in with me and we spent many hours here getting it ready for this year! Now, it's mostly just to meet with students to try on dresses or to re-organized dresses from try-ons or donations."
Donations are welcome. Anywhere from dress shoes, jewelry, or dresses, they accept most items. Just drop them off at the Bookstore and they will be cleaned and displayed for students to rent.
Male attire is available as well, shoes and suits as well as ties are out for students to look at.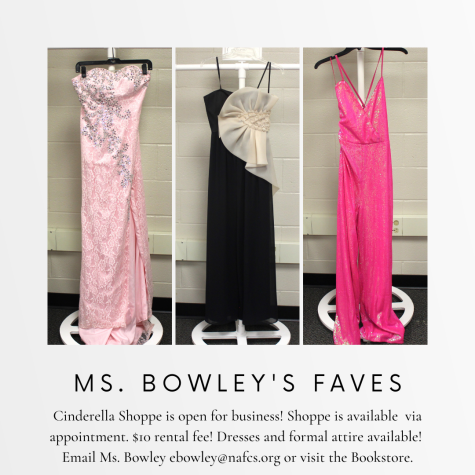 "[The goal of the Shoppe is] to provide all students the ability to go to prom or any other formal occasion without spending too much money," Bowley said.
The shop is helping many students out with the financials of buying a prom outfit by having such a low rental fee.
"Absolutely [I think the Shoppe is useful], I wouldn't be doing it if I didn't think it was worth it," Stewart said. "I think many students don't realize that they will likely never wear their prom dress ever again. Spending so much on a dress that you will only wear once is a big commitment. The Cinderella Shop allows students who can't afford that or want to save that money for other fun things!"
The Shoppe was brought back to life by these two people, and offers high dollar attire for a lower cost.
"Many of our dresses still have tags that say 600 dollars so people are very surprised to know that they can wear a nice dress for such an affordable cost," Stewart said.
Students are in shock by the affordability of the shop and how it is so easily accessible to all students.
"Mrs. Bowley and I worked together to bring the Cinderella Shop back to life," Stewart said. "We gave the room a lot of love, found tons of new dresses, and helped students find their dream dress."
The Cinderella Shoppe has helped many students get the dress of their dreams and wear it on the night that counts. Both Bowley and Stewart agree that this Shoppe has helped many students find what they want. 
Prom is on April 29 and the shoppe is open to all for appointments before school, after school, and during lunch.