Errare humanum est–"To err is human."
Harry Styles sparks controversy during Album of the Year acceptance speech
Twitter is usually known as a place where many different opinions are easily found by just a simple scroll of the finger, however right now as I open my app to lurk, an overwhelming number of tweets center around one thing.
Background
After the 65th annual Grammy Awards on February 5, in Los Angeles, many music fans across the country–or even across the globe–took to the internet to express their disappointment in the winner of the elusive "Album of the Year" award, Harry Styles. 
In 2022, Styles released his third studio album Harry's House after a two-year gap between his last album Fine Line. Styles however, stayed very busy in the two years between his second and third album by touring with his stage show "Love on Tour". At the time of Harry's House's release in May 2022 Styles was at the very peak of "Love on Tour" moment and has yet to start descending. 
Also in 2022, Beyoncé Knowles, better known as simply Beyoncé released her seventh studio album Renaissance in July 2022, six years after her previous album Lemonade. Knowles, although very famous, did very little promotion on her newest album before it was released–or even after– and has yet to release a music video. In the past week however, Knowles has announced a tour for the album. All this to say, Renaissance still debuted at number 1 on the Billboard Hot 100 Chart. 
Both artists were nominated for Album of the Year along with ABBA, Adele, Bad Bunny, Mary J. Blige, Brandi Carlisle, Coldplay, Kendrick Lamar, and Lizzo. 
The Speech

When Styles' latest work was named the Album of the Year, viewers could clearly see that the singer was stunned, if not a bit inebriated, and not expecting the win.  On top of that, Styles' nerves were evident during his performance of his lead single "As It Was", a song he has performed hundreds of times, but slightly flubbed on stage previously in the award show.  
When Styles made his way to the stage, his emotions were on full display. Up until this point, even if you disagreed with Styles' win, it shouldn't have been a serious issue. He accepted his award with a message of gratitude and expressed his admiration for everybody else nominated along with him. 
You may be thinking to yourself "Huh, where's the problem? Seems like a typical acceptance speech to me." Buckle up.
"I think on nights like tonight it's important for us to remember there is no such thing as 'best' in music," Styles said as he accepted his speech. "I don't think any of us sit in the studio making decisions on what is going to get us [a Grammy]."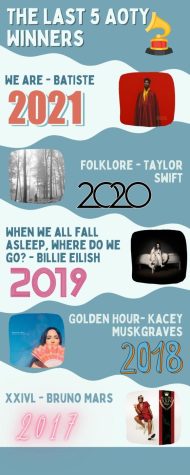 Although it was clear that Styles was tipsy and underprepared, likely due to the fact that he didn't expect to win, he still spread positivity and then closed his speech by saying "This doesn't happen to people like me very often and this is so, so nice". And with these words he might as well have slaughtered fifteen puppies. 
Many people took to twitter to express their troubled thoughts and speak about the bad taste Styles' phrase "people like me" left in their mouths, overwhelming the feed. 
"I love Harry Styles, but at the same time I also feel like it can be viewed from a different perspective that his words could have hurt people from a different group who don't know anything about Harry Styles," senior Rose Schulz said. "It's honestly all how you look at it."
Even though a majority of twitter users who weighed in on the topic believe that Styles could have chosen his words better – or, chosen his words at all; some of his avid fans still defend him. 
"What [Styles] meant was that it doesn't normally happen to people like him since he grew up in a small town in England," senior Hailey Riley said. "He didn't even know he was going to win. He truthfully thought Beyoncé would win. It was as much of a shocker to him than it was to anybody else." 
 While Styles was giving his speech, some audience members heckled Styles telling him to get off the stage and that Beyoncé deserved the award over him.
"[Styles] was right with what he said," Riley said. "One Direction won album of the year, but that was because they were a huge band. He is all on his own." 
Regardless of whether or not the award is warranted in every viewer's eyes, Riley said she believes the award is legitimate. Others, such as Schulz, believe the Grammys are not a good representation of true opinions. 
"I think the People's Choice Awards are a better representation of fans' opinions than the Grammys," Schulz said. "The Grammys are decided by old people." 
Regardless of what you believe, Riley and Schulz both agree that the Grammys are just an award show that airs on television once a year. 
If you are interested in watching the next big award show, you can watch the Oscars on March 12, 2023 on ABC.