The glue that holds us together
NAHS celebrated counselor week and all it comes with
From emotional support, planning schedules, career planning, and setting up meetings, NAHS counselors do it all.
"I believe that counselors have a very positive influence on students," junior Cheyenne Farnsley said. "Without guidance from them it would be very difficult to get where you want to be by the time of graduation."
NAHS has a total of eight counselors; grade level, post-secondary planning, and student support facilitators make up this staff.
"[Counselors] help students feel more confident and comfortable about what they're doing in school while holding us accountable," Farnsley said. "Any counselor that I have ever interacted with has always been very patient and willing to help out with anything I need."
National School Counselor Week was February 6-10. National Counselor Week is a week to celebrate the contribution of school systems counselors all over the United States.
"I like to think that we're a positive adult connection that [students] can rely on," Class of 2026 counselor Natalie McGarvey said. 
McGarvey has been a counselor at New Albany High School for more than 20 years. Before the 22-23 school year, McGarvey was the Bulldog Scholar counselor.
"My favorite part [of the job] is when kids that I had years ago tell me how I made an impact on them and when I see them and getting to interact with them and see how I helped them," McGarvey said.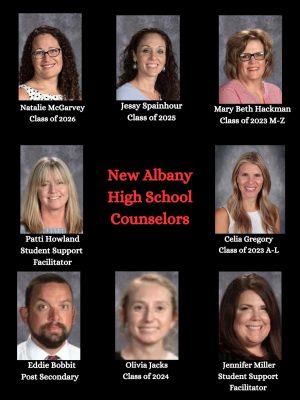 Numerous studies have quantified the impact of school counselors on student development and success, as well as on school climate and K–12 education in general, according to American Counselor Association.
"Counselors in this school go above and beyond to be there for students, in the long run their involvement is really beneficial to you and your future," junior Mia Kerberg said.
NAHS celebrated National School Counselor Week by giving the counselors a spotlight in the morning announcements. Each counselor got their own section with fun facts about them.
"I definitely think we could always do more; I think the counselors deserve a lot," Kerberg said.
During schedule planning for the next school year, counselors meet with kids to go over their graduation plans, possible career paths and credits. This is just one way part of the counselors contribution to the school.
"A time that a counselor really helped me out was when Ms. Jacks talked to the junior class about our schedules for senior year," Farnsley said. "She was very sweet and understanding with any questions I had over email or in person. She helped me decide what classes would best help me out when it comes to applying to college, while maintaining my GPA.  I was able to register for classes that I will enjoy, like yearbook and child development."