The war on trans rights
Anti-trans bills increase in the U.S and we need to fight against them
Since the start of 2023, at least 417 anti LGBTQ+ laws have been introduced in the U.S, according to CNN.
The war on trans rights has been a major issue for as long as trans people have existed. Arguments on pronouns, trans health care, and gender identity have spread like wildfire through all types of media.
This year, the war has only increased.
Anti-trans laws aren't just specific to midwestern or southern and small states, there are issues revolving them everywhere. California, one of the biggest and most diverse U.S states, has even introduced a bill this year.
Indiana alone has introduced 18 anti trans bills this year, including a bill that just passed and prohibits trans youth under the age of 18 from accessing hormone therapies, puberty blockers, and surgeries in the state. This bill will go into action on July 1st.
Gender-affirming care encompasses a range of social, psychological, behavioral, and medical interventions "designed to support and affirm an individual's gender identity", according to Association of American Colleges. 
This care for transgender individuals helps them validate and experience their gender identity in a way that is true to them.
Gender affirming healthcare is suicide prevention. These laws are hurting transgender people in more ways than one. It's not just an idea on paper.
Those who received gender-affirming hormones or puberty blockers had 60 percent lower odds of depression and 73 percent lower odds of self-harm or suicidal thoughts, according to The Department of Epidemiology. 
Interpersonal and environmental microaggressions, internalized self-stigma, and adverse childhood experiences (ACEs), and protective factors: school belonging, family support, and peer support are all factors to minority mental health, according to National Library of Medicine.
These are all factors that contribute to social health, which is the health of someone in regards to their social life. If a person experiences these things, they're more likely to have bad social health and they're more likely to experience depression and attempt suicide.
Anti-trans bills contribute to the internalized self-stigma, as well as school belonging, family support, and peer support. They encourage the targeting and discrimination of trans people everywhere.
These bills aren't just targeting the health care of transgender people, they're targeting the existence of transgender people.
The Indiana State Senate advanced a bill on April 10th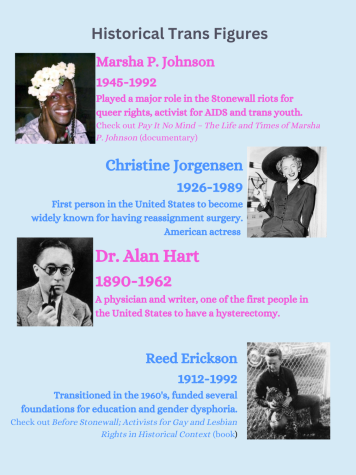 that would make teachers notify parents if their child requests to go by a different name or wants to use different pronouns. This is a gateway to an increase in child abuse and child suicides.
82 percent of transgender individuals have considered killing themselves and 40 percent have attempted suicide, according to National Library of Medicine. If we take away every trans persons safe place, revoke them of any gender affirming healthcare they have, and remove trans youth right to simply exist, this number will do nothing but rise.
So many trans people have unsupportive families that they cannot safely come out to. For those kids, school and their friends are their only way to be called the correct name or pronouns. Bills like these mean their only options are be outed in an unsafe environment or wait until they're over 18 and can safely come out to go by the correct thing.
To put it bluntly; this will kill kids.
These aren't just ideas or possibilities, they're real situations with extremely harmful outcomes.
You care about kids? Let them be who they are. Let them express their gender in whatever way they choose to. Let them live.
No child chooses to experience this treatment. No trans child wants to experience this. They choose to be who they are, you cannot punish anyone for that.
These laws won't silence anyone like they're intended to, they just make everyone louder. No law in the world can get rid of trans people or trans kids. It makes them turn to unsafe care and unsafe coping mechanisms.
This shouldn't even be a debate. People's lives should not be a debate.
If you care about kids, keep them alive.