Through the lens
Librarian Barbara Alexander speaks up about the struggles of book banning.
As a librarian of 40 plus years walks through the rows of books, Barbara Alexander sees the thinning shelves of novels and worries. The library has become more of a chill space versus a reading and studying place. Alexander says she welcomes everyone, no matter what they need, she is always there to help.
Book banning is a challenge that she has faced at multiple libraries but hasn't lost any books yet. She says social media is a big issue about this 'banning books' because she's always being asked by students for books they found through Tiktok. Some of these books are adult books that the library does not have because they aren't appropriate for high schoolers. Students find the books on their own outside of school.
"Society was trending at that time and now [book banning] has arisen again, and if there's a possibility that something might be suggested and not projected that book may get banned from a library," Alexander said.
Alexander says she hasn't seen too many books get pulled from the library, but it does happen. She has seen other libraries threaten books of removal, but thankfully, she hasn't had to pull any books from NAHS's library 40 years of being a Bulldog.
"I've been a librarian in general for over 40 years, and I have seen trends of removing the classics from the library [from the first library I worked at] because they thought they had theories in them, but in the end they did not remove them," Alexander said. "They discussed the books and decided that those books were worthy of staying there."
She says that even if a library doesn't have a book, it doesn't mean that students won't find a different way to get their hands on it. One of the more popular titles that she is asked about is the Colleen Hoover books, which are more of an adult romance type of book, which Alexander said isn't appropriate for the school library.
"Whatever students read it's up to them and their parents, not me,"Alexander said.
Alexander says that a library is meant to be used as a space for literature and used to research and provide resources to students. She says that some books belong with certain age groups depending on their level of appropriateness. 
"Just because you disagree with a certain part of a book doesn't mean we should take it away from everyone," Alexander said. "Someone else might not think as you do and it isn't fair to take it away from everyone because of one person."
Alexander says that just because someone doesn't agree with one statement in a book doesn't mean the book should be taken away from everyone.
"I don't think I'm censoring what they read, my job is just to provide a broad spectrum of things for the whole student body," Alexander said.
Alexander says literature is for everyone and shouldn't be taken away from everyone for one person's disagreement. Not everyone has the same opinion and shouldn't be removed because of just one.
"The general philosophy for libraries and librarians is the freedom to read. You're here to find something that supports your interests," Alexander said.
Alexander said she previously worked at Floyd Central middle school library for about 12 years, then she worked at the Jefferson school county library for another 5 plus years. She has plenty of experience and has seen many trends over the years.
"Times are different now, things are talked about differently nowadays and are discussed through social media that 15, 20 years ago were not discussed," Alexander said.
She also says that the internet is causing the decrease of reading books because of being able to google search anything instead of flipping through a 5 pound textbook. Students are also finding books on social media and are thinking they would be in the library, even though they are not appropriate for school libraries.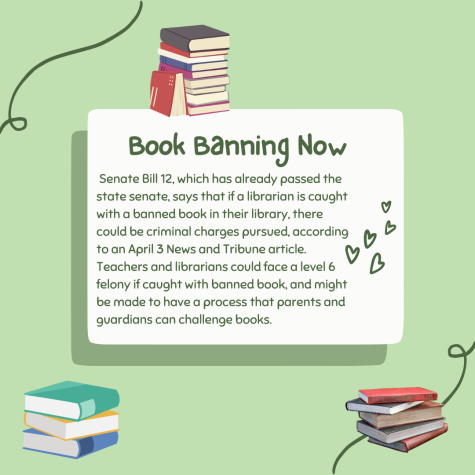 "Now all of the sudden there's probably more things out there that people are sending possible objectionable lists of books across social media and may have come from Titkok which may not be appropriate for a school library," Alexander said.
Alexander says she welcomes everyone to the library to have a space to relax and study for upcoming tests, assignments, projects and anything else that may need to be studied for.
"Another thing that is important about a library is to be able to support the needs and requirements for students, whether it's fiction or nonfiction," Alexander said.
She says that the library is a place for learning outside of a classroom environment and it offers materials and an environment that helps students with studying.
"School libraries are meant to offer materials that are beneficial to students, as well as offer leisure reading for those who wish to read on their own, as well as having resources for students to use when they need them," Alexander said.
Alexander said that she has plenty of old research books in the back to offer help for students. She also has old book banning books that cover the different subtopics that are involved with book banning. 
"I kept these research textbooks in case someone needs one, as well as if that may be faster to find information then searching it up on a database," Alexander said.
As newer books come out, Alexanders says has to adjust her shelves and make room for the more recent books. She calls it "keeping up with the times".
"I have a lot of books in the back of the library, stored away because I need more room for newer books. I have to keep up with the times," Alexander said.
Indiana has attempted laws against books multiple times and recently they have tried to get librarians that still had banned books on their shelves charged.
Banning books has always been around and now with social media on a high, more books are being added to that list.