Faulkner Favorites
Meet the journalism teacher, yearbook and newspaper adviser
Meet the adviser for the yearbook and newspaper, Mrs. Christina Faulkner.
Her students say she is a fun and keep-you-on-your-toes kind of person, she is engaging and loves her job. Here's what you might want to know about her:
She has been teaching for nearly 20 years at a handful of schools including George Washington Community up in Indianapolis as well as Clarksville High School. She has worked at NAHS since 2010 and was a student teacher here with English teacher Mrs. Suzanne Ponder.
"[Becoming a teacher] was a backup plan," Faulkner said. "I really wanted to be a news reporter, but while I waited for a job opening, I thought I'd go ahead and try out student teaching just to see what I thought and I student taught [at NAHS] in a classroom with Mrs. Ponder in 2004 and I ended up really liking it so I stayed."
Many students say Faulkner is a positive teacher and always has a smile on her face. She juggles journalism, yearbook and newspaper stuff all in the same day and that doesn't even include all of the outside of school work she has to do. 
Faulkner says she loves teaching and enjoys passing on her knowledge to her students and make sure that they know they can come to her for anything. She knows students are busy and can become stressed in the school day and knows having a teacher willing to listen can help.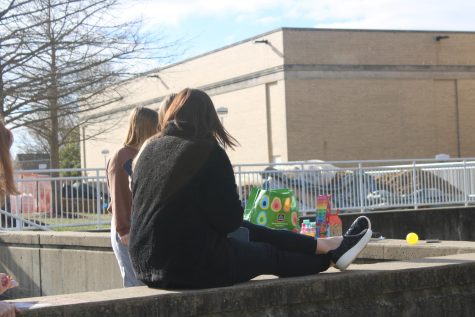 "[I want my students to see me as] all of those things, as well as a caring and compassionate person," Faulkner said. "But also knowledgeable about what I'm teaching them."
 She is a hard working and intelligent person and knows just how to make any of her kids' day. Whether it's a sunny day and she takes her kids outside to take photos and play games, or it's a rainy day with a movie and worksheet. She knows how to balance a student's schedule so they are their best selves for the rest of the school day.
She has a goofy side as well. She is upbeat and knows how to light up a room. Her favorite color is green and she loves to cook. She says she enjoys watching shows about cooking, cooking and eating. Anything that involves cooking, Faulkner's there.
"[Things I love to do outside of school are] to cook, and eat," Faulkner said. "I like to read about cooking or watch TV about cooking. I also enjoy working out. I like to read."
Faulkner says that she enjoys her morning coffee but also like water, and Diet Dr. Pepper. Her favorite animal is an elephant. Her favorite type of ice cream is rocky road.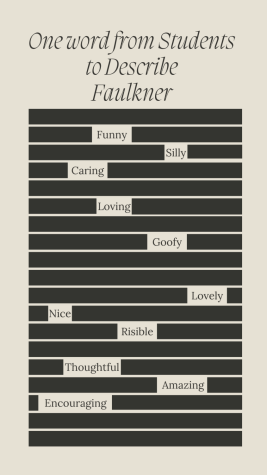 "I won the hula hoop contest in 5th grade, and set a school record in George Rogers Clark Elementary," Faulkner said.
Her favorite type of flowers are roses and her favorite type of music is country. She likes Thomas Rhett and Snoop.
Faulkner says her favorite season is fall because it is beautiful but she says that summer is a close second because she doesn't have to work as much and gets to hang out with her kids more.
Faulkner is a smart and outgoing teacher and loves to spread her intelligence to her students whether that be in the English department, or in day-to-day life. She is always a helping hand in anything the students may need. She is always there in their toughest times.
Faulkner is a favorite for many students. They come to her room for a chill and nice experience. If they ever need an adult to talk to, Faulkner is always there. If you are thinking about joining yearbook, newspaper, or journalism, look out for the amazing teacher, Mrs. Faulkner.