Serving into Semi-State
Girls tennis team wins Regional for first time since 1995
This year's girls tennis team has had one of the most successful seasons in school history starting off with being the first NAHS team to go undefeated in the regular season since 1999. The team did not stop there, continuing to succeed in post season matches. 
The team won the Hoosier Hills Conference tournament for the second year in a row. The team's championship line up is made up of six seniors and one junior. 
Senior Maci Crone plays number two doubles with Maddie Packova. Crone began the season playing with senior Natalie Saydera and then switched partners for the state tournament to improve the team score. Crone is moving on to study finance at Indiana University. 
"Our biggest accomplishment this year so far was winning the Hoosier Hills Conference as a team," Crone said. "We won Conference last year for the first time in school history for girls tennis. Winning it again felt great and was a huge accomplishment for our team and the school!"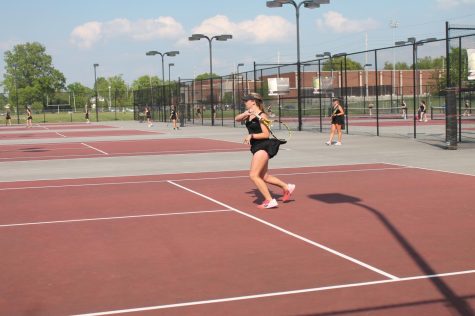 Senior Claire Mayer plays number one singles and has played tennis since fifth grade. After high school, she is attending University of Southern Indiana to major in environmental science and play tennis. She has led the team playing number one singles for the whole season.
"The biggest accomplishment this season is holding our winning record of 16-0, beating Floyd as a team for the first time for boys and girls in 20+ years, and winning the Hoosier Hills Conference for the second year in a row," Meyer said.
Winning a match does not just happen by showing up. Hard work in practice and getting your mind and body prepared is also important to having a successful match and season. 
"To get ready for a big match I warm up and play points with Lily [Meyer] and Vega [Hernandez] and when warming up with my opponent I make sure to make my last warm up shot and my last warm up serve," Meyer said. 
With having a varsity lineup of mostly seniors, this team is used to working together. The team went on to win the sectional tournament after defeating Lanesville and Corydon.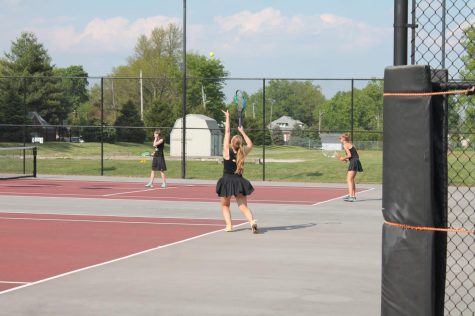 Saydera has been playing tennis since she was nine years old. For the tournament she plays number one doubles with junior Corinne Miller. After high school she plans to attend UofL and study biology where her tennis journey started at their summer camps.
"Our team goal is to win regionals and go as far as possible," Saydera said. "As for an individual goal I would say that mine is communication with my partner and keeping a positive attitude on the courts."
Senior Lily Meyer is also playing tennis for USI after graduation and studying Computer Information Science. Meyer played number one doubles with Saydera for most of the regular season and switched to playing number three singles for the postseason. She added that her favorite memory is seeing Nat every day.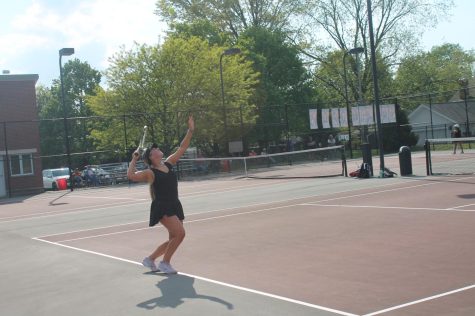 There is more to winning when playing on a team. Making fun memories on and off the court is important when creating bonds with teammates. These bonds can improve communication while on the court. 
"My favorite memory on the team is attending the overnight Jasper match where we spent the night at a run down hotel and really bonded as a team, playing games and talking," Saydera said.
"My favorite memory this season so far was the Jasper Tournament," Crone said. "This is always so fun because we get to stay in a hotel, swim, and do a lot of team bonding. The competition is always very good as well when we play there which is great for the team."
The team went on to win the regional tournament May 24 for the first time in 28 years. They played two matches in the regional tournament against Borden and Floyd Central. The Bulldogs will face Castle in the semi-state tournament Saturday, May 27.