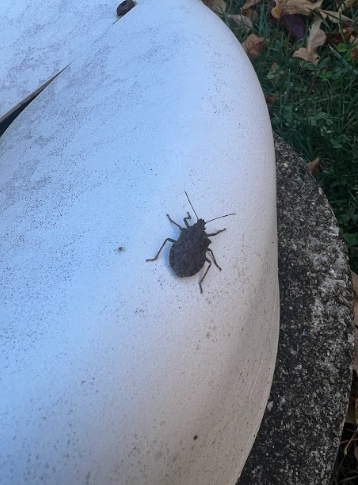 As the leaves change, the weather is becoming what people would say is the perfect time of year. So many colors are changing in nature and exposing new insects and bugs that have been in camouflage all summer long while getting rid of the common bugs we have grown used to.
Lady bugs, spiders, cockroaches, and stink bugs are some of the few most common bugs that are now making their yearly appearance in our yards and walking on the same streets as us.
Insects like stink bugs and spiders are a very common friend to see, spiders make their home around our porches and disappear during the day, then return during the night. Some spiders have adapted lungs that are able to withstand oxygen consumption, according to the University of Washington.
"My least favorite winter bug would definitely be stink bug, I feel like they take refuge in everyone's houses when it gets cold no matter what you do and they are just so annoying," senior Hannah Nugent said.
As the weather changes and more bugs come out of their hiding after the signaling that winter is coming soon, people are now being grossed out and icked out by new bugs in town.
After cold nights many insects and bugs become sluggish, and insects like grasshoppers become too stiff to jump around again until the warmer weather comes back as flying insects' wings become stuck and are unable to move their wings as fast as the temperature drops, according to Raid.
"I hate bugs in the cooler months than in the warmer months because I hate that bugs can hide in my house as a warm spot and appear whenever they want, I feel infested, " English teacher Debbie Smith said.
As bugs and insects make their way into homes to stay sheltered that isn't the only reason they crawl their way in. Insects and bugs make your home their shelter because of the presence of food.
Once they make it inside your house, they'll release hormones like chemical bat signals, signaling to their friends that they have found a work source and a shelter to use when they aren't outside, according to Vulcan Termite and Pest Control. 
"I avoid bugs by always making sure the doors are closed to the house or making sure there isn't any food left out that will attract bugs," Nugent said.
Bugs that appear in the winter have better hiding spots than bugs that appear in the summer, accordingto Rocket Pest Control.
"I feel more comfortable with bugs in the summer because I feel you wear less clothes so they're easier to spot if they get on you rather than winter bugs that get bundled up in your things are make themselves comfortable," Nugent said.
Whether its bugs in the winter or bugs in the summer there is people who are going to dislike them regardless.