On the Road to State: Academically by//Kami Geron
Hang on for a minute...we're trying to find some more stories you might like.
Another group of Bulldogs headed to state competition February 10.
The Academic Decathlon team traveled to Purdue University to compete in the 32nd Annual Indiana State Finals. The Academic Decathlon is a series of ten competitive events measuring academic strengths in: art, economics, essay, interview, language and literature, mathematics, music, speech, science, and social science.
This year, State Finalists came from all over Indiana: Andrean, Chesterton, Crown Point, Highland, Homestead, John Glenn, Kankakee Valley, La Lumiere, LaPorte, Leo, Lowell, Madison, Martinsville, Portage, Reitz, and River Forest High School. Students are awarded certificates, medals, and plaques based on individual and team achievements. This weekend's participating schools are competing to head to Madison, Wisconsin to represent Indiana in the annual National Finals.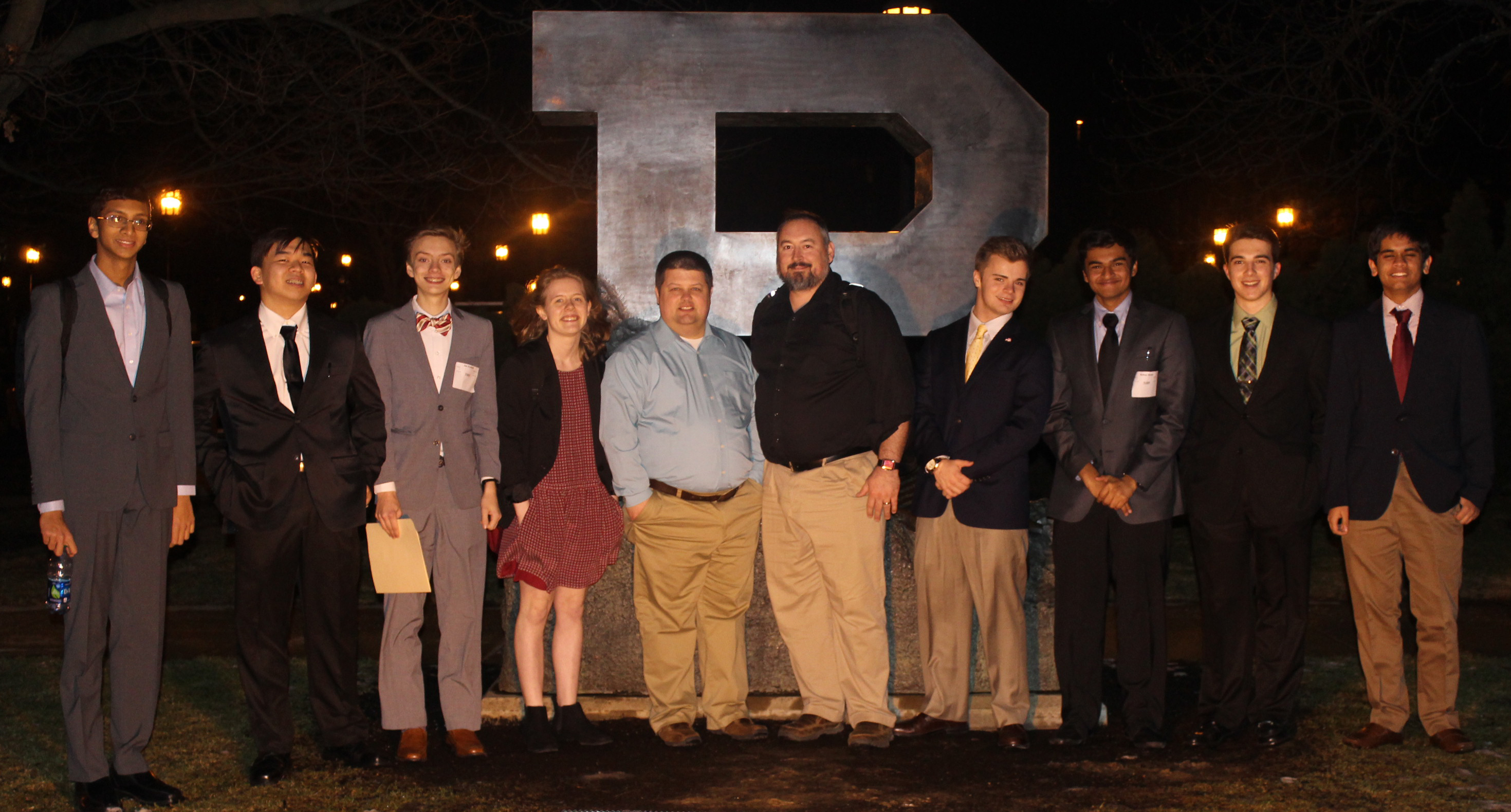 Competition started Friday evening with a speech and interview. Competitors were given two minutes for an interview with two judges then seven minutes to deliver a speech. To arrive at Hicks Undergraduate Library, the "Underground's", Voted best place to study on the Purdue campus, the team traveled about four hours as soon as the bell rang to end the school day. On the bus ride, music from WWII (this year's theme) played while everyone studied and quizzed one another.

"We did some last second extra practicing using flashcards," said sophomore Vijay Chirumamilla. One of his comrades, senior Madeline Dodge agreed, "I was really tired but tried to stay awake so I could study."

Once on the Purdue Campus, the team checked in and dressed in formal attire. In the lobby, Chirumamilla paced around practicing his speech while junior Harrison Knable used a lint roller on his suit to look his best. Senior Rohan Reddy worked on fitting his tie to the perfect length, while checking in on Bulldogs boys basketball as they took down Providence. While cheering on the Bulldogs 173 miles away and carefully eating pizza ,the team was prepared and ready to go. Finally, they walked to the Underground's.

"I was really nervous and excited," senior Jacob Trulcok said. "This was my first Decathlon, so I kept going over my speech in my head."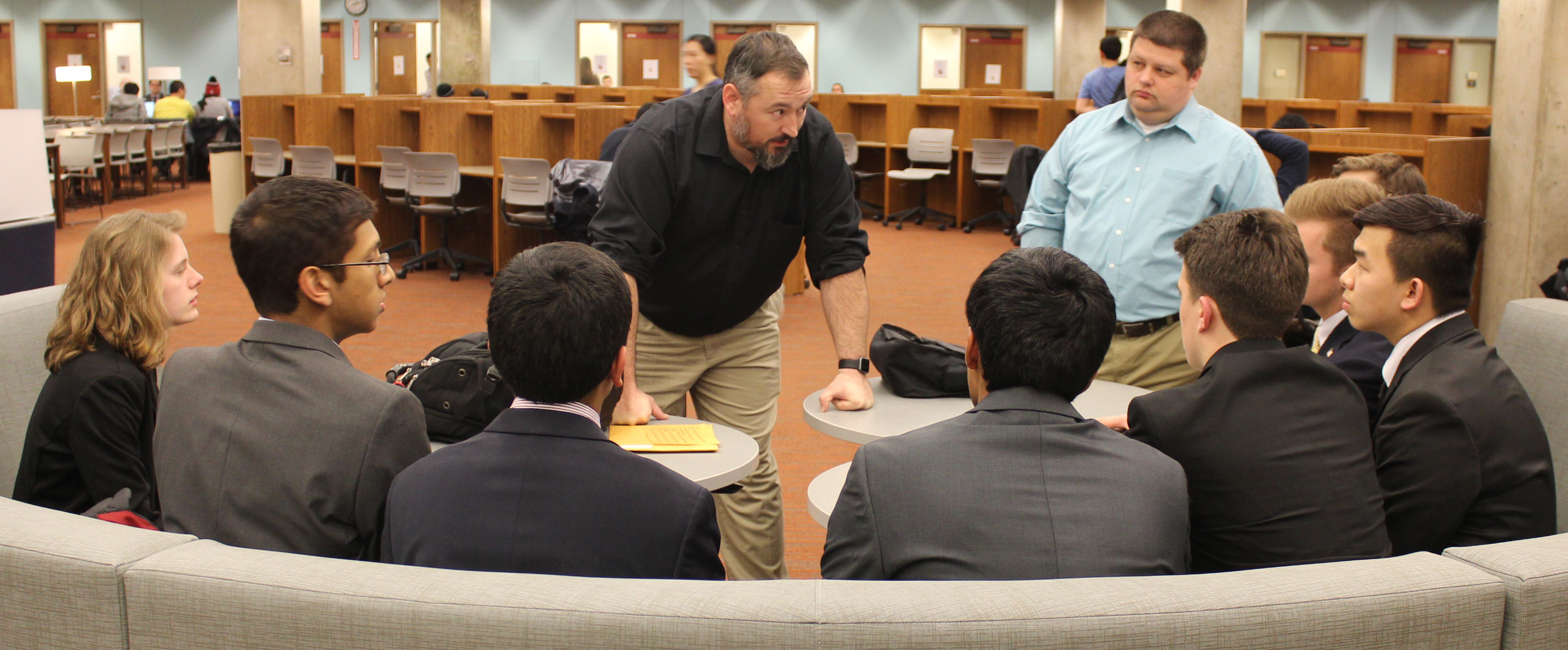 Head Coach Jason Cox and Assistant Coach Pierce Mumaw rallied the team once more in one of the libraries. Cox reminded them to deliver their speech powerfully and stay confident. Everyone was moved to another room to wait to be called into interview rooms, then moved to speaking rooms. Students sat practicing as well as joking with one another.

"I think practicing with Vijay [Churumamilla] and Neel [Jain] helped me prepare even more for the interview," sophomore Ian Kimbell said.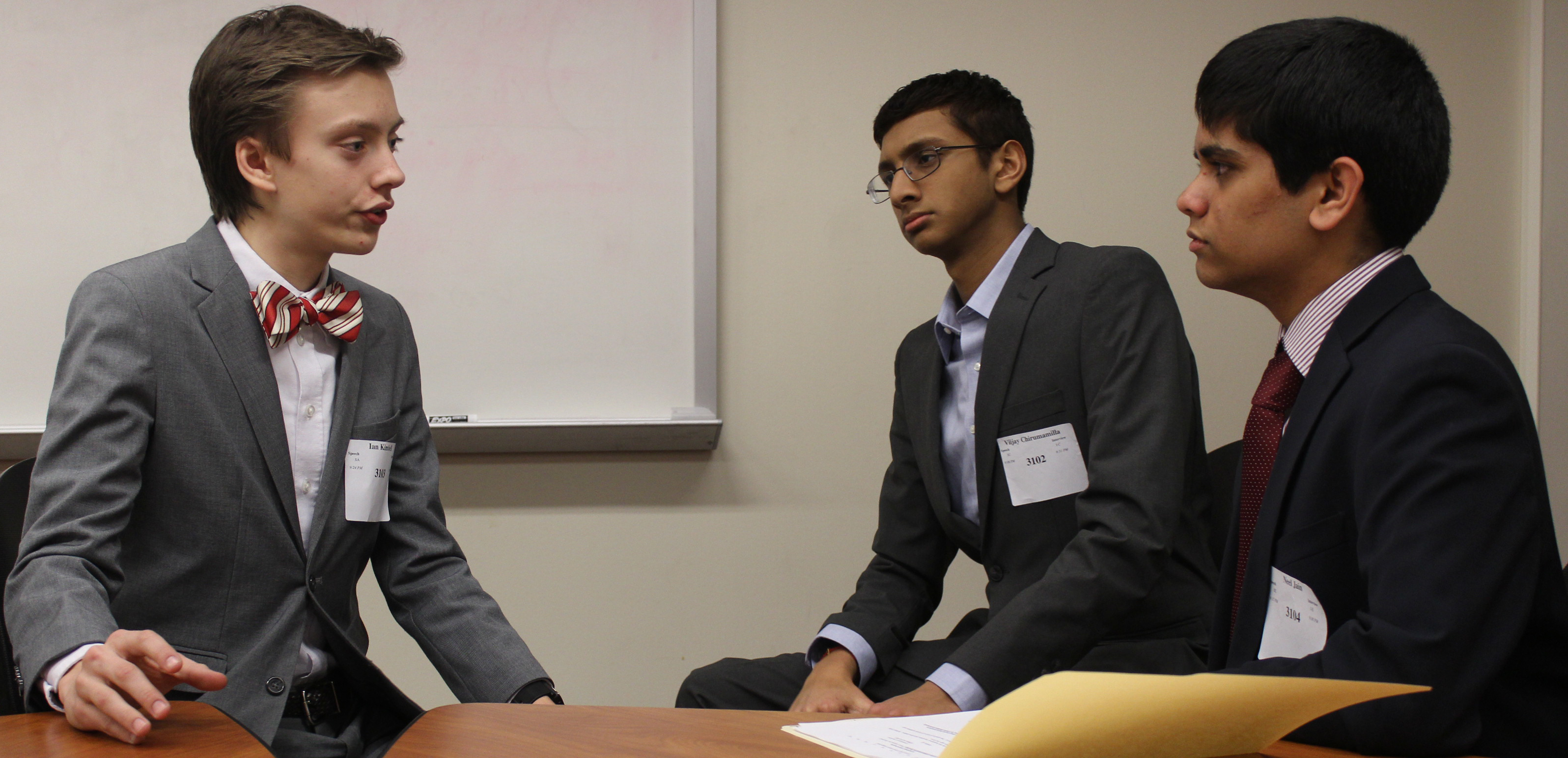 After their speaking was done for the day, the team rested and caught up with one another. Everyone felt successful in their speeches and interviews, and in relief took advantage of this time to call Evan Lin's cousin for a fun tour of Purdue's campus.

"It was beautiful touring the school," Lin said. "The water fountain area was really cool."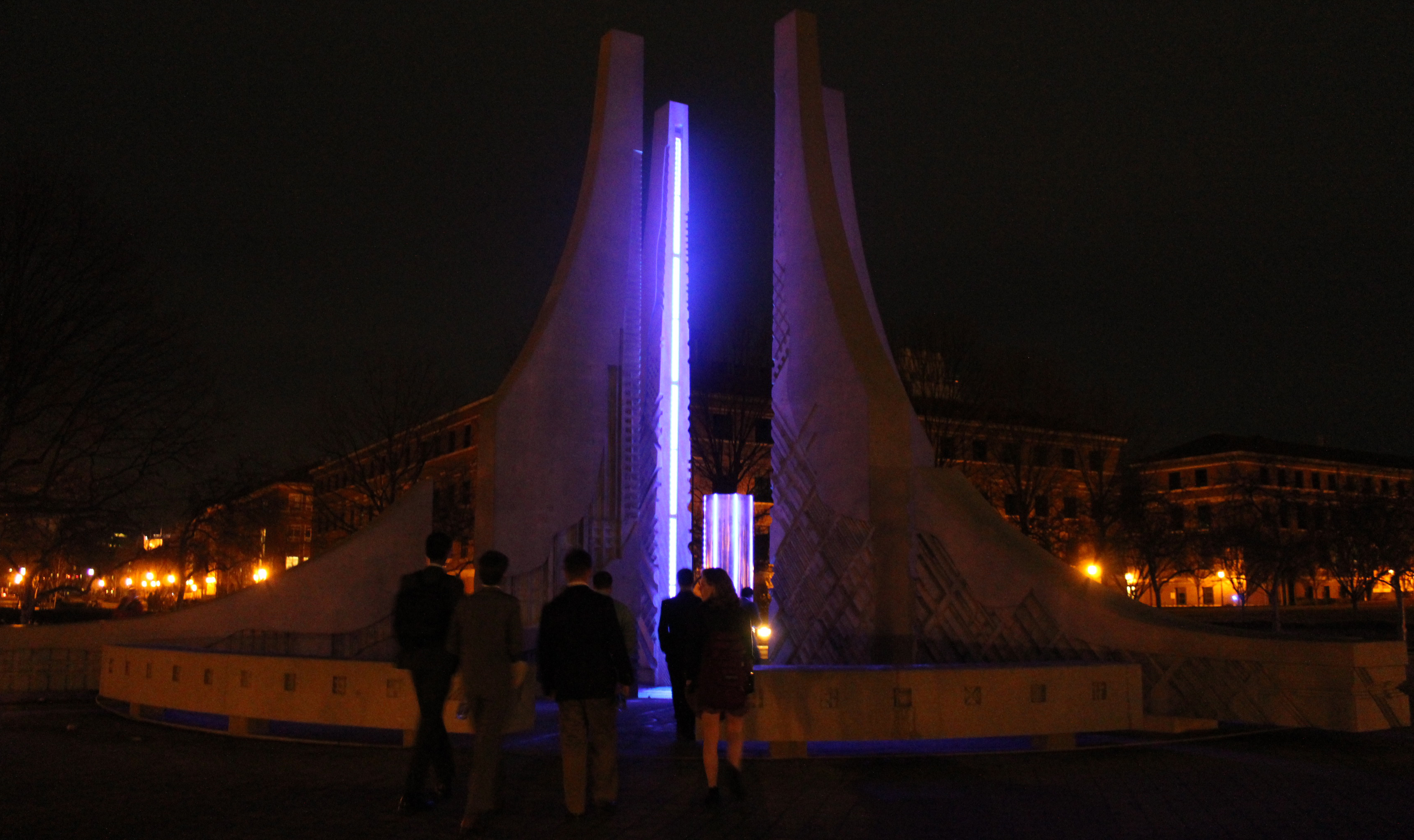 Walking around in the chilly weather wasn't ideal, but everyone was happy in doing so. We visited the bell tower and some other features like the fountain and the giant letter "P" symbolizing the university. After plenty of poses and running around, we found our way to the Neil Armstrong Hall of Engineering.

"It's pretty cool that we share a name," senior Neel Jain said. "The [Neil Armstrong Hall of] Engineering building was out of this world."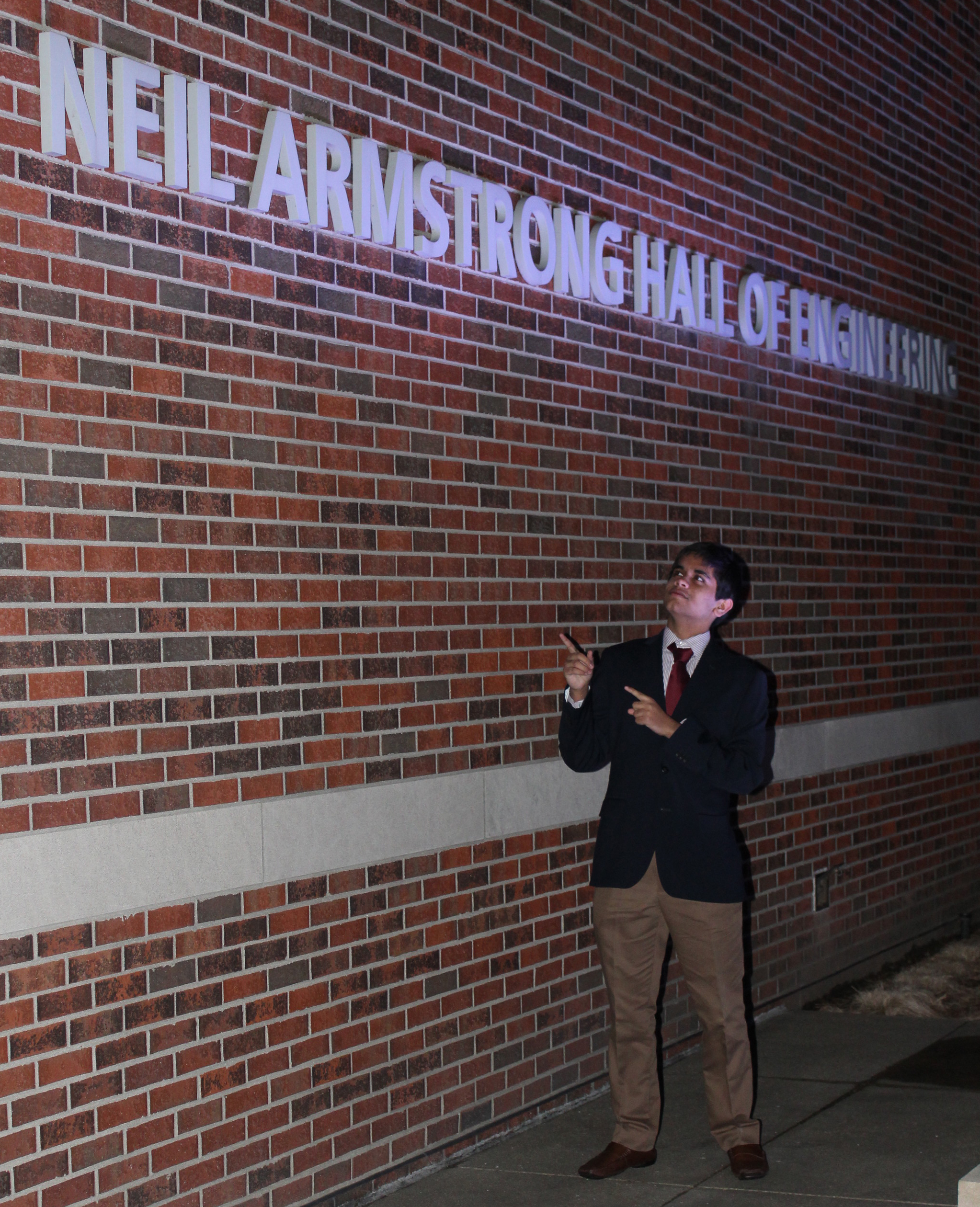 Inside the building were interesting projects underway and models of some spacecrafts. The Apollo 1 Capsule Replica hung high in the rafters, and a US Air Force plane floated in the windows. A great artistic piece in the main entryway was "Little Alien Buddha" by German artist Eric Peters.

Reddy said that the building was "stellar. It was surreal to be in a building that so many prominent engineers have walked the halls of. Seeing the melting pot of ideas and inventions surrounding me and the amount of creativity in the building was truly jaw-dropping."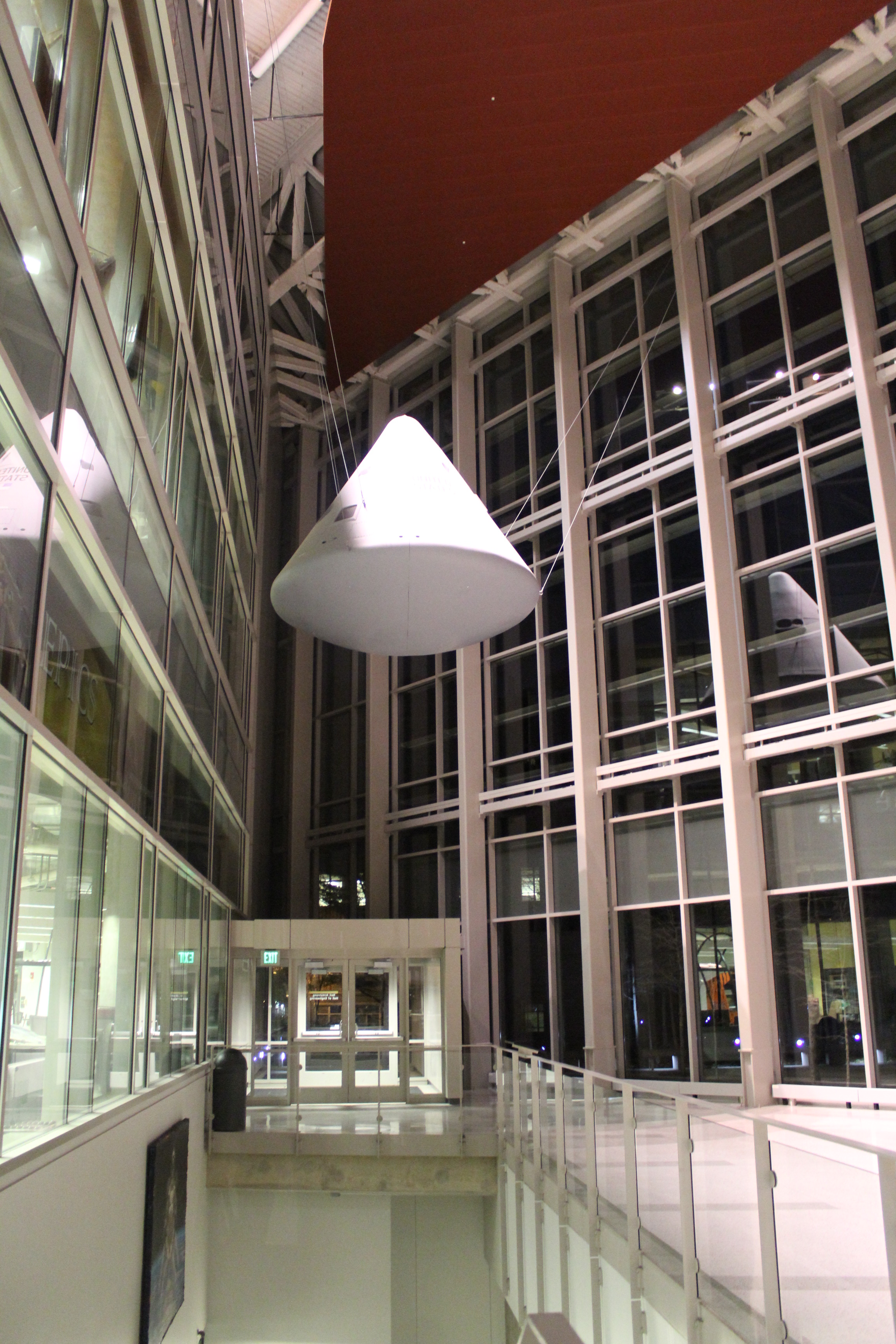 *fun fact: 3 Purdue Alumni have spent about 741 days in space on NASA's space station*

Students made their way back to the Purdue Union where they were staying, and called it a night.

••••••••••••••••••••••••••••••••••••••••••••••••••••••••••••••••••••••••••••••••••••••••••••••••••••••••••••••
Our Saturday started as early as a school day, and everyone fit in one last quick round of studying. In the lobby, Trulock quizzed his teammates over all the subjects. After realizing he and Reddy had forgotten their calculators on the bus, they rushed to get them while the others went to Pappy's for a scrumptious breakfast.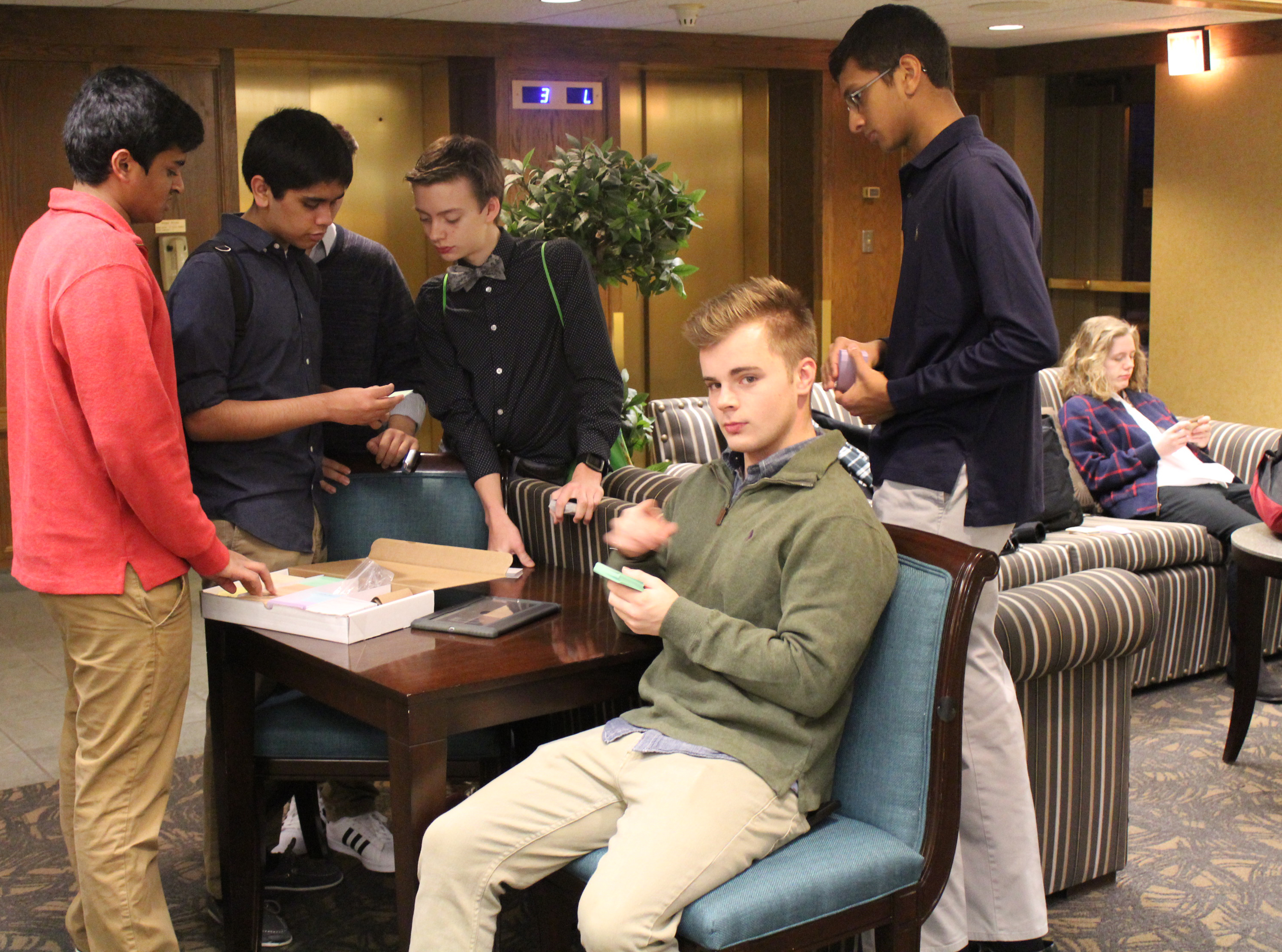 "I loved breakfast, the atmosphere was eclectic," Trulock said.

Pappy's diner-like atmosphere let the team have fun with old jukebox machines. Knable went back to studying as he waiting for his food while senior Madeline Dodge checked out the song selection.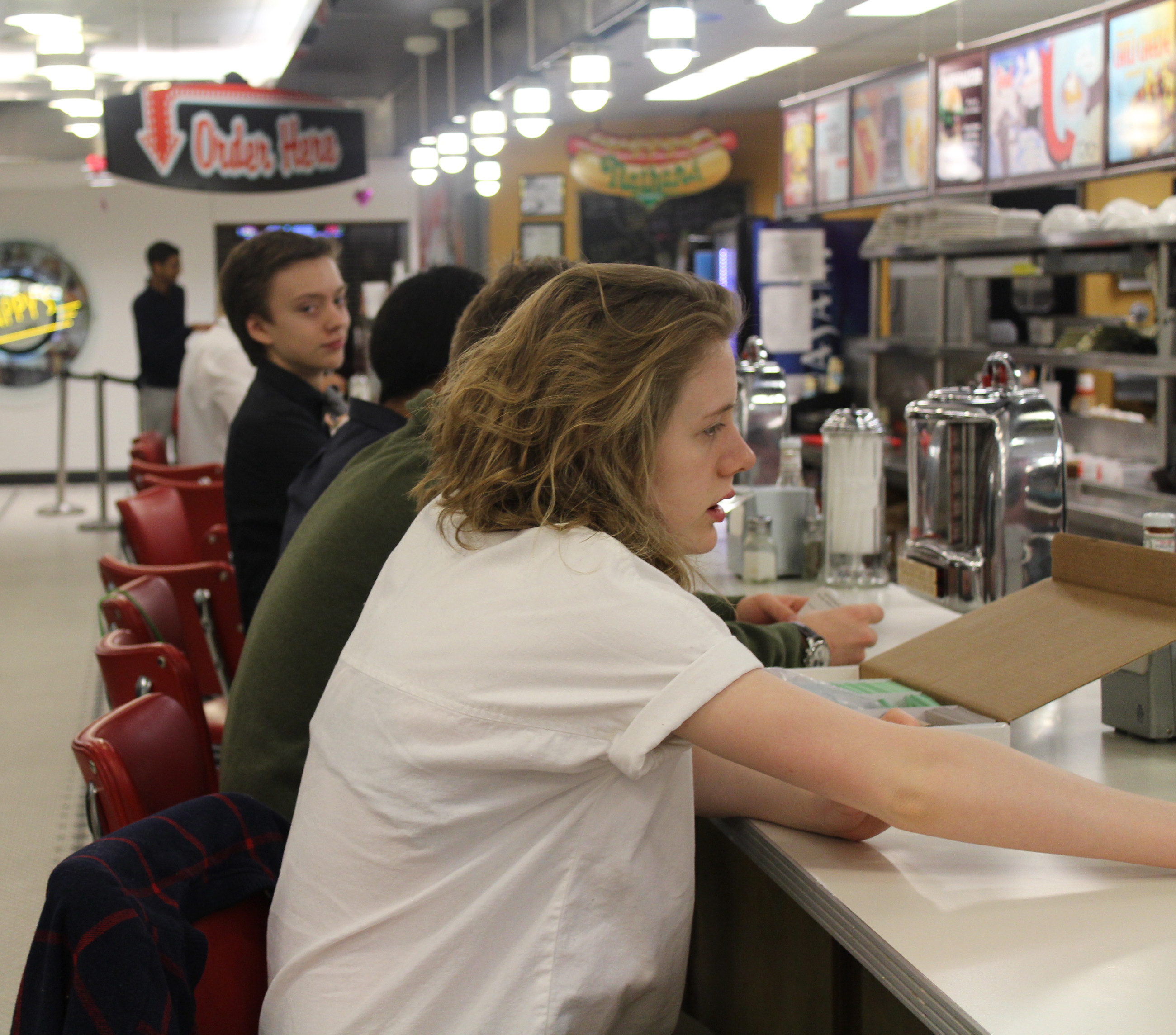 "Adding in that last 30 minutes of studying- in my opinion- is what pushed us over," said Knable. "We just barely beat Crowne Point for third; so obviously every single point counted immensely."
After eating, the team headed to the Stewart Center to start their testing. They had 30-minute tests all day; Science, Math, Art, Music, Language/Literature, Economics, Social Science, then an Oral Super Quiz and a Speech Showcase.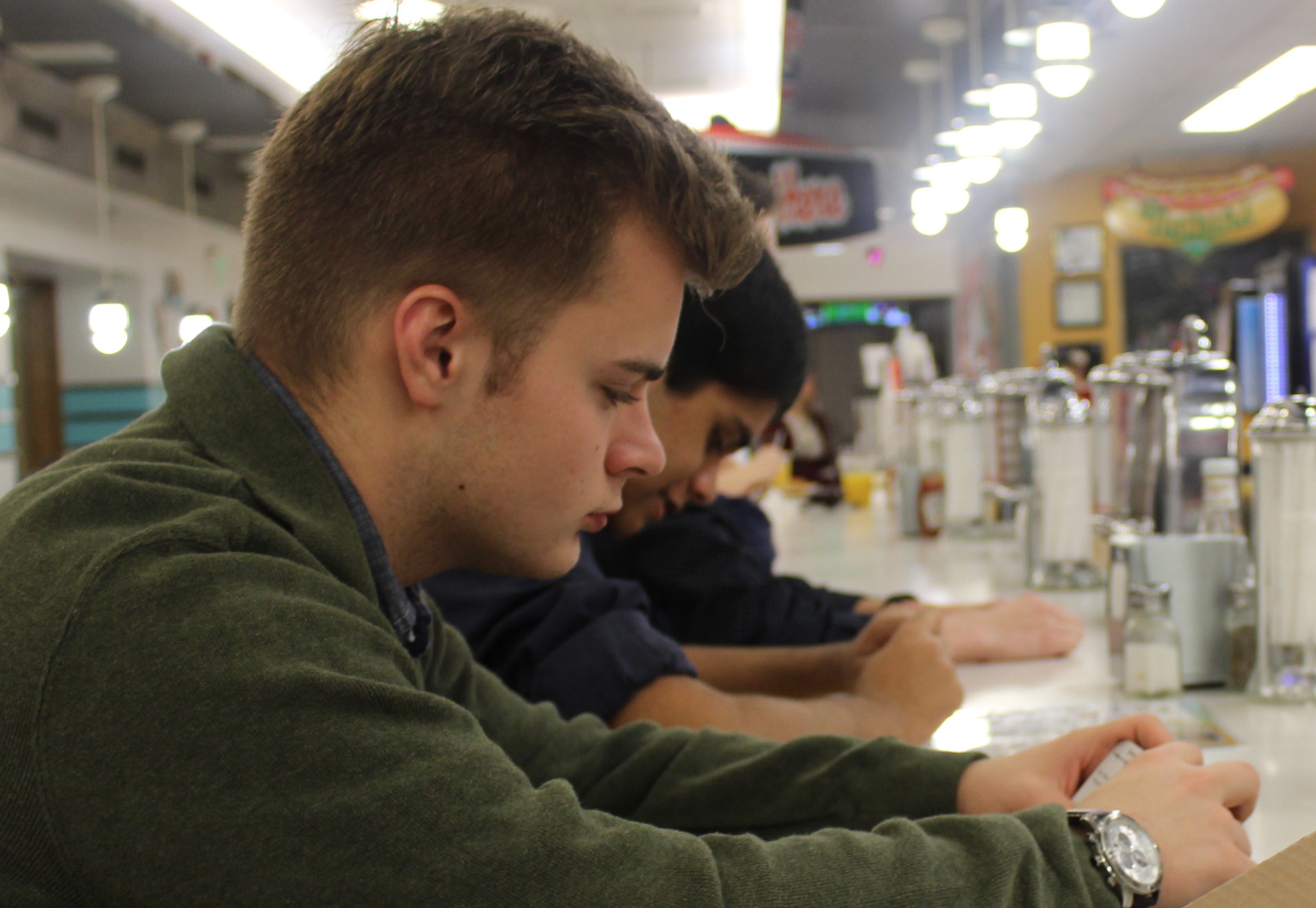 "I may not have prepared for all subjects equally," Chirumamilla said.  "I really focused on math the most so my goal was to get a really high score in it."

After they finished the music portion of the test, the team headed over to lunch in the PMH South Ballroom (once they figured out where it was). We dallied in the Union, a food court that was pretty cool, then made our way with Coach Cox to the Ballroom. There the team ate some pizza made by the cooks at Purdue, talked about the testing and fit in a little goofing around to relieve the tension.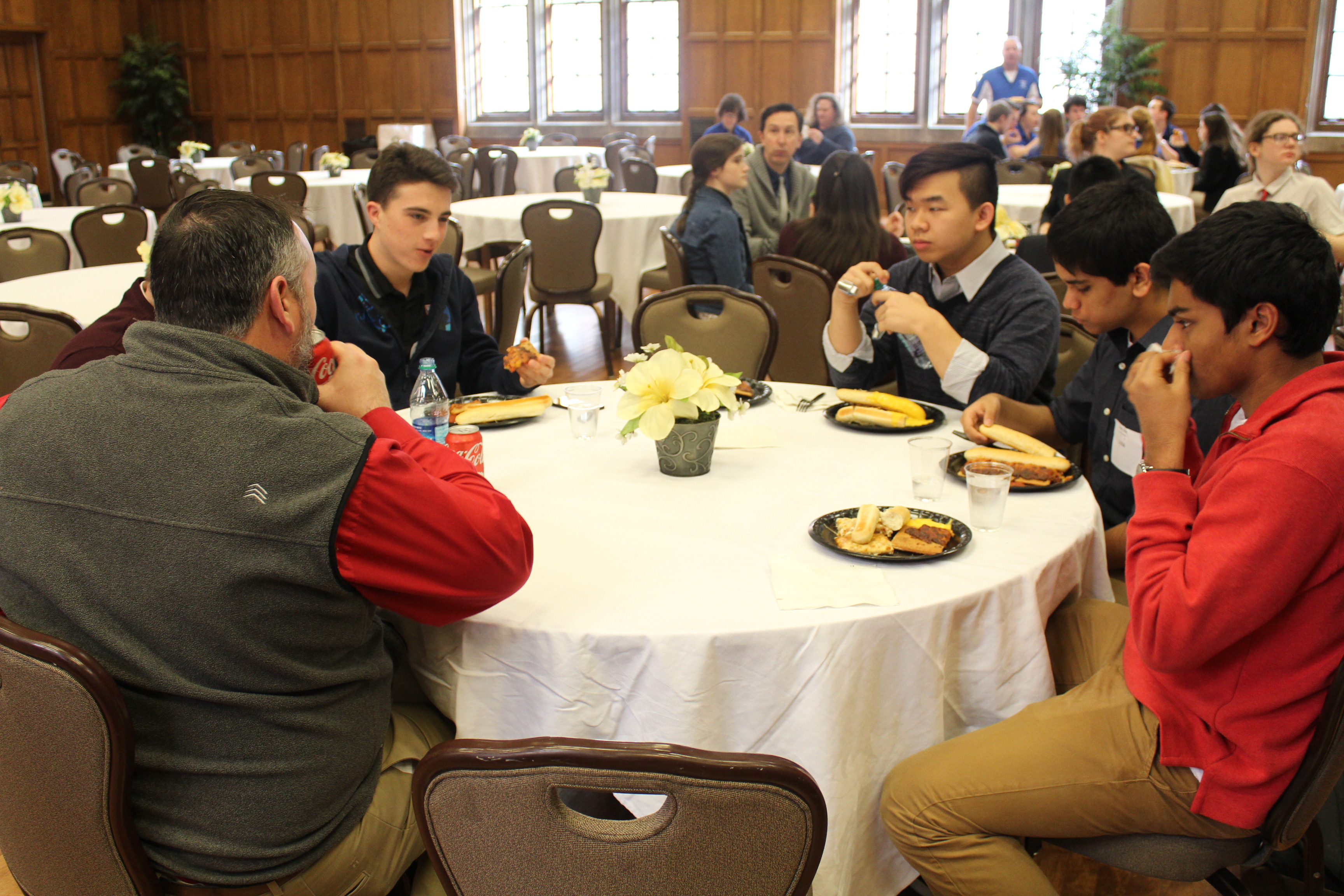 "I was definitely in a good mood after the art, music, and science tests. When I actually knew the answers to most of the questions, it really gave me an optimistic outlook for the rest of the day," said Kimbell.

Second session began with a language test. After regular testing a super quiz started in sections called Varsity, Honors, and Scholar level. New Albany fell just short of the tie for third place. Medalists for the New Albany Academic Decathlon team are:
Rohan Reddy // silver // interview 

Maddy Dodge // bronze // science & economics

Vijay Chirumamilla // bronze // mathematics
Neel Jain // silver // mathematics

Neel Jain // gold // economics 

Harrison Knable // bronze // social sciences

Ian Kimbell // bronze // most individual points.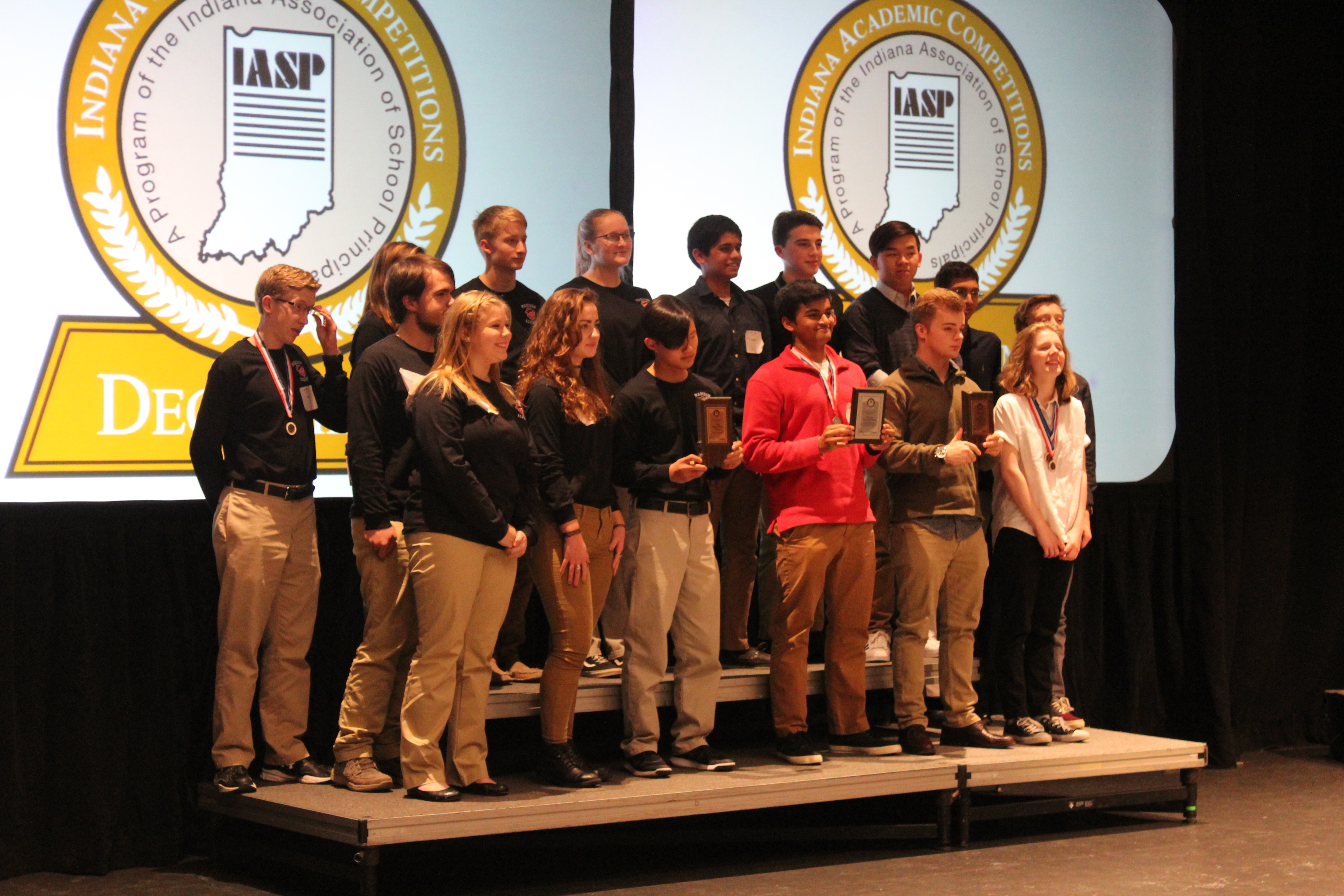 The team was awarded a bronze (third place as team) and will be advancing to the national competition level.

"I'm really proud of what I accomplished. When I ended up getting more medals than Harrison, I felt even better because it shocked him, and beating Harrison is awesome," Dodge said.

As they day wound down, the Bulldogs left Purdue worn out yet ready to conquer the next challenge: Nationals.
Congratulations to the Academic Decathlon team and all the students who worked so hard to study all of these subjects in their spare time. Nationals are in April.