All is well with the new soccer coach
Girls soccer team received a new coach for the new 2021 season
When she applied to be a head coach she did not expect the job, Rachel Wells former Highlander but now a Bulldog.
"I have wanted to be a head coach for high school soccer since I was playing, myself, in high school," Wells said. 
Wells had a previous coaching position at Providence High School along with Floyd Central and decided to apply for this job.
Wells has a strong soccer background here in Southern Indiana. 
"I played on Providence's State Championship team where we went 21-0-2 and only had 6 goals scored on us the whole season, none in post-season," Wells said. "We then made a run at State and lost in the finals the following year."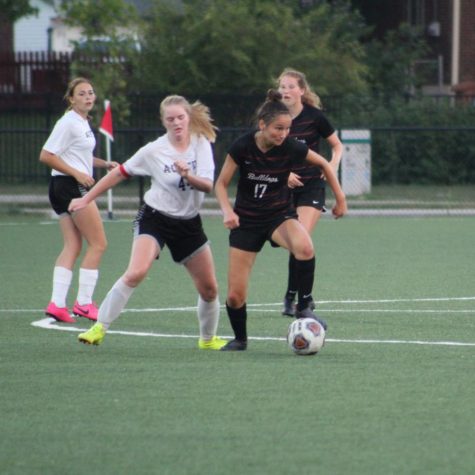 Senior Aliya Utz, a four year girls soccer player, says that Wells' past experience has helped a lot.
"Having a coach where their life revolves around soccer is great because she can teach us stuff that our other coaches were unable to do," Utz said.
"I decided to throw my name in the hat to see what would happen," Wells said. "I didn't really expect to be chosen for the position, and so close to the season's start, timing was less than ideal to leave a team hanging and start late with another."
Coming from being an assistant coach, Wells had to make a bigger transition. She says this transition has been hectic and fast paced.
"There's a lot more responsibility, and yes, paperwork in this role and it can definitely get overwhelming," Wells said. "Lots of late nights and organization, as well as many helpful parents, staff members, [and] players have made the transition fairly smooth considering. From the interview to the first practice, there was only about seven to eight days in between so things moved very fast."
Towards the end of July, the girls soccer team just found out they were getting a new coach and the season was only a month away.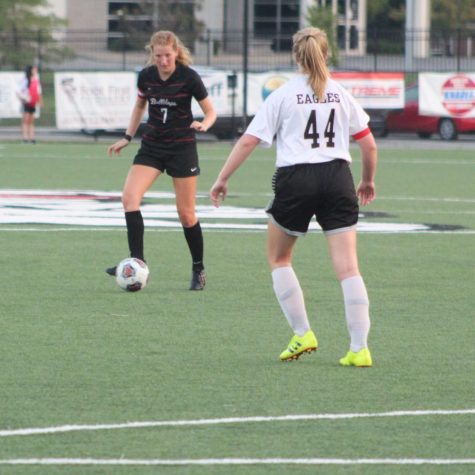 Junior Alaina Walker welcomed Wells as her new coach after previously having her as a middle school coach. 
"Adjusting to having Rachel as our coach has been an easier adjustment than I think it would've been with most coaches," Walker said. "She is younger and understands what it takes to win a state championship and definitely knows how to get people into shape."
Wells says that she already formed bonds with many of her players and the player's families and felt that it was easier.
"As a young coach, forming bonds with players can be sort of tricky," Wells said. "Many see you as an older sibling and not as a typical coaching figure, so you have to remember to prioritize their learning experience over just being friends with them. Forming bonds with players is not a focus of mine, because it tends to just form naturally from greeting athletes as they come into practice, asking how their day is, and just caring about them as a person."
Being a new coach isn't always easy, according to Athlete Network. However, Wells has overcome adversity. 
"Coaching at New Albany has probably been the most welcoming experience of anywhere I've coached," Wells said. "Every coach and staff member I've encountered has offered to help the team get started on the right foot."
Many coaches have a different reason for why they coach the way they do. 
"The athlete inside me does love to win, but the most enjoyable experiences I get from coaching is watching my current and former athletes succeed," Wells said. "Oftentimes after I'm done coaching them as they move on to bigger and better things. I've had former athletes go on to military academies, get accepted on full rides to college, sign to play sports in college; these are bigger wins to me than goals scored and records broken. Having a helping hand in those successes is much more memorable than a win under the lights on a Tuesday night– although we will certainly strive for as many of those as possible."
A player's goals depend on what they want to do in life. This year Wells has her players document what their goal is for this season and it varies.
"A good bonding season where we all play well as a team," Utz said. "A hopeful expectation is we will win sectionals."
A coach's expectation is always different for each of the players but Wells wants her athletes to do three things. 
"One, come with a good attitude and give 110% every day," Wells said. "Two, I expect sportsmanship on and off the field. Third, I expect academic performance. I have always reminded my athletes that they are students first and athletes second and their grades should reflect that. Fore most, it is education that will lead to their future success, not sports."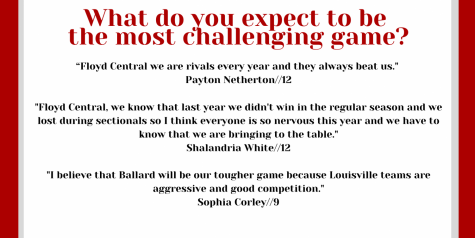 Leave a Comment
About the Contributor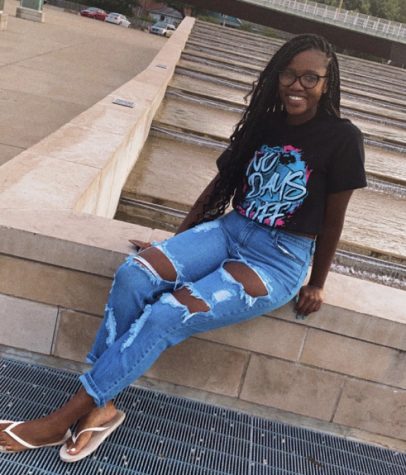 Joy Robinson, Reporter
Joy Robinson's Five Favorites
Favorite Restaurant
My favorite restaurant is Texas Roadhouse or Steak n Shake. I love the rolls from Texas Roadhouse and...