Opinions // The Inheritance Games is a phenomenal novel
"If yes is no and once is never, then how many sides does a triangle have?" That quote is from Jennifer Lynn Barnes The Inheritance Games. This starting book of a soon-to-be-finished trilogy is a phenomenal novel that is filled with mind games and riddles. The Inheritance Games is a 384 page young adult mystery that kept me reading, and wanting to read, until the very end. 
This book follows Avery Grambs after she inherits The Hawthorne Mansion and $46.2 billion from Tobias Hawthorne after his death. But, there's one catch: she must live in the mansion, filled with four troublesome brothers, libraries, bowling alleys, hidden passageways, and filled to the brim with working staff, for a full year. But, she has never met Tobias or the rest of the family, and a few people want her dead for taking their inheritance. This novel has a deceptive, lovable Knives Out style plot.

Avery Grambs is an amazing choice for the protagonist. She is smart, complex, dynamic, and is willing to participate in all of the Hawthornes' tasks and riddles. She is a strong main character who deals with everything that has been thrown her way. Her life went from living in her car to living in a mansion with people trying to kill her in three days. This novel follows her through thick and thin. No one trusts her, likes her, or even sees her as a human, everyone sees her as heiress, a puzzle, a prop, a liar, but no one sees her as a human anymore. But, she doesn't let that stop her from anything she wants.
The Hawthorne brothers, Jameson, Grayson, Nash, and Xander, each have their own specialty and their own fair share of flaws. Jameson has an obsession with his grandfather's games and views Avery as his own Rubix Cube. While Xander doesn't even want to deal with the fact that his grandfather left a random girl that they have never met, most of his fortune. Grayson is very quiet and protective of his brothers and at times, Avery, while Nash is very carefree and relaxed. These four brothers have some of the best sibling dynamics, that is when they aren't throwing punches. But, these brothers all have something in common: they are all daredevils that are not going to stop anyone from doing something they want or might be fun. These brothers are absolutely swoon-worthy, kind of like the Hemsworth brothers.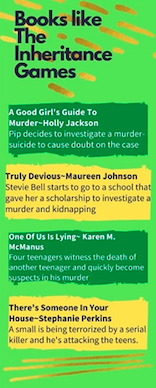 Barnes also has great clues to what is about to happen. She uses riddles, memories, and games to help nudge her characters in the right direction and give the reader something to remember in case it comes into play later in the novel. If it's in the book, it's important, maybe not in that chapter or page, but somewhere that little piece of information is going to come into play. This Edgar Award nominee is very good at this give and take idea of writing. It's genius level, if I'm being frank. 
Some people say that The Inheritance Games is a boring and slow novel. But, I never had that problem! There are certain parts of the book that seem boring compared to higher level mystery and suspense novels, but it is a young adult novel. This book isn't going to be like Gone Girl or And Then There Were None, mainly because those are adult suspense novels, not teen, or young adult. This is going to be more like A Good Girl's Guide To Murder and Truly Devious because these are more targeted towards younger audiences.