ISSMA winners of 2023
The arts show off their talents at ISSMA
On February 4, performing arts students had a chance to compete for gold with their talents at the Indiana State School Music Association. Anywhere from a double bass to a clarinet, students showed off their skills to win medals.
"Solo and Ensemble is a great way to improve on weaknesses and polish individual strengths on an instrument," Orchestra teacher Angela Thomas said. "It also helps students to grow ensemble skills since most small groups require you to be the only person on the instrument."    
In Orchestra, 16 soloists and seven ensembles will be continuing to state to keep competing. They walked away with 18 gold solos, six silver solos, nine gold solos, and six silver ensembles. 
Students have been working on their pieces for a couple months now and have been perfecting them. Rubi Barbour said she has been working on it for a couple hours daily.
"If at all possible, take an instrument home, practice as much as you can, ask a lot of questions, and if you don't know a note don't be afraid to ask a senior," Bass player Barbour said.
The fee to have a solo is fifteen dollars and an ensemble is seven. The ISSMA is held at Floyd Central and happens annually. 
Roughly, a couple hundred students come to perform their pieces. 
Thomas allows students to take time out of their class period to work on their pieces and make them even better. She even has experienced players to come and teach them.
"[Tips I'd give to a student interested in ISSMA are] have fun, and don't put too much pressure on yourself," Thomas said. "Showing up and doing your best is always enough – anything above that is a bonus. Choosing a piece early and committing to a practice plan helps to relieve some stress so that you have plenty of time to feel prepared."
Practicing helps in many ways including improving your muscle memory which helps you remember the notes, slowing it down and analyzing it, and helps you focus on how it's supposed to sound, and chunking it, which allows you to understand the melody and how it fits with each beat. 
"[The amount of practice time available] depends on your skill level, if you're advanced then you have all the time you need, but if you are less skilled and take more time to learn then I'd say it's a rush," Barbour said.
Solo and ensemble is a way for students from middle school and high school to show off their skills that they have worked on for months in advance.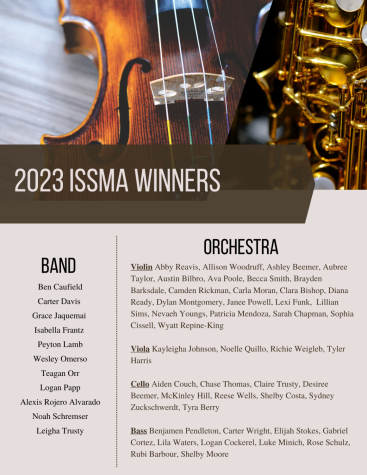 "[I would recommend ISSMA to students because] there aren't a lot of opportunities to practice performing for a judge, especially as a soloist or in a small group," Thomas said. "I think it's so rewarding to see how much you can achieve on your instrument and you will learn so much about yourself, both as a musician and as a person, by setting a big goal like that."
Standing in front of a judge can be frightening for some people, and cause them to slip up. Being nervous is a basic human feeling.
Band director Nicholas Scroggins said feeling nervous is normal while playing for a person you don't know and is a way to show that you care about the outcome of your performance. He said the judges aren't only writing down negative feedback, so don't think about it.
"Absolutely [I saw improvement in my students]," Scroggins said. "It's one of the only events where students get direct feedback on their individual playing from someone who isn't their director.  The skills students learn from practicing their solo and ensemble music directly translates to any other music they play as well."
In band, twelve students participated in ISSMA this year. Most of which are going to state to continue preforming.
Flutist Peyton Lamb said she is going to state and can't wait. She knows the struggles and nerves of going to ISSMA and has a tip.
"[One tip I'd give to a first-time ISSMA student] is to relax because the judges, even while judging you, they are also musicians like you so they understand the struggles and if you mess up, you messed up, and you'll probably never see that judge again," Lamb said. "So it's not as big of a deal as what you make it out to be when you walk into that room. The main goal is to walk in that room and relax."
Scroggins says most practice time is outside school, but has offered time during WINN and some class time a week before for students to perfect their pieces for the contest.